GOVERNMENT plans to give local people more say over public services should go further, say rural stakeholders.
The long-awaited community empowerment White Paper, Communities in control: real people, real power, contains proposals to deliver a shift in power, influence and responsibility to local communities.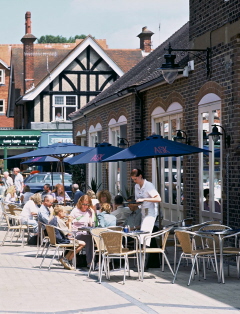 But some stakeholders believe the plans don't go far enough.
Action with Communities in Rural England (ACRE), which represents England's rural community councils, said greater participation in local democracy could strengthen the decision-making process.
But the White Paper had ignored the case for community-led planning to underpin community engagement, involvement and local action in rural and urban areas.
Despite extensive evidence, the government had failed to recognise that a coordinated approach would deliver bigger dividends for local people, local communities and local government.
ACRE chief executive Sylvia Brown said: "At least 4,000 communities have developed parish plans, which is the best developed form of community-led planning."
This approach was an extremely effective way of getting more people involved in local decision-making and taking action for themselves to improve their local area.
"The number of local authorities now adopting this approach for shows that they have recognised the long lasting benefits to both local government and communities alike."
ACRE has joined forces with the National Association of Local Councils (NALC), Urban Forum and Action for Market Towns (AMT) to promote the benefits of community-led planning.
NALC said the White Paper had confirmed "to some extent" that the 8,500 parish and town councils it represents were ideally placed to carry out the agenda of bringing more power to local people.
But NALC chairman Ken Cleary said the document had not explained how the government planned to fund and finance the provision of more power through parish and town councils.

"These very local councils are directly accountable to local people, and provide visible leadership in representing the community, delivering services to meet local needs and improving quality of life and well-being.
"Crucially though, they act as a focus for empowering the community, by stimulating action to improve services, providing facilities and supporting community aspirations following the development of bottom-up, community-led plans."

NALC was firmly of the view that local parish and town councils could become the bedrock of empowered communities and a reinvigorated local democracy.
"Strengthened and rejuvenated parish and town councils, working in partnership with voluntary and community groups and principal authorities, can and should provide the government with a more appropriate solution to match its ambition."
See also:
• Government unveils 'people power' plan (8 July 2008)
• Council's 'Domesday' survey of local services (9 June 2008)
• Rural services are in decline - official (17 April 2008)
• MPs support call for urgent rural action (4 March 2008)
• Call for action to support rural England (3 March 2008)
• Pathfinders lead way to better services (3 March 2008)
• Tory leader speaks out on rural services (25 February 2008)
• Online petitions 'would improve' services (4 February 2008)
• Communities to help boost services (25 January 2008)
• Villages hit back against declining services (5 July 2007)