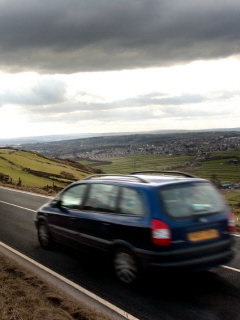 Wide-ranging proposals to cut the number of road deaths were set out by road safety minister Jim Fitzpatrick on Tuesday (21 April).
New measures would ensure all roads had the appropriate speed limit, he said.
The aim is to to cut road deaths by one third by 2020, said Mr Fitzpatrick.
"We need to target action on those roads, people and behaviours most associated with death and serious injury on our roads," he told Parliament.
"To improve safety on rural roads, where 60% of all British road deaths happen, we propose annually to publish maps highlighting the main roads with the poorest safety records."
Detailed proposals to reduce speed limits on certain roads are set out in the government's draft road safety strategy for 2010-2020.
The document, A Safer Way: Consultation on Making Britain's Roads the Safest in the World, is open for comments until 14 July 2009.
New guidance contained in the consultation document recommends that local authorities:
Introduce 20 mph zones or limits into streets around schools and residential areas
Review speed limits on single carriageway rural roads
Reducing speed limits on more dangerous roads
Mr Fitzpatrick said he wanted Britain's roads to be the safest in the world.
This would mean improving vehicles and the road network - as well as helping drivers and other road users to be as safe as possible.
"There are now almost 17,000 fewer deaths or serious injuries in a year than there were in the mid-1990s.
"But it is intolerable that eight people are still dying on our roads each day."
Critics have warned that the plan would increase rural isolation by increasing journey times. Longer journeys would also add costs on rural businesses.
But the government said drivers in head-on collisions or struck at junctions were far less likely to die at 50mph than at 60mph.
Some 333 people were killed on rural single carriageways in 2007 due to vehicles either exceeding the limit or driving too fast for the conditions.
The proposed target is to reduce the number of people killed in road collisions by 33% by 2020 compared to 2004-08.
The number of people seriously injured in road collisions would be reduced by 33%; and the number of youngsters killed or seriously injured in road collisions by 50%.

The government also wants to halve the combined rate of death or serious injury for pedestrians and cyclists.