Recently proposed amendments to the Planning Bill would result in unelected regional development agencies assuming responsibility for regional planning.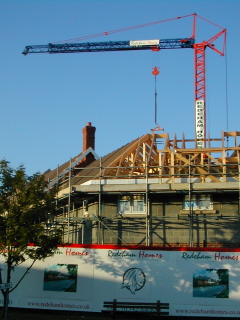 The amendments were tabled by local government minister John Healey MP.
Regional planning is currently the responsibility of regional assemblies, whose members include elected town councillors.
Critics claim the amendment will make it easier for the government to press ahead with a massive house-building programme.
Prime Minister Gordon Brown has pledged three million new homes by 2016 – an annual house-building target of 240,000 new properties.
The Campaign to Protect Rural England (CPRE) said it feared that wide-ranging powers could be delegated to regional development agencies if the proposal was accepted.
It said the legislation must not be altered until "significant concerns" about the democratic accountability of the regional agencies had been resolved.
"These changes must not be rushed through," said Fiona Howie, CPRE senior regional policy officer.
Submitting amendments at such a late stage reduced the ability of stakeholders to raise their concerns and for MPs to thoroughly consider their implications.
A consultation on how best regional development agencies should be scrutinised is due be launched later this month.
But Ms Howie said proposing the amendment before the launch made a mockery of claims that consultation exercises could influence policy development.
Hugo Swire, Tory MP for East Devon, said giving planning powers to regional development agencies could override local opinion, harm the environment and lead to unsustainable development.
"The planning system needs reform, but the voice of local communities must be loud and clear."
See also:
• Rural dismay at planning proposals (7 November 2007)
• Queen's speech sets out PM's plans (6 November 2007)
• Reform land agency, say campaigners (29 October 2007)
• Watchdog welcomes housing pledge (13 July 2007)
• Civil servants debate housing crisis (11 July 2007)
• Green Belt must stay - campaigners (4 July 2007)
• Councils 'could provide more homes (3 July 2007)
• PM Brown says homes are priority (27 June 2007)
• Housing nightmare 'already here' (13 June 2007)
• Pressure builds over rural housing (8 June 2007)