Speaking to delegates in Bournemouth, Mr Brown said Great Britain needed to "stand united together" to meet "environmental, economic and security challenges".
He said he was "proud to be British".
Mr Brown's first three months as Prime Minister have been marred by terrorist attacks in London and Glasgow, widespread flooding and foot-and-mouth.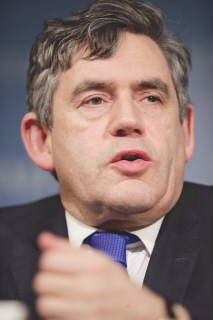 The foot-and-mouth outbreak in south-east England had forced government vets, scientists, and Defra public officials to cancel their holidays, he said.
Farmers had worked day and night to fight the contagion, added Mr Brown.
"They have done it again this month and continue to do so.
"Their actions live out our shared understanding that our countryside is more than the space that surrounds – it is the oxygen for our towns and cities.
"In order to be the country we should be, Britain must protect and cherish not just our cities but our countryside too."
Mr Brown has already ordered an inquiry into ways the rural economy can be strengthened following the summer floods and foot-and-mouth outbreak.
The Commission for Rural Communities, which is the government's rural watchdog, is expected to report its findings before Parliament returns on 8 October.
Mr Brown repeated his pledge that the government would build 240,000 new homes every year to help people on to the property ladder.
Meanwhile a poll published in The Sun on the first day of the conference suggested the Conservatives were eight points behind Labour.
The poll of 1,009 adults found that 42% would vote Labour, with the Tories on 34% and Lib Dems on 14%.
Carried out by Ipsos-Mori on September 20-22, the survey shows that Labour has increased its lead from 5% in a similar poll a month ago.