The call to the Prime Minister was made by the Commission for Rural Communities, which acts as the government's rural watchdog.
Commission chairman Stuart Burgess has spent eight months investigating ways of strengthening England's rural economy following last summer's floods and foot-and-mouth outbreaks.
His final report says Mr Brown should convene a national summit to focus government attention on ways of releasing the potential of the rural economy.
Other proposals include:
The establishment of a Rural Finance Forum to boost rural investment
A rural innovation initiative to address issues faced by remote rural areas
Improved access to employee and business support programmes

The document is seen as important because the investigation on which it is based was itself ordered by the Prime Minister.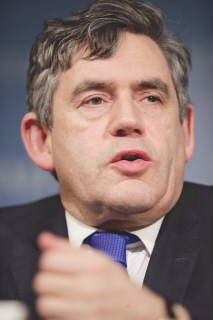 Dr Burgess said implementing the proposals would bring benefits for the whole of England, not just the countryside.
In particular, a Rural Finance Forum would help overcome the causes of lower capital investment, poorer access to finance and lower funding for rural economic initiatives.
"We also know there is scope for significant improvement, and for some communities this will only come from better support."
Dr Burgess said his report recorded the substantial contribution rural enterprises made to the nation's economic performance.
"In my visits to rural areas I am constantly reminded how enterprising rural people are and what diversity of successful firms and resilient communities we have."
The countryside was home to 30% of England's businesses which generated at £325 billion annually. But a similar proportion of firms located throughout England earned higher levels of turnover.
This showed that the countryside had further potential for growth, claimed Dr Burgess.
"My report suggests this unfulfilled potential from rural firms might be around £236 to £347 billion per annum."
Medium and larger firms in rural areas could perhaps double their economic contribution, added Dr Burgess.
This would help to reduce worklessness and poverty in rural areas, close the gap between rural and urban wages and make more rural communities resilient against future economic and environmental shocks.
"At the heart of any drive for improvements will be better understanding of the scale and performance of rural economies from business and city leaders, economic departments and agencies," said Dr Burgess.
This was why the government should convene a national summit on the rural economy.
It should be accompanied by a series of regional summits to focus the attention of government agencies on releasing the potential of the countryside.
See also:
• One million rural people 'living in poverty' (3 March 2008)
• Call for action to support rural England (3 March 2008)
• Tories lambast Defra's performance (5 December 2007)
• Spending review ignores rural affairs (9 October 2007)
• Flood recovery scheme reaches £1m (2 October 2007)
• Watchdog to probe summer of misery (19 September 2007)