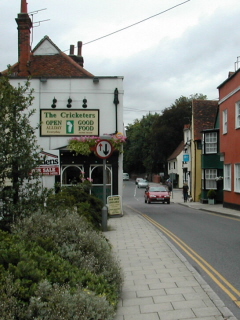 The Essex Rural Commission was asked to recommend ways Essex County Council could improve support to rural communities.
Following a year-long inquiry, its findings were published on Friday (11 September).
The full document can be downloaded by clicking here (4MB pdf).
It is the first time such a report has been produced in England.
The independent commission was asked by the local authority to examine all issues around living and working in rural Essex.
It examined the environmental, economic and social challenges facing rural communities.
Although some issues are distinct to Essex itself, others affect rural communities across the country.
The report splits its recommendations into 12 priority areas. They are to:
Expand rural enterprise in Essex
Provide more affordable rural housing
Transform existing rural space and buildings to multifunctional use
Widen transport options
Increase use and management of natural green spaces
Secure an Essex food policy
Celebrate and protect the coast
Ensure schools serve communities and children
Establish a strategy for young and old
Build community well-being and volunteering
Initiate an Essex energy policy
Nuture wilderness in Essex
Commission chairman Jules Pretty said: "The commission believes we have come up with a blueprint to secure the future of rural Essex."
The commission had sought to look to the future, mindful of the substantial environmental, economic and social change it would bring.
Change would affect the people, institutions and environments of the county in the coming decades, said Professor Pretty.
"Many of these changes similarly affect rural communities in other parts of the UK.
"We hope these 60 recommendations will lead to substantial improvements for our rural communities."
County council leader Lord Hanningfield said Essex's rural areas faced a number of challenges.
These included a changing climate, a global increase in the demand for food, the county's proximity to London and 350 miles of fragile coastline.
"Our rural areas are also home to a quarter of the county's population.
"How we ensure our policies and actions reflect the needs and aspirations of these communities is an urgent priority."
The council will now study the recommendations before devising ways of supporting the county's rural communities.