The government's intention to pass a Planning Reform Bill and a Housing and Regeneration Bill was confirmed by the Queen's speech on Tuesday (6 November).
The Planning Reform Bill will see local communities largely bypassed when it comes to deciding the location of major building projects such as airports and motorways.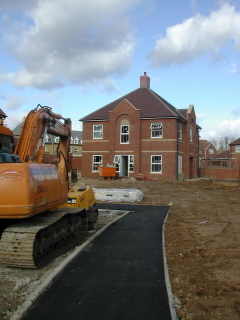 The Housing and Regeneration Bill will allow homeowners and small businesses to build extensions to their property without planning permission.
But rural business leaders and conservationists have condemned the proposals.
Henry Aubrey-Fletcher, president of the Country Land and Business Association, said neither Bill would meet the needs of rural communities.
"Attempts to solve the urgent problem of affordable and social housing in rural areas will fail until the government can guarantee that its policies are followed by local and regional planning authorities."
Until then, planning policies would be ignored at the local level and the need for more affordable rural homes would remain unresolved.
"It is a great pity that the government's housing policy published last year is largely being ignored and that local authorities are still excluding all types of new housing in villages."
Mr Aubrey-Fletcher said he would have welcomed the Planning Reform Bill had it proved capable of producing a more transparent, effective and efficient planning system.
"The Bill needed to ensure that development in rural communities was not unreasonably restrained and that a wide range of appropriate economic activity was allowed to take place in the countryside."
The Campaign to Protect Rural England went further, describing the Planning Reform Bill as a "developers' charter" which would dismantle the planning system.
Ben Stafford, CPRE head of campaigns, said: "Ministers must listen to the concerns of the public who responded to their planning reform consultation in the summer."
He added: "They should scrap plans that will reduce the public's say on major development and be damaging to the environment."
Plans contained in the Housing and Regeneration Bill for a new Homes and Communities Agency needed to resist greenfield sprawl, said Mr Stafford.
Housing policy must be driven by quality design, affordability and location, he warned.
"The agency should be a vehicle for delivering the right housing in the right place, not a sausage-machine churning out new housing regardless of need and local concerns."
See also:

• Queen's speech sets out PM's plans (6 November 2007)
• Reform land agency, say campaigners (29 October 2007)
• Watchdog welcomes housing pledge (13 July 2007)
• Civil servants debate housing crisis (11 July 2007)
• Greenbelt must stay - campaigners (4 July 2007)
• Councils 'could provide more homes (3 July 2007)
• PM Brown says homes are priority (27 June 2007)
• Housing nightmare 'already here' (13 June 2007)
• Pressure builds over rural housing (8 June 2007)