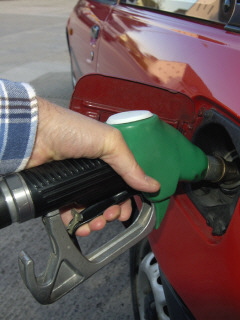 Motorists face higher "green taxes" under proposals being considered by the Conservatives, according to a Daily Telegraph report on Friday (22 January).
Money raised would be used to fund tax breaks for married couples in the event that the Tories won the General Election, said the paper.
An unnamed shadow minister suggested the party could reintroduce the fuel-duty escalator, under which annual petrol prices were increased faster than inflation.
"We could reintroduce the fuel-duty escalator, as long as we were upfront about it," the shadow minister was quoted as saying.
"We would say the cost of petrol will rise for the next five years to reduce carbon emissions and fund tax cuts for families."
Opposition politicians seized on the report.
Norman Baker, Liberal Democrat shadow transport secretary, claimed the policy would hit rural residents hardest.
"This is a retrograde step that will cause immense damage to people in rural areas who have no alternative to using their cars," he said.
"The Tories are just copying Labour's failed policies."
Mr Baker said it would be fairer to bring in a revenue neutral road pricing scheme for motorways and dual carriageways.
These roads often had a rail alternative, he said.
"The Liberal Democrats will abolish Vehicle Excise Duty and scrap fuel duty."
But the Tories dismissed the Daily Telegraph report as wrong.
"It bears no relation to the reality of our thinking in this area," shadow chancellor George Osborne told the BBC.
"We are not planning to jack up road taxes in order to fund anything. That does not match with the reality of our plans."