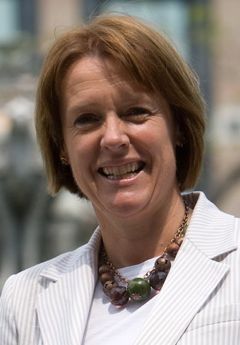 The announcement was confirmed by the government department at 6.48pm on Wednesday (12 May).
Mrs Spelman has served as MP for the West Midlands constituency of Meriden since 1997.
In opposition, she served in the shadow cabinet, covering the environment, communities and local government portfolios, as well as other posts.
"I am delighted to have been appointed Secretary of State for Environment, Food and Rural Affairs," she said.
"The department is responsible for many of the things that are vital to our quality of life - the food we eat, the air we breathe and how we manage the land we live on and the seas that surround our shores.
"I will work across government and beyond to respond to the challenges of increasing food production, adapting to climate change, protecting our natural environment and ensuring we live sustainably."
Before entering Parliament, Mrs Spelman had an extensive career in the rural sector, with 15 years in the agriculture industry.
Her CV includes the post of deputy director at the International Confederation of European Beet Growers.
She was a research fellow for the Centre for European Agricultural Studies and has written a book on the non-food use of agricultural products.
Mrs Spelman is fluent in French and German. Married with three children, she has a degree in European Studies from Queen Mary College.
Her appointment came as newly elected Tory MP Simon Hart announced he was stepping down as chief executive of the Countryside Alliance.
Mr Hart's resignation follows his election as MP for his home constituency of Carmarthen West and South Pembrokeshire.
"After nearly eleven years at the Alliance and seven as its chief executive, I feel the time is now right for me to start the process of handing over to a successor," he wrote in a resignation letter to the alliance board.
"My recent election leads me to believe that this should be sooner rather than later. So it is for this reason that I offer the board my resignation today."
Alliance chairman Kate Hoey MP said she was sad to see Mr Hart go.
"He has led the organisation and the countryside through unprecedented political battles," she said.
"The resilience of the rural community and the survival of hunting are due in no small part to his leadership."