Some 1.1m of the 2.1m new jobs created since Labour came to power 1997 have gone to migrants, according to recently revised government figures.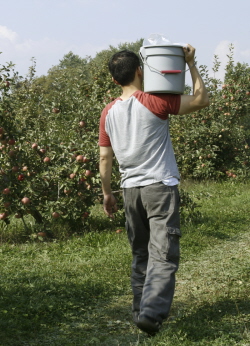 The statistics have triggered a political furore because the government had previously claimed most new jobs had been filled by British workers.
Accurate figures are important because they determine the size of government grants to local authorities, NHS trusts and other local service providers.
Home secretary Jacqui Smith apologised for the error. But shadow home secretary David Davis described the situation as a shambles.
Many migrant workers take low paid manual jobs on farms or in other sectors of the rural economy, such as food processing or tourism.
Stuart Burgess, chairman of the Commission for Rural Communities, said migrant workers brought big benefits but were also putting a strain on services.
"Migrant workers make a huge contribution to the success of the rural economy," he said.
"Indeed in many areas like Thetford and Boston the local economy would struggle without them."
But the government needed to look again at the level of resources given to all local authorities who provide services to migrant workers, Dr Burgess added.
"The scale and speed of immigration has also put a strain on rural local authorities, both in their ability to provide services and to ensure new migrants are successfully integrated into their host communities."
The number of rural migrant workers increased by over 200% between 2003/03 and 2005/06, according to the commission's latest State of the Countryside report.
Earlier this summer, the commission made the case for closing the local funding gap in a submission to the government's Commission on Integration and Cohesion.
Local authorities should be helped meet the needs of all local people – both established communities and migrant workers, said Dr Burgess.
See also:
•
Migrant workers 'vital' to countryside
(22 October 2007)
•
Migrants 'put pressure' on rural services
(17 September 2007)
•
Media charity tackles social exclusion
(20 April 2007)