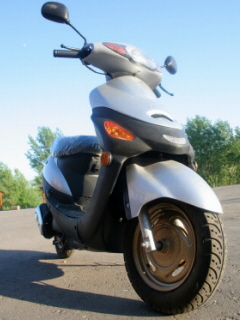 The Wheels 2 Learn scheme loans mopeds to students aged 16–19 who are in full time further education, but unable to reach college using public transport.
The scheme being trialled until next July at East Devon College, South Devon College, Bicton College and Holsworthy Skills Centre.
Some 16 scooters are currently available. If successful, the scheme may be extended in the next academic year.
The project is being funded through the Post 16 Partnership.
It includes representatives from Devon County Council, Further Education Colleges and Schools, Connexions and the Learning and Skills Council (LSC).
Stuart Hughes, county council cabinet member for transportation, said the scheme would help give independence to young people.
"There are plenty of rural areas which are not served by regular public transport," he said.
"These scooters will make it possible for some students to travel to college when they may otherwise have had no realistic alternative."
Students are asked to make a contribution of £7 a week hire cost and £5 a week returnable deposit.
The deposit will be refunded to the rider at the end of the loan period, provided the moped is returned undamaged and no insurance claims have been made.
The scheme provides all riders with a safety helmet, padded jacket, reflective tabard and gloves, free of charge.
Christine Channon, council member for schools and skills, said Wheels 2 Learn made education accessible for rural students.
"The availability of regular transport can have a bearing on whether some students continue onto further education.
"This scheme will help provide a choice where there may otherwise have been none.
"Students are also very keen to support sustainable transport and scooters are a low cost to low energy transport."
To qualify for a scooter, students must live more than three miles from suitable public transport.
Those taking part in the scheme can travel to any area up to a 48 mile round trip from their home to their place of education.
Riders must have either a provisional or full licence to ride a moped.
The scooters for the pilot scheme are being provided by Devon Wheels 2 Work, based near Okehampton.
Over the past two years, the not-for-profit company has helped more than 320 rural people across Devon travel to work or training.