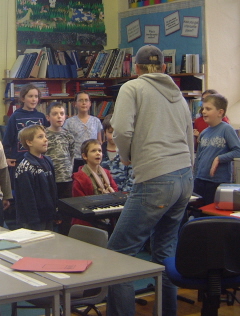 Statistics released following a parliamentary question by the Liberal Democrats has prompted claims that countryside schools are getting a "raw deal".
Schools with 650 children receive an average of almost £400,000 less to spend on books, teachers and equipment, it was disclosed.
Many government grants aimed at boosting underperformance among pupils are only open to schools in major towns and cities.
The revelation follows fears rural primary school closures due to cash shortages.
Recent research from the National Association for Small Schools found they were closing at the rate of one a month.
Between 2004 and 2008, 62 village primaries were shut - the highest closure rate since the 1990s.
David Laws, Lib Dem spokesman for children, schools and families, said: "It is clear that rural schools are getting a raw deal when it comes to funding.
"These figures are particularly concerning when put alongside the latest GCSE results which revealed that urban areas are now outperforming rural schools.
"Ministers have tended to ignore the fact that rural schools generally get less funding than their urban counterparts.
"Indeed, rural areas have often missed out on many of this government's initiatives, including much of the extra deprivation funding available to city schools."
A Lib Dem government would introduce a pupil premium.
This would ensure extra money was directed at disadvantaged children "no matter where they are in the country".
Schools with 700 or more pupils received an average of £4,080 per child in 2006/7 – the latest year for which data is available.
Funding rose to £4,110 in urban areas but dropped to £3,860 in rural communities.
In village schools with 600-699 pupils, head teachers are handed £3,810 per pupil, while those in towns and cities receive £4,420.
This represents about £396,500 less for village schools with 650 children.
The funding gap comes despite figures showing that the poorest rural pupils perform worse than their inner-city peers.
In Somerset alone, only 28% of poor pupils hit GCSE targets last summer, compared to 64% in parts of inner-London, including Lambeth and Haringey.