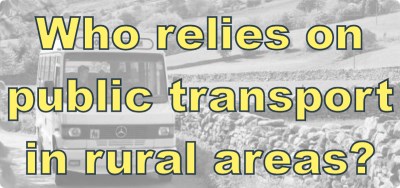 Research has consistently identified the overwhelming need for public transport in rural areas. The groups of people most directly affected are set out in many reports as follows:

• Older people. Many elderly people are unable to drive, in which case passenger transport is their only option. Older people use cars less and travel by passenger transport more than the middle-aged. Rural populations are ageing faster than their urban counterparts.
• Younger people. Youth parliaments consistently identify access to public transport as a prime concern. Young people need affordable bus services in order to give them a chance to take up opportunities in education and work, and to take the first steps to independence. Like older people, younger people use cars less and travel by passenger transport more than the middle-aged. Young people make significantly fewer car journeys than in the past.
• Unemployed people. Passenger transport is essential for unemployed people, because it allows them both to sign on at a jobcentre and to look for work.
• People with low incomes. Low-income families are more dependent than others on public transport. People in the lowest income quintile make three times more journeys by bus than people in the highest income quintile.
• Disabled people. Passenger transport allows disabled people to access employment and community and family life. Some 60% of disabled people have no car in the household, and disabled people use buses about 20% more frequently than the non-disabled population.
• Businesses. Local businesses rely on buses. Shoppers travel by bus to market towns from surrounding rural communities, particularly to the high street which means that poor public transport provision is a barrier for local economic growth. Over 50% of businesses consider buses have a role in recruitment and retention.