20.04.2021
April Edition of Casebook - Health Funding Opportunities from the Rural Health and Care Alliance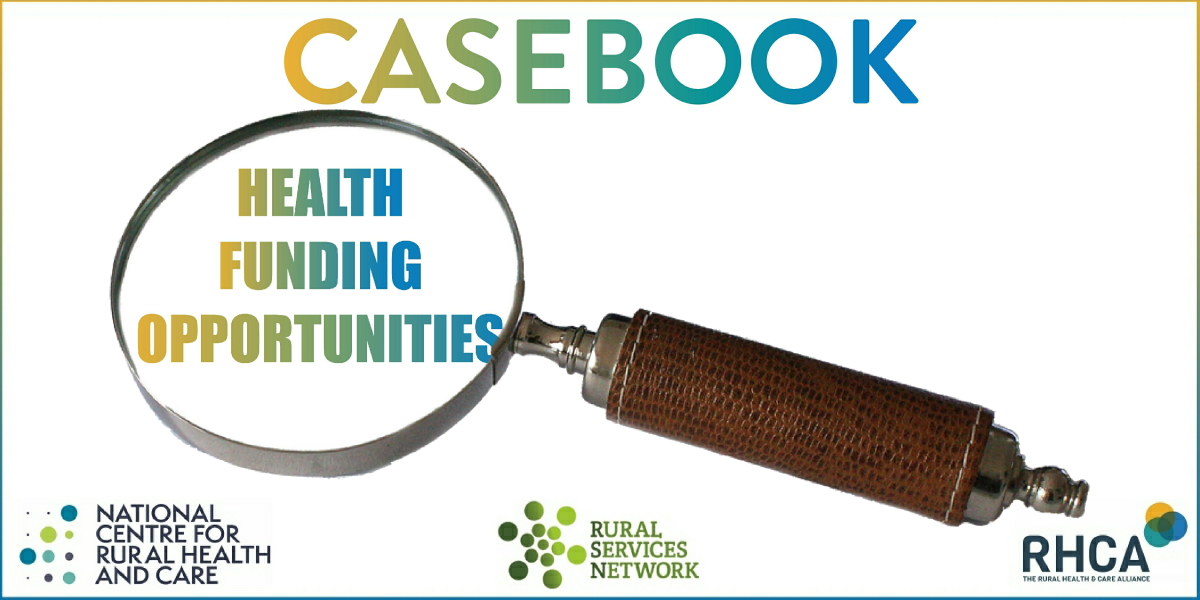 | | |
| --- | --- |
| This month's featured funding opportunities are: | |
Innovate UK
Opportunity for UK registered organisations to apply for a share of up to £25 million from Innovate UK to deliver commercially viable R&D innovation that can significantly impact the UK economy. Funding is for innovative research and development projects across a variety of technologies, markets and research categories, including:
feasibility projects,
industrial research projects
experimental development projects
Closing date: Wednesday 26 May 2021 11:00am
For more details visit:
https://apply-for-innovation-funding.service.gov.uk/competition/810/overview#eligibility

UK Research and Innovation
Better methods, better research: Nov 2021
Funding is available to researchers at eligible organisations to support research which aims to improve the research methods being applied by others anywhere within the remit of MRC or the NIHR. Applicants are encouraged to learn from others where possible, and applications from multidisciplinary teams or approaches are welcome.
Projects that can be funded include:
research into underpinning methodologies that extend beyond a single case study or application
development of methods to understand research standards and drive improvements in quality
research that increases the implementation and adoption of optimal methodologies (by methodologists and/or non-methodologists)
research that makes the outputs of biomedical/health research more useful to others (across scales, experimental approaches, systems, disciplines or translational pathways).
Funding is available for 80% of the full economic cost of your research to your institution.
For more information visit:
https://www.ukri.org/opportunity/better-methods-better-research-nov-2021/

CHANSE (Collaboration of Humanities and Social Sciences in Europe) consortium
Transformations: Social and Cultural Dynamics in the Digital Age
CHANSE (Collaboration of Humanities and Social Sciences in Europe) consortium will soon announce a call for international research projects: Transformations: social and cultural dynamics in the digital age. The programme has been co-created by the HERA and NORFACE networks and will be implemented by 27 research funding organisations from 24 countries, coordinated by the National Science Centre, Poland (NCN). The total call budget amounts to EUR 36 M and includes over EUR 26 M of national allocations complemented by up to 10 million in co-funding from the European Commission.
CHANSE will support new and innovative research into the workings, meaning and consequences of transformations and innovations in the present digital age, viewed through the lens of the social and cultural dynamics:
Sharing competences and associated work
Addressing global issues
Access to expertise from different countries
Addressing specific scientific and technological issues
Deadline Pre-Proposal: 07/05/2021
For more information visit:
https://chanse.org/call-for-proposals/
and:
https://www.era-learn.eu/network-information/networks/chanse/transformations-social-and-cultural-dynamics-in-the-digital-age

NIHR
Long COVID in non-hospitalised individuals research call 2021
UK-wide call to fund research that will help and support non-hospitalised adults and children with Long COVID.
Research proposals are invited on four topics:
Therapies and Interventions
Management and Evaluation of Services
Diagnostics
Other topics to help and support individuals with Long COVID
The deadline is 12th May 2021
---