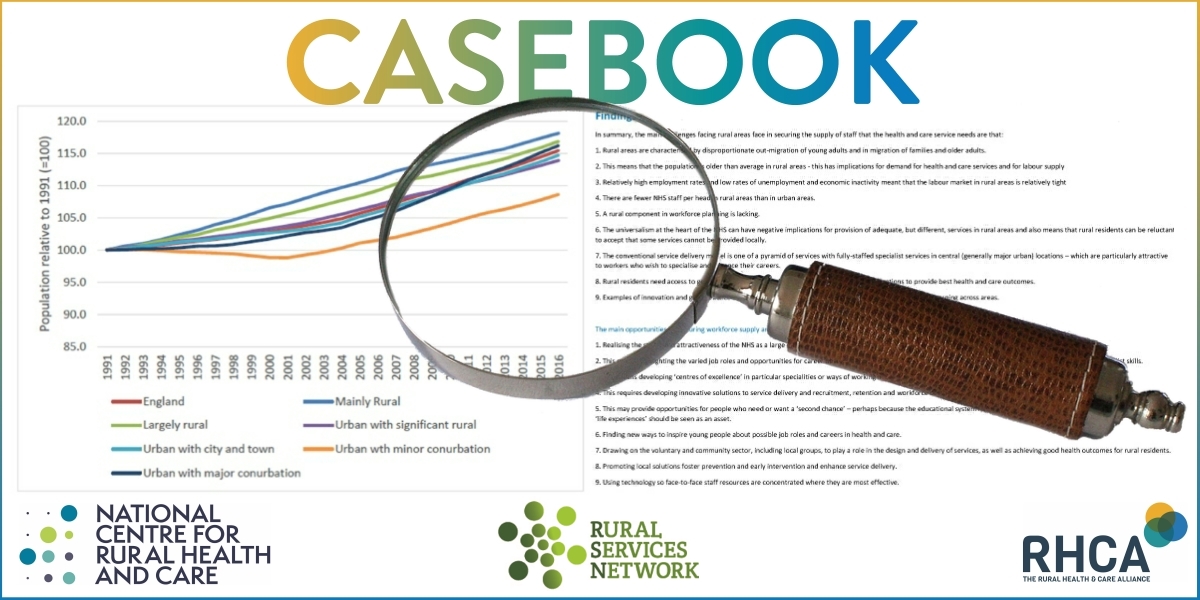 August 2020 Edition
Welcome to your August edition of Casebook, a dedicated, monthly e-newsletter for Rural Health Care Alliance members. This month, contact tracing, schools, healthy food, the grim challenge of a consistent way of counting the dead and some more uplifting information about what we've been up to banging the rural drum. Plus, best Practice from Support in Mind, Scotland and an update from The National Centre for Rural Health and Care on Research, Parliamentary Inquiry, Funding Opportunities and much more. Happy reading!


NEWS COMMENTARY
UK government urged to justify £108m contact-tracing deal with Serco
This story makes me reflect on how well served we are, or not as the case may be by current approaches to procurement in terms of health and care. It tells us: The government has been urged to demonstrate there was no favouritism at play in awarding Serco a contact-tracing contract worth £108m, as a leaked memo revealed the outsourcing firm was enlisted to help with the Covid-19 response as early as January.
Serco is facing growing calls to be axed from any future involvement in contact-tracing services amid concerns over the performance of private firms contracted to trace people who have mixed with infected individuals.
An email leaked to Justin Madders, the shadow health minister, showed the company was approached by Public Health England in January over preparations to tackle the pandemic, prompting questions over whether it was "cherry picked" by the government and given the inside track.
Full article:
https://www.theguardian.com/business/2020/aug/11/uk-government-serco-contact-tracing-contract-leaked-memo
---
Coronavirus: England death count review reduces UK toll by 5,000
What's in a number? – well really quite a lot when it is part of something as serious as a discussion about a science led approach to responding to a pandemic. This article tells us:
A review of how deaths from coronavirus are counted in England has reduced the UK death toll by more than 5,000, to 41,329, the government has announced.
The recalculation is based on a new definition of who has died from Covid.
Previously, people in England who died at any point following a positive test, regardless of cause, were counted in the figures.
But there will now be a cut-off of 28 days, providing a more accurate picture of the epidemic.
This brings England's measure in line with the other UK nations.
Full article:
https://www.bbc.com/news/health-53722711
---
Report calls on UK Government to invest in healthy food innovation
Food poverty is a big issue as this report reminds us in a very timely fashion. The article introducing it tells us: A new public attitude report from think-tank Demos, Turning the Tables, has suggested that the food market in the UK is "not working for consumers", with too many people facing significant barriers to eating healthy diets.
The report has called on the Government to build on the recently published obesity strategy by investing in a new transformative "Food and Agriculture Sector Deal". According to the report, a new Sector Deal would accelerate research and development in reformulating food on a much greater scale than seen before, to make it healthier and more cost-effective for consumers.
The report estimated that 20 million adults cannot afford healthy foods in the UK, and that 19 million cannot find healthy foods available in shops close to their home. The research also found that the British public are in favour of more interventionist policies to tackle unhealthy eating, with almost three quarters of people (71 percent) stating they would support Government subsidies that make healthy foods cheaper.
Full article:
https://www.newfoodmagazine.com/news/115772/report-calls-on-uk-government-to-invest-in-healthy-food-innovation/
---
The NHS test and trace system in England is cutting 6,000 staff by the end of August, the government has announced
Articles like this give me pause for thought about a tough winter in prospect. It tells us: The remaining contact tracers will work alongside local public health teams to reach more infected people and their contacts in communities.
It comes after criticism that the national system was not tapping into local knowledge. The approach has been used in virus hotspots like Blackburn and Luton. And it's now being offered to all councils that are responsible for public health in their area.
Test and trace is staffed by NHS clinicians and people who were trained to become contact tracers during the pandemic.
NHS staff who offer advice to people who have tested positive for coronavirus will not be laid off.
But the national service will shrink from 18,000 contact tracers to 12,000 with the remaining non-NHS call handlers redeployed as part of dedicated local test and trace teams, the Department of Health says.
This means local areas will have "ring-fenced teams" from the national test and trace service.
Another 200 walk-in testing centres will also open by October.
Full article:
https://www.bbc.com/news/health-53723398
---
Coronavirus: Little evidence of Covid transmission in schools, says Williamson
I think "must do better" might be a good judgement on our approach to handling schools policy since March. This article explains: There is little evidence of coronavirus being transmitted in schools, Education Secretary Gavin Williamson has said.
Government advisers have warned the nation may have reached the limit of what can be reopened in society safely. But Mr Williamson suggested an upcoming study would support the government's position on reopening schools.
The prime minister, who visited a school in East London on Monday, is understood to have made it clear that schools should shut last in any future local lockdowns - after businesses including shops and pubs.
The current plan is for most children across the country to be back in class by next month.
Guidance on reopening schools has been published for England. There are also separate plans for Wales, Northern Ireland and Scotland, where schools are scheduled to return from Tuesday.
Schools across the UK closed on 20 March, except to children of key workers or vulnerable children. On 1 June, they began a limited reopening for early years pupils, Reception, Year 1 and Year 6.
Care minister Helen Whately told BBC Breakfast: "Our priority is to make sure that children are fully back in school come the autumn."
She said the government wanted to keep schools open in the event of local lockdowns, adding that staff and pupils would "immediately have access to testing" if they showed symptoms.
Prof Russell Viner, president of the Royal College of Paediatrics and Child Health and a member of the government's Scientific Advisory Group for Emergencies (Sage), said "rota systems appear to make very little difference" to the level of risk.
Full article:
https://www.bbc.com/news/uk-53718066
---
MEMBERS RESEARCH INTERESTS
The NCRHC members research interests survey is now live has now been sent out to the lead contact for each member organisation. Responses have already started to come in, so a big thank you to those of you who have already completed it. If you have not yet done so, please do respond to this short survey as it helps us, not only to understand our members, but to provide members with an enhanced level of service, such as making links between members with common interests, and helping us to focus the activities of the Centre. All membership organisations have been sent the link to the online survey, but it can also be accessed here
---
MEMBER BEST PRACTICE
We are always keen to feature best practice from our members this month we highlight the work of Support in Mind Scotland and the Highland and Islands Connections Project.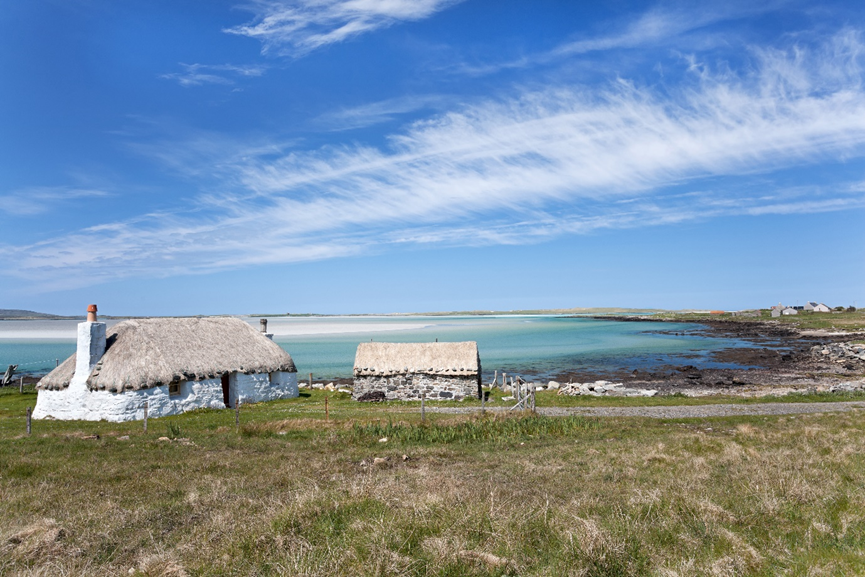 The project is funded by the Scottish Government's Aspiring Communities Fund with support from the European Social Fund, and is aimed to explore how to strengthen community connections in order to make a positive difference to the mental well-being of people living in rural areas.
If your organisation would like to share any case studies or examples of good practice in relation to technology and innovation with other NCRHC members, please email the details to kay.purle@bishopg.ac.uk . If submitting a case study, these should be between 500 and 1,000 words and include no more than 4 photographs.
The project took place over 12 months in two pilot areas, The Uists and Benbecula in the Western Isles of Scotland, and on the Isle of Mull, Argyll & Bute. Each of the two pilot areas were supported by an area project team, and each location tested out a different approach to developing a 'community of care'.
In the Uists and Benbecula, the focus was on developing links between existing organisations and improving communications across the rural area. On the Isle of Mull, the focus was on exploring different ways that businesses and organisations could engage with employees and volunteers to improve community connections and improve mental well-being.
The project impacted locally in each area by directly encouraging people to participate in community life, whilst proactively working at a community level to challenge stigma, increase awareness of mental health and wellbeing, and develop an awareness of community spaces or activities that are open, accepting and community-led.
The highlights of this short project included bringing additional mental health training to communities in both areas, developing specific promotional materials for local events and community info 'hubs', creating networking opportunities for groups, establishing 'blether benches' and creating an Website and App where people could find out information on what was going on locally.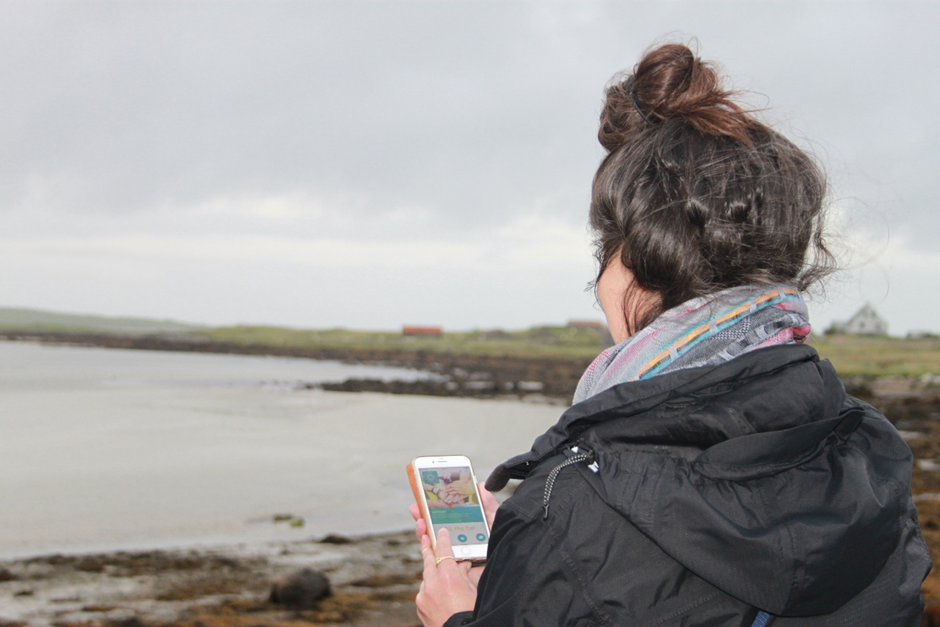 The project team worked directly with various local partners in each area to ensure that the local community was part of the 'solution' and set out to capture ideas and good practice by making a film about the community role in mental wellbeing.
The film can be viewed here:

It is hoped that the project will be a catalyst for change by creating a conversation about the role the community when it comes to improving lives in rural areas. Within a short time period, the project has shown that additional and affordable mental health support and resources can be established, even in the most remote areas of Scotland.
The project has illustrated the importance of community resources and how these valuable assets contribute to achieving mental wellbeing. The people who have participated in this project have shown how the community can help create conditions for change and how it is possible for people with a lived experience of mental ill-health to help the wider community to create a better place for everyone.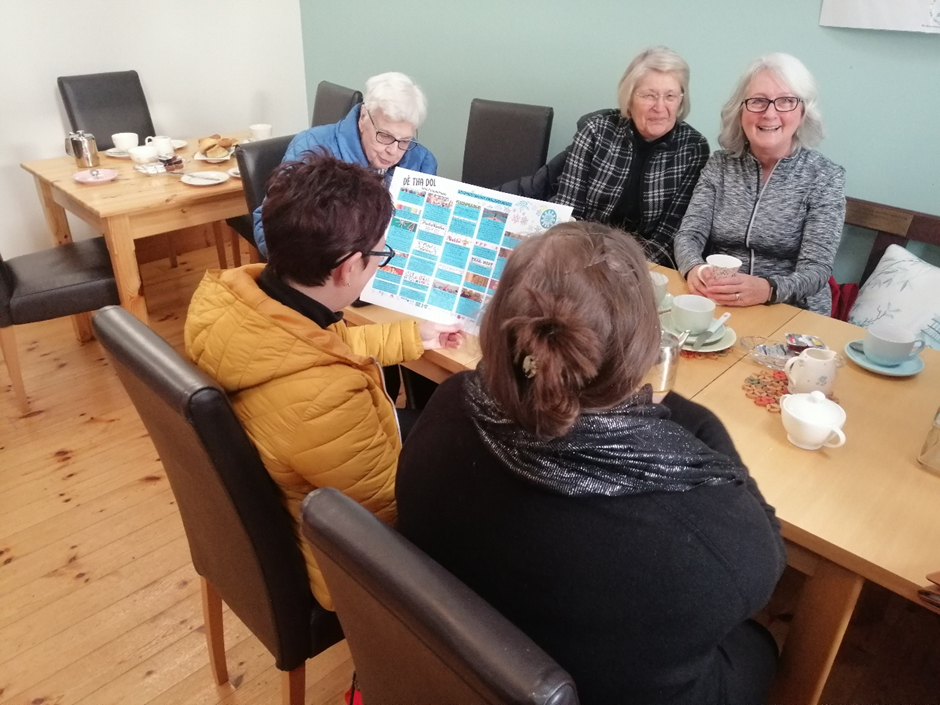 It is hoped that this project will inspire similar actions to be rolled out in other locations, and that the evidence gathered will be able to be used to guide future mental wellbeing initiatives and rural policy. This project has shown the potential of building more caring, connected communities, and how small changes can add up to make a big impact on local communities.
For more information on this project please visit Highlands & Islands Connections project. The project report can be downloaded here
Or alternatively please contact Ros Halley, Rural Communities Manager on RHalley@supportinmindscotland.org.uk
---
NATIONAL CENTRE UPDATE
The Challenge of Distance
Our webinar on rural places and Covid-19 chaired by Professor Sian Griffiths was a real success with over 150 delegates. We ran it in partnership with the NHS Confederation on 23 July. We are now working up ideas for a formal memorandum of understanding between the two organisations. You can access more information about the webinar content here
A Growing Rural Agenda
We have been really pleased to build links over the last few weeks with Sara Bordoley at NHS E&I who has been looking, along with the colleagues at the Kings Fund at Rural and Coastal settings as examples of areas with distinctive health inequalities.
Parliamentary Inquiry
The next two evidence sessions for this Inquiry, where we act as Secretariat are on 25 August. We have two themes: social care, followed by mental health and well-being. If you are interested in attending let us know by clicking here to send us an email and we can extend an invitation. These will be the 10th and 11th sessions in the Inquiry which is now reaching its conclusion. Our detailed write up period will be over Christmas and we hope to have a first draft of the report ready early in 2021.
Local Covid Dashboard
With Nuffield Trust we are actively considering the demand, format and approach to the development of a local level dashboard which would help people in rural settings access up to date information not just about covid-19 but its impact more widely by presenting other associated secondary data. If you would like to be involved in a more detailed engagement with this project please let us know. By clicking here to send us an email.
Funding Opportunities
This month we focus on three funders namely: the All Churches Trust; Masonic Charitable Foundation; and the National Institute for Health Research. To find out more about each of these funds click here
---
We'd love to hear from you - share what you're proud of
The RHCA provides news, information, innovation, and best practice. If you have something, you would like us to feature in a future edition, please let us know by clicking here to send us an email.
Spread the Word
If you know of other organisations that you think would benefit from joining the Rural Health & Care Alliance, please click here to email us and let us know.
---
RURAL SERVICES NETWORK
Up to date news on Health and Care
The Rural Services Network provides a useful source of themed news content and data. Check out the latest news on Health & Wellbeing and Vulnerability, where you'll find articles on a diverse range of rural issues affecting rural communities. You might also find this research on Over 65 Population Projections useful too.