22.07.2020
Blackdown Support Group wins £1,000 Movement for Good award

Local charity Blackdown Support Group has won a £1,000 Movement for Good award thanks to nominations from the public
Blackdown Support Group is one of 500 winners in specialist insurer Ecclesiastical's Movement for Good awards, which is giving £1million to charities this summer. Members of the public were invited to nominate causes close to their hearts, with 500 gifts of £1,000 available for donation. 13,695 charities were nominated by an amazing 253,879 members of the public.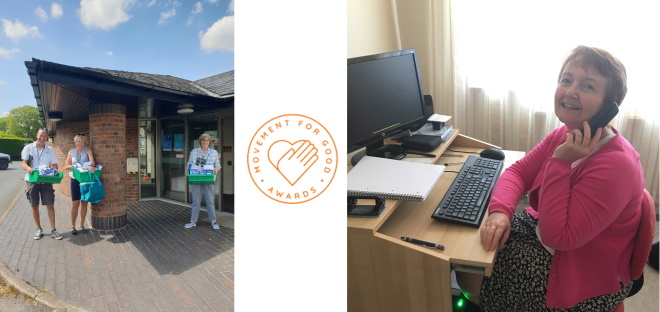 Elizabeth McNabb, Co-ordinator of the charity said
"During the Covid-19 crisis we have had to suspend our normal services due to restrictions on social contact and have instead organised a neighbourhood assistance service to local residents, offering prescription delivery, shopping, errands or a friendly phone call. As lockdown restrictions ease, we are now considering ways in which we can safely move forward in our work supporting vulnerable or isolated members of our communities. Our ideas include a low-cost "meals on wheels" service, a "care package" of home-based activities, support with technology enabling people to connect with others more easily, and support to enjoy time in nature, which is so important for mental and physical well-being. The Movement for Good award will be a huge help in kick-starting these new initiatives."
Mark Hews, group chief executive at Ecclesiastical, said:
"We would like to thank every single person who took the time to nominate a good cause as part of our Movement for Good awards. Ecclesiastical is a unique financial services group. We are owned by a charity which means all available profits can be given to the good causes that are so important to our customers. As a company whose purpose is to contribute to the greater good of society, charitable giving is at the heart of our business. We know that £1,000 can make a huge difference to the incredible work that charities do and we're looking forward to seeing how this financial boost will change lives for the better."
---
Notes for editors
Contact details: Elizabeth McNabb, Charity Co-ordinator 01823 681 036
About BLACKDOWN SUPPORT GROUP
Blackdown Support Group is a local charity based at the Blackdown Practice in Hemyock, ?and offers voluntary support to anyone in need in the Blackdowns area.
The aims of the charity are to reduce social isolation, facilitate access to services and improve quality of life for people suffering the effects of loneliness, old age or ill health.
We offer low cost community transport, run social groups and provide one to one befriending and mentoring services.
For more information visit www.blackdownsupportgroup.org.uk or www.facebook.com/blackdownsupportgroup
About Ecclesiastical
Owned by a registered charity, Allchurches Trust, Ecclesiastical is a specialist insurer of the faith, heritage, fine art, charities, education and private client sectors
Ecclesiastical is one of the UK's top five company givers to charity according to the 2017-18 UK Guide to Company Giving. After donating £50m to charity in three years, Ecclesiastical launched a bold vision in 2016 to raise £100m for good causes by the end of 2020. In March 2020, the Group announced it had already raised £96million towards its target. Find out more at ecclesiastical.com/ourstory
About the Movement for Good awards
Ecclesiastical's £1million giving programme, the Movement for Good awards, will help charities change lives for the better. Phase one will see 500 charities receive £1,000 while the other £500,000 will be given away later this summer
The £1,000 awards launch on Wednesday 6 May and is open to all UK-registered charities. From 6 May to 24 May anyone can nominate a registered charity for the chance to receive one of 500 £1,000 awards. The winners will be announced between 1 June and 12 June. For more information visit www.ecclesiastical.com/movementforgood