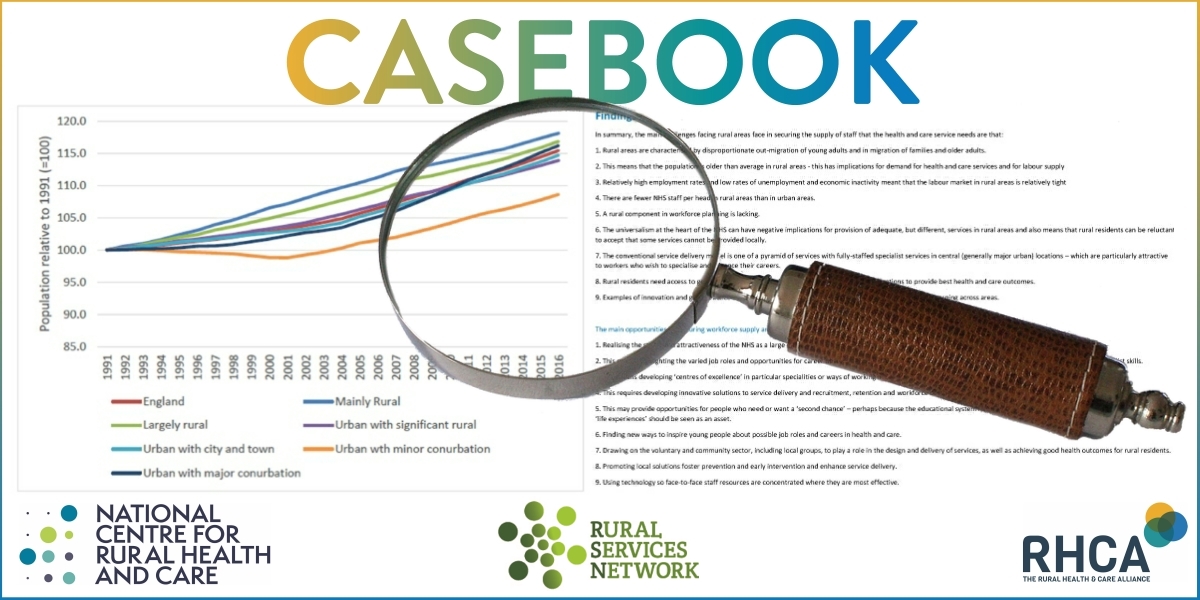 August 2019 Edition
News

Boris Johnson announces £1.8bn one-off cash boost for NHS hospitals
How much of this money is really "new" ? and how much of it will be spent in rural settings? According to Nigel Edwards (see below) it would be unwise to hold your breath…. This article tells us:
Prime Minister Boris Johnson has announced a one-off cash boost of £1.8bn for NHS hospitals in England.
Of this, almost £1bn will be available immediately to go towards new equipment and upgrades to 20 hospitals.
Writing in the Sunday Times, Mr Johnson said he was "determined to deliver" the promises of the Brexit referendum campaign and increase NHS spending.
But Labour said it fell "significantly short" of the amount needed by the NHS and would not reverse years of cuts.
The money is coming from the Treasury and is not a re-allocation of funds from the Department of Health.
It is on top of the cash boost announced by former prime minister Theresa May last year - an extra £20bn a year by 2023.
Around £850m - spread over five years - will go towards funding the 20 hospital upgrades that Mr Johnson promised in his first speech as PM outside Downing Street.
The remaining money is expected to help clear a backlog of existing upgrade work and infrastructure projects.
He will formally announce the funding on Monday, when he is expected to identify the hospitals which will get money to upgrade wards and repair buildings.
But the health think tank the Nuffield Trust said the latest funding, which is less than 1% of NHS England's annual budget, would "only be a fraction of what it would cost to really upgrade 20 hospitals".
Nigel Edwards, the Nuffield Trust's chief executive, added that it it was a "down payment on the staggering £6bn needed to clear the backlog" of NHS maintenance.
Full article:
https://www.bbc.co.uk/news/uk-politics-49220911?intlink_from_url=https://www.bbc.co.uk/news/health&link_location=live-reporting-story

Prevention: the new holy grail of treating mental illness
I believe in prevention – whether it's the holy grail or not I don't know but it's a good thing to invest in. Mental health challenges are particularly acute in rural settings where sparsity leaves people feeling lonely through isolation. This article tells us:
Far more attention should be devoted to preventing mental illness rather than simply treating it as it arises, health experts say, comparing the current approach to only treating heart disease after a cardiac arrest.
At the start of a new Guardian series on illnesses estimated to affect almost a billion people worldwide, leading researchers say money and lives could be saved by investing more in keeping people well.
They say the revolution in personal fitness, diet and medicine over the past 50 years has transformed physical health, but that there have been few similar efforts to keep people well mentally.
"Prevention is much less developed in mental disorders than in other areas of medicine," said Ron C Kessler, a Harvard Medical School professor. "In psychiatry and psychology it is like we are practising 1950s cardiology, where you wait for a heart attack and once it happens you know what to do.
"We need to go upstream a bit more."
Mental health is still poorly resourced compared with physical health, and it is decades behind in terms of prevention. Some businesses are grappling with it, with mental health first aiders, digital counsellors and awareness campaigns. Some schools also teach pupils about psychological resilience from a young age, and offer counselling on site. Many individuals practise the kind of mental "workouts" that therapists believe help, but overall only 5% of mental health research funding is spent on investigating prevention.
According to World Health Organization, about one in eight people or 970 million individuals suffered from some sort of mental disorder in 2017, and the numbers seeking treatment are soaring.
Full article:
https://www.theguardian.com/society/2019/jun/08/prevention-the-new-holy-grail-of-treating-mental-illness

'Give older people legal right to live in their own homes'
I think this is a cracking thing to get behind, just as long as we work out who is going to pay for it. These issues are often more acute in rural settings due to the challenges distance introduces to the issue of supporting people to live in their own homes for longer. This article tells us:
The UK's equality watchdog has demanded that disabled and older people should have the legal right to homes in the community rather than being forced to live in institutions.
The Equality and Human Rights Commission (EHRC) says concerns about social care and a shortage of suitable homes means a new law is urgently needed. "We need a rethink on how we treat disabled people, including people with mental health conditions, and older people in this country," said David Isaac, chair of the EHRC. "We hope our call for action will result in a wider conversation. This goes right to the very essence of the sort of country we want to be – where everyone has the support needed to live their daily life."
Isaac said the rights of disabled and older people were at risk. "Disabled people often feel like second-class citizens, and many are sadly faced with little choice but to move into institutions. They are often left feeling ostracised. We need to ensure that everyone can live as part of their community, where no one is forced out of the place they call home."
The watchdog says all relevant public bodies should comply with article 19 of the UN Convention on the Rights of Persons with Disabilities, which protects the right to live independently and as part of the community. A person would be assumed to want to live in the community unless he or she indicated otherwise.
Full article:
https://www.theguardian.com/society/2019/aug/04/disabled-people-must-have-right-to-stay-own-home-law-winterbourne-view

Alzheimer's blood test 'one step closer'
I think this is a fascinating article. We all know it is very tricky to provide sustainable care options for people living in rural settings with Alzheimer's. This article gives us food for thought about how we might respond to early identification in that context as it appears to be moving a step closer.
Researchers say they can accurately identify people on track to develop Alzheimer's disease before symptoms appear, which could help the progress of drug trials.
US scientists were able to use levels of a protein in the blood to help predict its build-up in the brain.
UK experts said the results were promising - and a step towards a reliable blood test for Alzheimer's to speed up dementia research.
But larger studies were needed first.
Alzheimer's is the most common cause of dementia, affecting more than 520,000 people in the UK, mostly over-65s, and millions around the world.
There are currently no treatments to halt the disease.
Up to 20 years before people develop memory loss and confusion, which is characteristic of Alzheimer's, damaging clumps of protein start to build up in their brains.
But costly, time-consuming positron emission tomography (Pet) brain scans are currently the only way to test for this.
Full article:
https://www.bbc.co.uk/news/health-49204882

NHS hospitals 'gaming system' so statistics improve but actual waits for patients lengthen
I am not surprised by this story. If you set people unrealistic targets they'll find ways of getting round them…..It tells us;
Some hospitals are resorting to "gaming the system" as they try to make their A&E waiting times look better, NHS staff members have claimed.
The controversy surrounds same day emergency care (SDEC) units, which are being introduced to all hospitals.
The units are supposed to cater to patients who would otherwise be admitted to hospital.
Staff at SDEC facilities aim to prevent people from being admitted, with more patients being seen and discharged the same day.
But some patients are allegedly being sent to the units, where they can face long waits, while being removed from A&E data.
This has the effect of allegedly improving waiting times on paper, while changing little about the reality on the ground.
Currently hospitals in England are expected to treat, admit or discharge 95% of patients within four hours.
The target has not been met since July 2015, with many experts doubtful the NHS will ever hit it again.
"SDEC as a concept is sound," said one senior A&E department's staff member, according to the Health Service Journal (HSJ).
"But what is happening in reality is (some) trusts are just rebranding part of their emergency department as an SDEC unit and saying:
'These patients no longer count in the four-hour data'.
Full article:
https://www.independent.co.uk/news/health/nhs-waiting-times-hospital-a-e-emergency-care-treatment-a9019071.html
---
Other Stuff
Membership
The RHCA now has over 60 members. I'm very excited by our growing movement. Recent new members include: The Royal Society for Public Health, Anglia Ruskin University and Alertacall. We have now also begun taking booking for our programme of free seminars. You can download the brochure for that here:
https://www.ncrhc.org/news/regional-seminar-dates-2019


Research
We now have a Research Associate (in partnership with Bishop Grosseteste University) in place. Kay Purle. Kay is contacting members who have expressed an interest in research collaboration to explore cooperation further. We have also now agreed two action research projects – one on the challenges facing dispensing doctors and the other on a novel approach to rural GP recruitment. If you want to know more about either of these please contact Kay at:
kay.purle@bishopg.ac.uk


Rural Proofing
The National Centre for Rural Health and Care and Rural England (https://ruralengland.org/) have agreed a joint research project to produce a new rural proofing toolkit for health. We anticipate work will start on this initiative in October with a view to it being ready for use in the spring on 2020. If you would like to be involved please email National Centre Operations Director – Ivan Annibal at: Ivan.Annibal@roseregeneration.co.uk

Parliamentary Inquiry
Our last Inquiry Session which covered the themes of recruitment and retention is now fully written up and contains evidence from: the Chief Nurse, the BMA and rural witnesses from Cumbria, Somerset and Devon. You can view the details here:
https://www.ncrhc.org/about/parliamentary-enquiry-into-rural-health-and-social-care/session-1-details

Africa via La Trobe
The National Centre is currently flexing its international interest. As part of that we were delighted the University of Lincoln (a core supporter) have appointed a new Global Professor in Rural Health (Frank Tanser) who comes to us from an African University. We also met Professor Rachel Huxley Associate Pro Vice-Chancellor (Research) from La Trobe University to discuss opportunities around collaboration recently. Watch this space!!!