07.12.2020
Community Heartbeat Trust study shows poor recognition of some defibrillator signage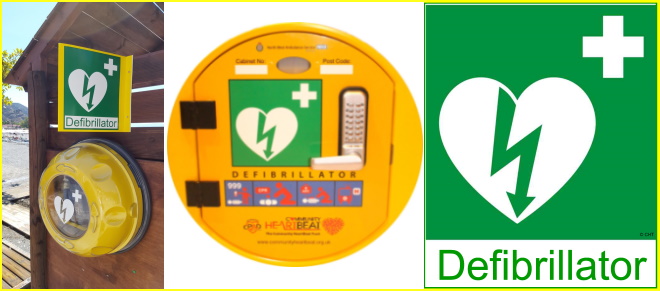 In 2017 the RCUK and BHF suggested defibrillator signage should be changed as they had competed a study suggesting only 48% of people recognised the existing RCUK signage in place since 2006. A similar study at the time from CHT suggested the opposite view that the ILCOR defibrillator signage, used internationally, had a 90% recognition.
The Community Heartbeat Trust charity (CHT) has now released the results of its new 2020 study into signage that shows that the ILCOR signage is recognised by 4 to 5 times the numbers of people than the RCUK/BHF signage. Further in trained first aiders/medically trained, who would have been expected to have high recognition, this was 3 times more recognition.
"We have argued for many years that having a standardised defibrillator signage is key to saving lives," said Martin Fagan, National Secretary at CHT. "There are currently 13 different defibrillator signs being used in the UK. This is causing confusion. Internationally, and in particular Europe, the ILCOR signage is the standard, and in November 2019, the European Resuscitation council suggested all countries should adhere to this standard. Travellers and tourists particularly are confused, as they cannot now recognise what the signage actually is, and this causes a delay in rescues, and therefore ability to save a life".
CHT has called upon the RCUK to follow international standards, and use the ILCOR signage as the standard sign for defibrillators in the UK.
Martin continued "if any organisation said change road signage as only half the people recognised a particular safety sign, then this would not happen. You would take an approach to educate those not understanding, eg through roadcraft. The same should apply here. Why be different from the rest of Europe? We adopted standardised road signage in 1968. In 2006 the EU and ISO laid a foundation for standardisation of healthcare signage, which was adopted by the UK. The NHS has put great store in simplicity of healthcare safety signage. Is it not about time we have a standard, and this should be ILCOR? This is about saving lives."
The study also went on to look at recognition by age groups, sex, and by those who travelled.
The full report will be available for interested parties from w/c 23rd November by contacting the Community Heartbeat Trust (details below).
www.communityheartbeat.org.uk
enquires@communityheartbeat.org.uk