21.05.2020
Collaboration provides the key to village apartments in rural Devon

A Devon housing provider is working with government housing agency Homes England and two local authorities to provide new accommodation where people with learning disabilities can live independently in a rural setting.
South Devon Rural Housing Association (SDR) already has strong links with Devon County Council and South Hams District Council, thanks to partnerships forged through prior provision of affordable housing for older people and its existing care home in the village of Dartington.
SDR recently celebrated completion and occupancy of 12 affordable one-bedroom apartments for tenants aged over 55 at Brimhay Gardens, on the site of 18 run-down 1960s bungalows – a project aided by Homes England grant funding.
Phase Two of SDR's pioneering multi-faceted development at Brimhay is a range of market-value homes that will part-fund a new complex of 11 apartments for people with learning difficulties.
The market-value homes were nearing completion when work was interrupted by the Covid-19 lockdown. Digging foundations for the 11 flats began in March, but was swiftly halted due to the pandemic. It's hoped that work can begin again soon, with completion likely in spring 2021.
Collaboration between SDR and the councils started early in the design process for the apartments, to ensure the architect produced plans to a specification that will best match the needs of the new occupants.
Ease of access
Everything from the layout of the building, to ease of access and suitability for a range of mobility issues, has been covered with the help of Devon County Council's Locality Team. This includes wider doorways and reinforced weight-bearing for hoists and mobility aids.
The 11 flats are funded by a £400,000 grant from Homes England and the surplus from the sale of the market-value homes, to be gift-aided back to SDR by its development arm, Rural Homes Ltd.
With no similar schemes locally, there is currently a waiting list for this type of accommodation, so the flats at Brimhay will be a boon.
SDR will soon begin working with the two councils to identify potential tenants, many of whom have previously lived with their families and may have limited experience of living independently. The new tenants will continue to be supported by their care teams. All will be supported to increase their independence where possible and progress to more standard accommodation, whilst others might need greater levels of support.
Christine Candlish, SDR's Chief Executive, said: "These fantastic properties will provide tenants with a safe, secure place to live. For many this will be the first taste of independent living, away from families, and a chance to develop and grow in confidence.
"The apartments are another example SDR's ambition to deliver genuinely affordable housing in South Devon for a range of clients. Providing this type of home in a village setting is vital in enabling local people to stay close to family and friends and feel part of their local community. We're especially pleased to have secured grant aid from Homes England towards part of the cost of the Brimhay project".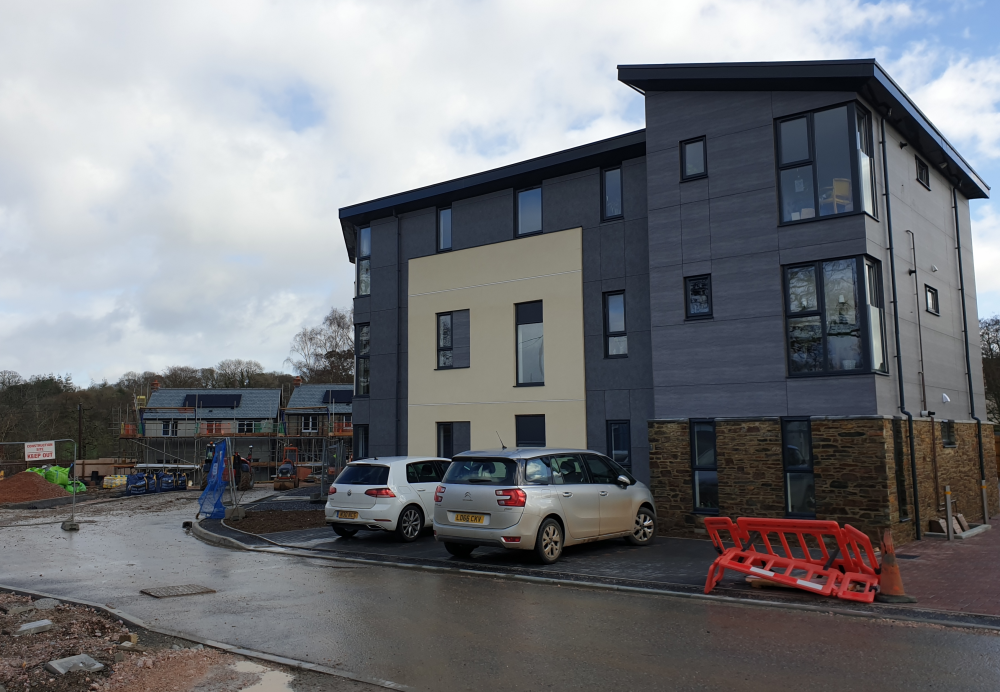 The completed apartments for Over 55s, with (left of photo) market value homes under construction
---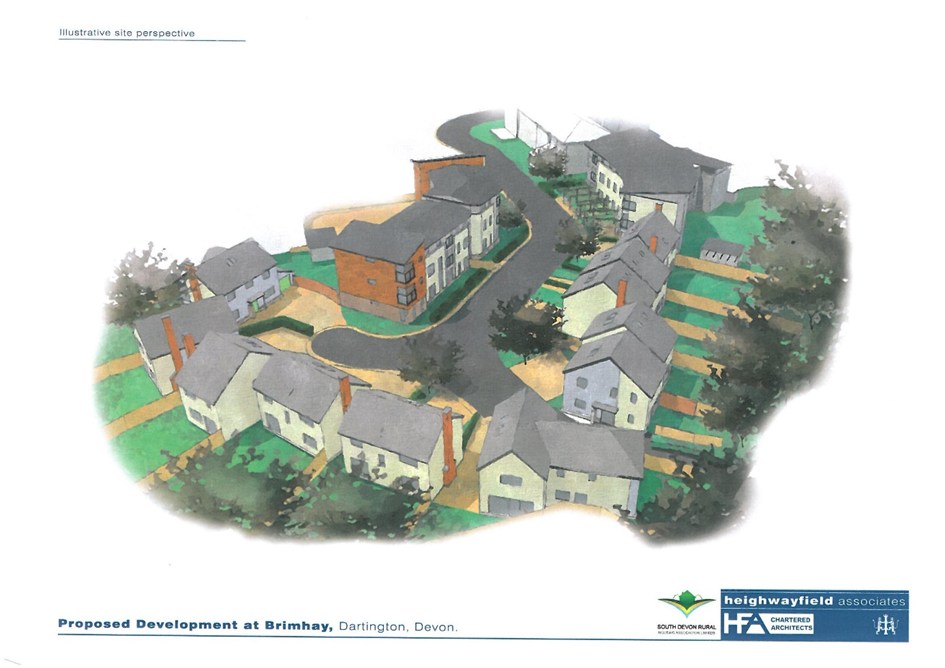 Artist's impression of the new development at Brimhay, Dartington