21.05.2020
ConnecTED Together - Self-distancing but still ConnecTED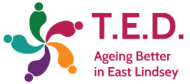 Funded by the National Lottery Community Fund's Ageing Better Programme, the TED in East Lindsey Programme was established in 2015 to bring together diverse people in the district aged 50 and over. Our services include Friendship Groups, a number of innovative activities delivered by partners, and the promotion of mindful businesses through our Age Friendly Business Award.
At TED in East Lindsey we realise COVID 19 and the requirements to self-distance can impact greatly on our rural and coastal communities. In meeting these challenges the team, its partners and stakeholders have continued to work together, adapting services to meet the needs of their local communities and prevent social isolation and loneliness.
We have seen aspects of ConnecTED, our offer to communities during this time, extend beyond the East Lindsey District to the whole of Lincolnshire. ConnecTED currently offers:
A phone befriending service (extended to the county of Lincolnshire)
Signposting to other agencies
Emailed fortnightly packs featuring news, reviews, quizzes, short stories, and recipes
A dedicated YouTube channel with video features on themes such as exercise, healthy eating and working with technology
'How to' guides posted on the TED in East Lindsey website (including information on digital devices)
Campaigns that include the KnitTED Together campaign where people can share pictures of creative knitting and experiences via social media
Caroline Killeavy, CEO of YMCA Lincolnshire has said "our ConnecTED befriending service provides personal support to those people who may not be able to see their friends and family, or even pop to the shop, by bringing people together for a friendly chat … this regular personal contact can make all the difference".
By the end of April TED in East Lindsey and their delivery partners had provided support to 1279 people. As well as people aged 50 and over contacting the team directly, TED also accepts referrals and queries from relatives, friends and agencies. As Anne* put it "I'm happy with the calls … I do like to yap with a captive audience!"
But TED in East Lindsey not only about meeting the needs of our communities, it's also about embracing their strengths and community spirit. One partner reported it was "good to see some of the group are now phoning me and not waiting for my weekly call…they feel relaxed enough to do this and don't have to phone me for anything, but just to have a chat"
One project lead said "one of our members said she had phoned others or simply spoken across the garden to some of them about clapping for the NHS and keyworkers. She told me everyone had come outside to clap and this gave a real sense of togetherness and everyone was smiling".
TED in East Lindsey knows that while we may be at distance, we still can keep ConnecTED.
If you are interested in what TED in East Lindsey has to offer please visit our website https://tedineastlindsey.co.uk/latest-delivery/ alternatively you can email the team ted@lincsymca.co.uk or call 01529 301966.
*Not her real name