14.12.2021
December Edition of Casebook - Health Funding Opportunities from the Rural Health and Care Alliance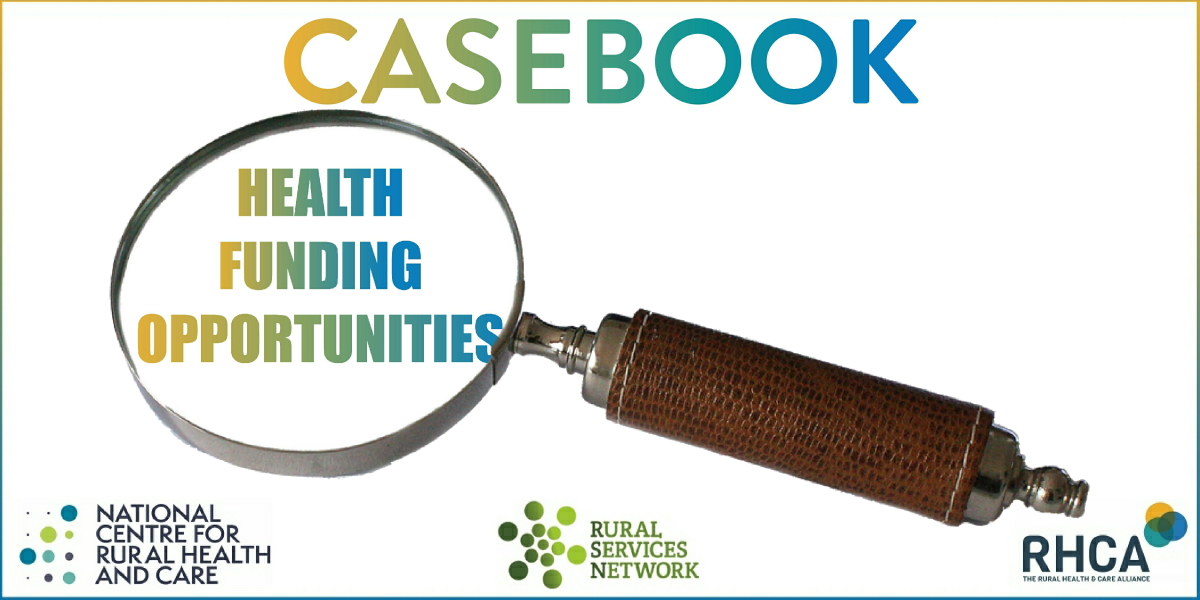 | | |
| --- | --- |
| This month's featured funding opportunities are: | |
Western Charity Awards 2022– PilotLight
Applications are open for the PilotLight awards which help charities working in the fields of Community, Welfare or Youth to plan for sustainability, development and growth through a ten month-long programme. The package of support includes an unrestricted grant, worth just over £22,000. Applicants must be charities which predominantly operate in the Midlands, North of England or in Wales. The closing date is Friday 7th January 2022. For more information visit:
https://www.pilotlight.org.uk/weston-charity-awards/about-the-awards/overview
Your Best Friend
The "Your Best Friend" Fund are distributing £300,000 in grants to organisations and groups based in England and Wales to create their own ideas and projects that support Your Best Friend's aims around helping young women and non-binary young people to be able to provide support for their friends. They expect to give out 30-40 small grants of £1,000 - £10,000, and 6-8 large grants of between £10,000 and £25,000. The small grant programme is a rolling programme, with applications accepted at any time and assessed at 6-weekly panel meetings. The deadline for the first round of the large grant programme is 18th February 2022. For more information visit:
https://yourbestfriend.org.uk/
The Weavers Company – Charitable Grants
The Weavers' Company is a textile-related, charitable and sociable organisation which provides grants of up to £15,000 for small, registered charities that have projects working with:
Supporting offenders and ex-offenders, particularly those under 30 years of age
Helping disadvantaged young people
Grants are usually given for one year. The next closing date for its grants programme is the 17th March 2022. For more information visit:
https://weavers.org.uk/charity/charitable-grants/guidelines/
Suicide Prevention Fund 2021 to 2022 - Department of Health and Social Care
The Department of Health and Social Care (DHSC) has made available a £4 million Suicide Prevention Fund to support voluntary, community and social enterprise (VCSE) organisations that work to prevent suicide. This includes supporting the sector's ability to continue to meet increased demands or needs for their services as a result of COVID-19.
The strategic objectives of the fund are:
service provision: to support suicide prevention VCSE organisations to meet the increased need or demand for suicide prevention services because of the pandemic
to support service provision particularly to people considered to be at a higher risk of suicide, through the work of the diverse range of suicide prevention VCSE organisations and enhancing service provision to high-risk groups
High-risk groups are defined in the latest progress report of the National Suicide Prevention Strategy which highlights those who were already at a higher risk of suicide, as well as those that we are particularly concerned about in the context of the pandemic.
The funding will support organisations to continue providing services, for example by helping to cover any financial gaps for these organisations caused by COVID. The funding is only available to support the delivery of suicide prevention activities in England. All awarded funding must be spent by 31 March 2022.
Organisations may apply for the lower of either: the value of eligible activities from April 2021 to March 2022 – the funds can be backdated to cover activities from April 2021 OR 25% of their annual income.
For more information visit:
https://www.gov.uk/government/publications/suicide-prevention-fund-2021-to-2022
---