31.01.2020
Dispensing Doctors' Association - Post-election briefing paper

The Dispensing Doctors' Association has published a post-election briefing paper for England outlining the value of dispensing GP practices to rural communities. Newly-elected and returned MPs have been told about the range of 'extra' services offered by dispensing GP practices, over and above core NHS GP services. This recognises that specialist healthcare services are often difficult or impossible to access elsewhere locally. Home visits made by rural GPs recognise that access to the surgery can be difficult for many patients.
MPs have also been told that rural GPs are also located in the centre of local communities, which allows patients to see a GP when they need to: increasing distance from health services is known to reduce use of primary care services… resulting in higher than expected numbers of deaths and lower than expected survival [rates]. Rural GPs are also able to offer more 'usual GP' appointments: when patients can see the same GP more consistently there are fewer hospital admissions. Finally, rural GPs provide much-needed skilled employment and training in areas identified by DEFRA as offering fewer skilled people and less access to training and to employment.
The briefing paper, available online at https://www.dispensingdoctor.org/about-the-dda/dda-political-lobby-documents/, also includes a case study of the Swan Practice, in Buckingham, to demonstrate the benefits of the dispensing GP service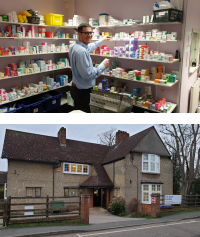 Swan Practice serves the lovely market town of Buckingham and surrounding villages. It's a large practice, serving 30,000 patients, spread across a wide area of beautiful countryside.
The practice is the result of merging three different dispensing practices over the past few years. According to practice partner Dr Ben Burgess, the mergers were challenging, but have been worth it for patients. He says: "We are delivering improved services to patients and feel we are now in a strong position for the long-term."
Each member practice still runs its own dispensary, in response to patient demand for local services, although each has its speciality. For example, one site specialises in making up the dossette boxes that help patients to remember to take their medicines. According to Dr Burgess, this maximises efficiencies for the practice and the NHS and reduces the risk of error.
Centralising the teams and processes has taken work, Dr Burgess admits, in order to accommodate the strengths and preferences of different members of the dispensary team, but this has now paid off.
Local employers
Collectively, the dispensaries offer employment to 14 people and the potential for career development. Six of the dispensary team members have been trained in-house, including one who started off as a delivery driver but then got the dispensary 'bug' and moved roles into dispensing. Others have developed new roles, for example, within a newly-established Clinical Quality Team. This is focused on enhancing patient safety and service.
Among the new team is a former dispenser who has moved into the role of clinical quality manager, a key role in overseeing purchasing and liaising with the dispensary and the clinical quality lead GP partners.
Other role developments include dispensary supervisors, dispenser-led oversight of high-risk drug monitoring and ensuring patients on problematic drugs have the necessary blood tests in a timely way. Another upskilled dispenser manages higher cost prescribing, such as stoma products and nursing homes, and also deals with the interface prescribing issues that arise due to working with a number of trusts.
Dr Burgess notes: "The dispensers have used their skills and enthusiasm to enhance their roles. We believe the new roles are keeping our patients safer and helping the clinicians to feel less pressured."
Maximising investment in health and social care
It is Dr Burgess' belief that dispensing income has a vital role not just for local people and patients but also in terms of the return that it offers to the NHS. Additional income generated by the dispensary supports the adoption of new technology such as electronic CD governance, which reduces costly misuse of these medicines and improves patient safety. The income also pays for quality enhancements, such as the new roles established by the practice to support and maximise the potential of NHS-funded services. These include clinical pharmacist-led medication review, and to liaise with the wider health and social care teams in hospitals and local care homes regarding prescribing issues. Dr Burgess explains: "Interface problems with other NHS and care bodies such as these are a common cause of prescribing errors nationally, and this role significantly improves safety for our patients."
Dispensing, he says, is a win-win for the local economy as well as the NHS, providing employment and career development for local people, and the funding for technology and workforce development to maximise the Treasury's spend on health and social care in England.
Most importantly, dispensing income plays a critical role in enhancing patient care: among the services on offer the practice delivers repeat medications to 97 housebound patients. Dr Burgess says:
"Without the income from the dispensaries to subsidise the practice, we would struggle to provide the wide range of services that we can."