28.04.2021
First Bus: Innovating to instil confidence in everyone

As the UK starts to emerge from staggered lockdowns and more people return to commuting, it's perhaps more important than ever that everyone has the confidence and choice to consider bus travel and thus play their own part in reducing emissions by leaving the car at home.
At First Bus, one of the UK's largest operators, we recognise the need to extend our tools and support to include all of our customers, taking account of any particular needs they may have.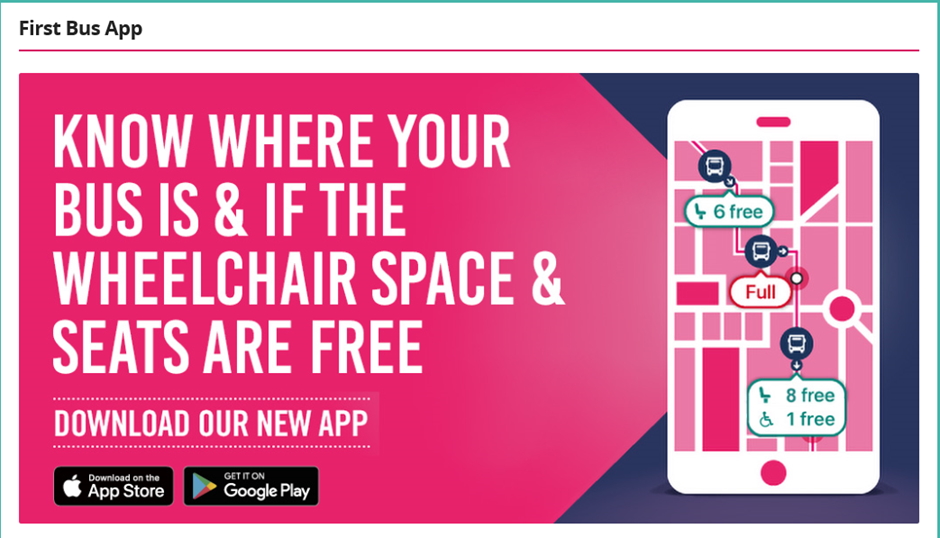 Whilst the pandemic has brought a multitude of challenges with it, First Bus, saw it as a catalyst to expedite some of the tech support already in development for its customers. This included an update to its mobile app to live track not only the location of their next bus but also its available capacity, including that of wheelchair spaces across its fleet. This important innovation makes bus travel easier by tracking wheelchair capacity through an icon that moves across a virtual map.
The update forms part of a fast-tracked investment in the app which has seen First Bus become the first UK bus operator to not only allow bus passengers to live track the location of their next bus, but also show its capacity in 'real time'.
The innovation has gained widespread praise from UK disability groups including,
Rob Burley, Director of Campaigns, Care and Support at Muscular Dystrophy UK,:
"We're pleased First Bus has committed to improving its services for wheelchair users. Disabled people use public transport to get to work or school, go shopping, or simply enjoy a day out with friends and family. But unfortunately we know experiences can be mixed because of physical and attitudinal barriers. We hope this new app feature will make it easier for disabled people to plan their journeys, and welcome the pledge made by First Bus to make its network more accessible."
Stephen Brookes, Ambassador for Disability Rights UK
Sector Champion for the Minister for Disabled People:
"It's good to see that First Bus are enabling their disabled customers who depend on wheelchairs to use real time technology to track and view space availability across the country by use of a mobile app. This means that disabled customers will be able to have more confidence in planning a journey. The information, which is based on driver recorded updates is simply expressed, clearly set out and easy to navigate."
The app update is aligned with First Bus' longstanding pledge to improve the bus experience for our passengers with disabilities during the pandemic and beyond. If customers are exempt from Government face covering guidelines during the pandemic, First Bus also have journey assistance cards available to download from https://www.firstgroup.com/help-and-support/extra-help-travel. This is in addition to the sunflower lanyard scheme, which our drivers are asked to recognise: https://hiddendisabilitiesstore.com/about-hidden-disabilities-sunflower
To read more about First Bus' other tools, including the Spacechecker prediction tool on its App, visit: https://www.firstbus.co.uk/tech-bus/first-bus-app