28.10.2021
Hartpury continue to shape the future of digital farming

Spades go in the ground this month at Hartpury's agricultural campus and commercial farm to create a new kind of workspace with bespoke business support packages that are dedicated to enabling the growth of Gloucestershire's agri-tech businesses.
The construction of a 'Digital Innovation Farm Tech Box Park' will see Hartpury further develop its 360-hectare campus and expand its range of agriculture facilities to meet the global demand for new technology in farming.
The £2million facility will provide dedicated working space and support packages, access to Hartpury Farm and an extended farming network for practical trials, and feasibility testing across the county where businesses can explore, test, research and develop new products, or enhance existing ones.
Russell Marchant - Vice-Chancellor and Principal of Hartpury University and Hartpury College, joined David Owen - Chief Executive of GFirst LEP, Mark Price - MD of Vitruvius Management Services and Ben Treleaven – MD of ISO Spaces at a special 'breaking ground' ceremony to mark the start of construction on campus.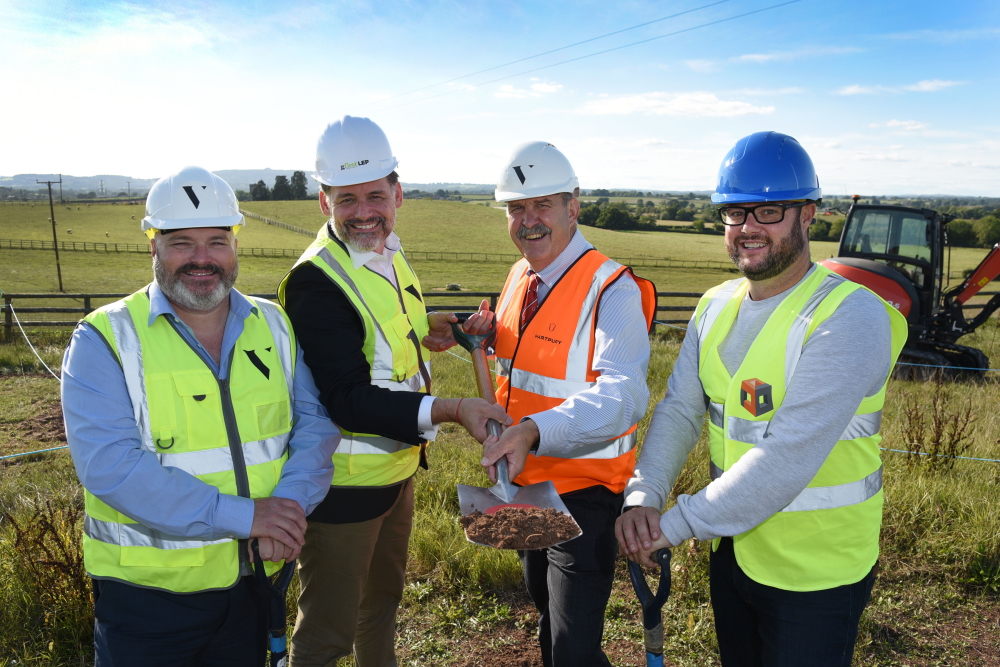 Russell Marchant, Vice-Chancellor of Hartpury University and Principal of Hartpury College, said:
"This new ground-breaking facility will combine our agricultural campus, commercial farm and strong industry connections with agri-technology companies to address the inevitable challenges of a digitally driven future."
Funding for the Tech Box Park has been provided by the GFirst Local Enterprise Partnership Getting Building Fund, the European Regional Development Fund (ERDF) and the Elizabeth Creak Charitable Trust.
David Owen, Chief Executive of GFirst LEP, Gloucestershire's Local Enterprise Partnership, commented:
"GFirst LEP is delighted to support this state-of-the-art and exciting project at Hartpury University and Hartpury College. The project has received funding of £1.25m from the 'Getting Building Fund' to create new innovation and demonstration workspace for high growth SMEs in Gloucestershire."
Designed and manufactured by ISO Spaces, an award-winning designer and manufacturer of container conversions and modular buildings, the 10 x 40ft High-Cube Tech Box units will be created using environmentally friendly, repurposed shipping containers clad in cedar wood.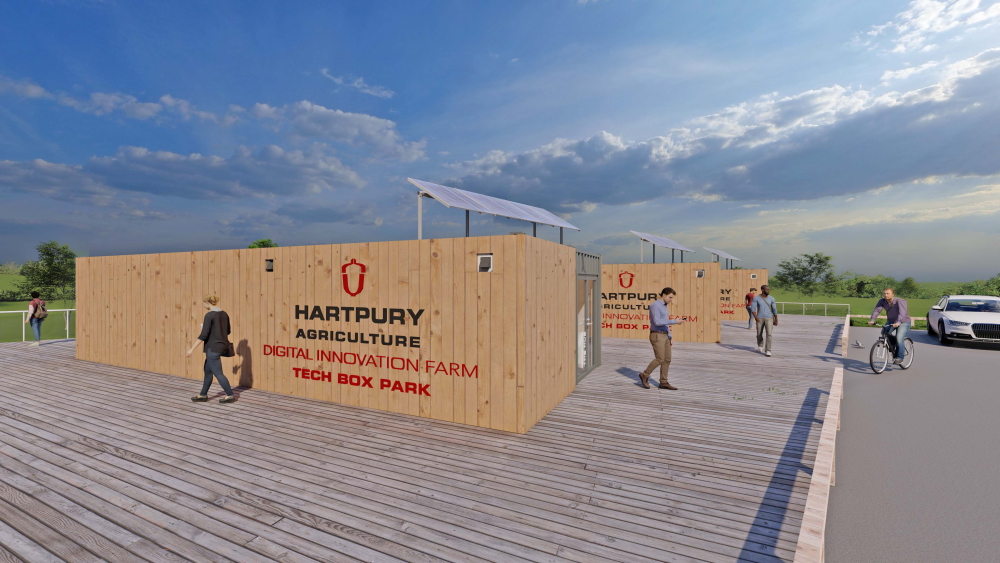 The new Tech Box Park is due to open later this year, with Hartpury appointing Project Lead, Vitruvius Management Services who have supported them at every stage of the development from conception through to successes in gaining funding and at the planning stage - and will manage the project through construction to handover.
Mark Price, Managing Director of Vitruvius Management Services, added:
"I am thrilled that this pioneering facility is finally breaking ground and will provide an innovative space for Gloucestershire's SMEs to explore, test, research and develop new products."
Click here to learn more about the Tech Box Park.