20.06.2022
'Hidden region': rural England forgotten in Government's Levelling Up White Paper

20th June 2022: Were England's rural communities a distinct region, their need for Levelling Up would be greater than that of any other part of the country, according to new research published today that finds the Government's metrics do not properly account for the pressures facing our smaller towns and villages and as a result effectively side-line 12 million people.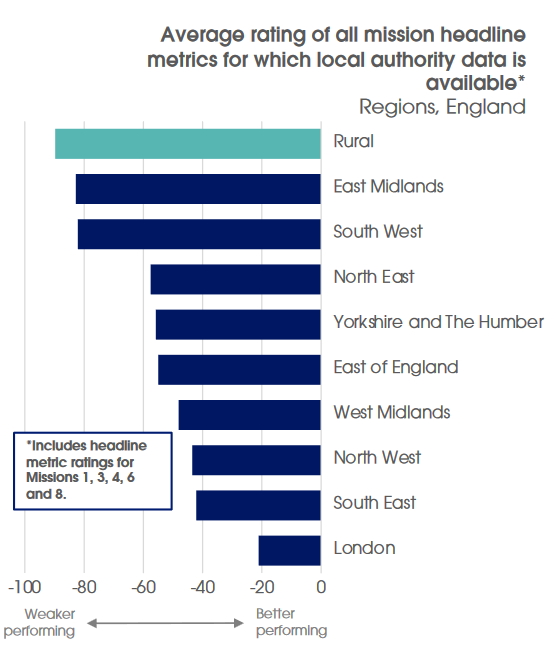 The report, Rural as a region: the hidden challenge for Levelling Up, finds that the Government's Levelling Up white paper metrics - used to identify the regions most in need of levelling up - are too urban-focused, and do not account for disadvantage in rural economies within regions, often linked to limited local employment prospects, poor transport networks and weak connectivity. It calls for the Government to rethink its choice of metrics and include more rural-relevant indicators such as work placed based incomes, fuel poverty levels, access to further education and house prices relative to local earnings.
The research, authored by economists from Pragmatix Advisory, sets out that despite being home to a fifth of the population and with a larger total population than London or the South East, when evaluating all the headline metrics in the white paper against the other nine geographies, England's 'hidden region' has a greater need to be levelled up than any other part of the country.
The White Paper, published earlier this year, identified four high-level objectives and 12 missions to level up communities by 2030, setting out metrics to evaluate need and monitor progress. However, the report by Pragmatix Advisory for the Rural Services Network, which represents rural councils, warns that the metrics and measures are too focused on discrete regions, with limited reference to more spread-out rural communities. Metrics also do not account for key discrepancies such as frequency of public transport services to access key services, house price to local earnings ratio or percentage of premises with super-fast broadband.
Pragmatix Advisory has set out a range of additional metrics that could be used to supplement those already in the white paper, which would better identify those areas most in need of levelling up at a local level and help Government achieve its levelling up objectives. These include:
Proportion of households in fuel poverty
Work place-based incomes
House price relative to local earnings
Ratio, and rates of seasonal employment
Frequency of public transport services to access key service
Distance to Further Education provider and the range of courses available
Referral for treatment waiting times, rates of delayed discharge and levels of self-harm amongst younger people
Percentage of premises with super-fast broadband
Rebecca Munro, consultant, Pragmatix Advisory, states:
"The Levelling Up White Paper is neglecting rural areas of England, partly due to the choice of metrics the Government uses to inform on which areas are most in need of levelling up.

"Our research found that rural as the region would be most in need when it comes to digital and physical connectivity, and public transport connectivity is worse in rural than any of the regional averages. Rural is also the third most in need region for boosting productivity, pay and employment, only behind North East and Yorkshire and The Humber.

"The Levelling Up agenda cannot include every metric, and the ones that have been outlined in the white paper are important to meeting government's objectives, but without considering additional metrics, there is a risk that the needs of 12 million rural residents could be ignored."
Graham Biggs, Chief Executive of the Rural Services Network, comments:
"Currently, the metrics used are failing to identify the most disadvantaged areas where government action is needed to properly level up the nation. Differences within regions are greater than the differences between regions, and targeting improvement at a regional level risk leaving this hidden region and these communities and rural businesses behind.

"Levelling up should take place at a community level. On some metrics, rural authorities appear to be performing well compared to their urban counterparts. But this is because the metrics chosen fail to capture the realities of rural disadvantage. For example, employment rate tends to show higher levels of employment in rural areas, but what this metric fails to account for is the quality of employment.

"Rural areas would be better represented as a part of the levelling up agenda by the inclusion of additional metrics which demonstrate some of the underlying causes of disadvantage.Without taking these into account, levelling up support may end up widening the gap between rural communities and their urban counterparts. The Government's levelling up objectives will not be met if it further increases the gap between areas within the region."
---
---