17.10.2019
Hop on board the Hope Valley Explorer

Against the trend of reducing rural bus services, a new seasonal bus tour service in the Hope Valley was launched by the Peak District National Park Authority in July 2019.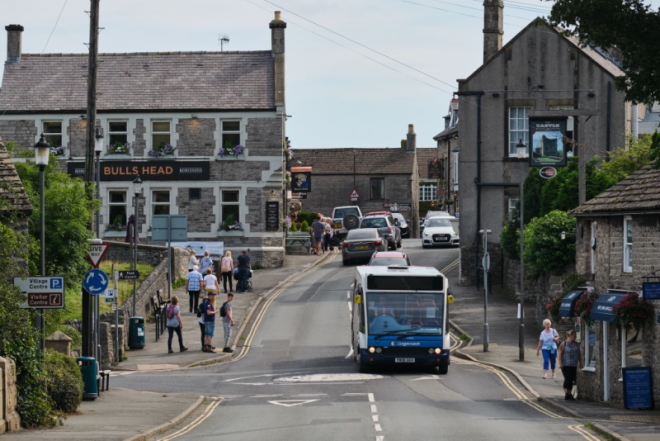 The Hope Valley Explorer aims to moderate the number of car journeys within the Peak District National Park during its busiest season and the school summer holidays.
The service attracted some 2,600 passengers in July and August, during the first season of a three year pilot in partnership with bus operator Stagecoach.
As well as serving the highly popular Hope Valley area of the Peak District, the service includes links from Chesterfield and the outskirts of Sheffield. The service also calls at rail stations at Edale, Hope and Bamford, at times convenient for getting the most from a day out in the area for people arriving by rail.
The Hope Valley Explorer offers a flexible hop-on, hop-off service, along with an audio commentary of the rich natural and cultural history of the area. The audio commentary, developed by the Peak District National Park Authority, gained very positive feedback from passengers with comments such as "… whoever had done it certainly knew their stuff!"
The route links together key stops at Edale, Castleton, Hope and at Fairholmes in the Derwent Valley. The highly scenic route takes in iconic locations such as the Winnats Pass, Mam Tor and alongside Ladybower Reservoir and opens up new opportunities to enjoy linear walks in the area. For many visitors the service is a handy way to explore the local shops, cafes, pubs and tourist attractions such as the Castleton Caverns.
On commencement of the service David Marsden, Transport Policy Officer with the Peak District National Park Authority said: "We're excited to be launching this seasonal three year pilot service with our partners at Stagecoach, and with so much to offer in the Hope Valley and Derwent Valleys, we think it will be a popular choice with visitors from our neighbouring urban communities. By linking-in with local rail stations and offering links from the outskirts of Sheffield and Chesterfield, our aim is to support a reduction in private car journeys in these areas and help promote more sustainable ways of getting to, and enjoying, the UK's original National Park."
John Young, commercial director for Stagecoach, said: "We are delighted to introduce this new service, working in partnership with the Peak District National Park, which will open up a beautiful part of the countryside for people to enjoy in a sustainable way during the summer holidays."
The initial three-year, seasonal pilot scheme – funded by the National Park Authority - will assess the viability of running similar services long-term, to help ease pressure from private vehicles in the National Park.
A review of the Hope Valley Explorer is taking place with a few improvements in mind. Hopefully this will encourage many more people to hop on board the Hope Valley Explorer in 2020.