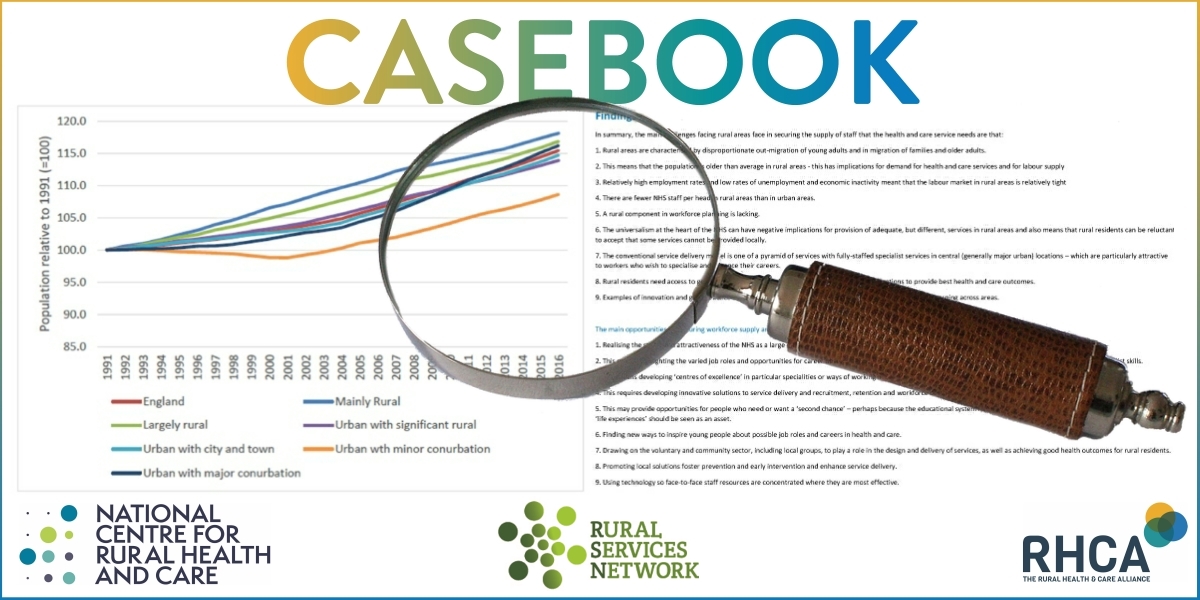 May 2020 Edition
Welcome to your May edition of Casebook, a dedicated, monthly e-newsletter for Rural Health & Care Alliance members. This month we feature articles on health screening and apps; the search for a vaccine; and the scale of PPE challenges. We also share an update from the latest work of the National Centre for Rural Health & Centre, and of course member benefits. Happy reading!
NEWS

Coronavirus UK: health passports 'possible in months'
I can see the logic in this but two issues occur: 1) do you get immunity after you have had the virus? and 2) could this lead to discrimination over time against those who haven't had the virus if it brings immunity?
Tech firms are in talks with ministers about creating health passports to help Britons return safely to work using coronavirus testing and facial recognition.
Facial biometrics could be used to help provide a digital certificate – sometimes known as an immunity passport – proving which workers have had Covid-19, as a possible way of easing the impact on the economy and businesses from ongoing physical distancing even after current lockdown measures are eased.
The UK-based firm Onfido, which specialises in verifying people's identities using facial biometrics, has delivered detailed plans to the government and is involved in a number of conversations about what could be rolled out across the country, it is understood.
Its proposals, which have reached pilot stages in other countries, could be executed within months, it says. The firm could use antibody tests – proving whether someone has had the virus – or antigen tests, which show current infections.
Digital identity experts say they are in the "discovery stage" of what could be tailored for the UK government, but developing a type of health certificate through app technology is gaining traction.
Full article:
https://www.theguardian.com/politics/2020/may/03/coronavirus-health-passports-for-uk-possible-in-months
---
Coronavirus: UK hospital trials new treatment drug
We need to hear more about the drive for a vaccine – it would reassure people. This is not quite in that league but it's a heartening story. It tells us
A new drug developed by UK scientists to treat Covid-19 patients is being trialled at University Hospital Southampton.
Developed by UK bio-tech company Synairgen, it uses a protein called interferon beta, which our bodies produce when we get a viral infection.
Initial results from the trial are expected by the end of June.
There are currently few effective treatments for coronavirus with doctors relying on patients' immune systems.
Interferon beta is part of the body's first line of defence against viruses, warning it to expect a viral attack, explains Richard Marsden, chief executive of Southampton-based Synairgen.
He says the coronavirus seems to suppress its production as part of its strategy to evade our immune systems.
The drug is a special formulation of interferon beta delivered directly to the airways when the virus is there, with the hope that a direct dose of the protein will trigger a stronger anti-viral response even in patients whose immune systems are already weak.
Full article:
https://www.bbc.co.uk/news/health-52504409
---
UK government 'using pandemic to transfer NHS duties to private sector'
There are regular conspiracy stories about a strong private sector undertow to the future of the NHS. I have mixed views – the Turkish ppe episode shows how complex procurement issues are in this context. This article tells us
The government is using the coronavirus pandemic to transfer key public health duties from the NHS and other state bodies to the private sector without proper scrutiny, critics have warned.
Doctors, campaign groups, academics and MPs raised the concerns about a "power grab" after it emerged on Monday that Serco was in pole position to win a deal to supply 15,000 call-handlers for the government's tracking and tracing operation.
They said the health secretary, Matt Hancock, had "accelerated" the dismantling of state healthcare and that the duty to keep the public safe was being "outsourced" to the private sector.
In recent weeks, ministers have used special powers to bypass normal tendering and award a string of contracts to private companies and management consultants without open competition.
Deloitte, KPMG, Serco, Sodexo, Mitie, Boots and the US data mining group Palantir have secured taxpayer-funded commissions to manage Covid-19 drive-in testing centres, the purchasing of personal protective equipment (PPE) and the building of Nightingale hospitals.
Now, the Guardian has seen a letter from the Department of Health to NHS trusts instructing them to stop buying any of their own PPE and ventilators.
From Monday, procurement of a list of 16 items must be handled centrally. Many of the items on the list, such as PPE, are in high demand during the pandemic, while others including CT scanners, mobile X-ray machines and ultrasounds are high-value machines that are used more widely in hospitals.
Full article:
https://www.theguardian.com/business/2020/may/04/uk-government-using-crisis-to-transfer-nhs-duties-to-private-sector
---
UK may ditch NHS contact-tracing app for Apple and Google model
I don't know quite why, well perhaps its because I have limited faith in big public sector approaches when it comes to speed, but I thought this might happen. This story tells us:
The government has left open the prospect of ditching its own contact-tracing app in favour of the "decentralised" model favoured by Apple and Google after it was revealed that a feasibility study into such a change is under way.
After repeated warnings that the UK will be an outlier if it insists on using its own centralised app rather than relying on Google and Apple's technology, rights groups and MPs said on Thursday that the lack of privacy and data protections could mean that the app would be illegal.
With growing questions over that approach, it emerged that the Swiss-based consultancy Zühlke Engineering has been hired to undertake a two-week "technical spike" to investigate implementing Apple and Google's system "within the existing proximity mobile application and platform".
Full article:
https://www.theguardian.com/technology/2020/may/07/uk-may-ditch-nhs-contact-tracing-app-for-apple-and-google-model
---
Coronavirus: Has the NHS got enough PPE?
An eye-watering exposition of the scale of activity currently underway in terms of PPE. This story tells us:
More than one billion items of PPE have been delivered across the UK, according to the Department of Health and Social Care (DHSC).
However, according to the BBC's Panorama programme, more than half of all the PPE items are surgical gloves - and in most cases, each individual glove is counted rather than pairs.
Talking about quantities of PPE, Cabinet Minister Michael Gove said the protective gear sent out in England by 2 May included:
149 million masks
173 million aprons
2 million gowns
614 million gloves
The billion figure also includes body bags, swabs, clinical waste containers, cleaning equipment and detergent.
And, as of 21 April:
The Welsh government said it had delivered 48 million pieces of PPE to the NHS and local authorities.
In Northern Ireland, the UK has sent five million items of PPE and 75 million pieces have been ordered by its health service.
In Scotland, First Minister Nicola Sturgeon said there were "adequate stocks of the main PPE", but acknowledged difficulties with delivering gowns. However, a survey by the Royal College of Nursing suggested half of all nurses working in high-risk environments had been asked to reuse PPE.
The UK government said it has delivered 11 million items to Scotland.
Full article:
https://www.bbc.co.uk/news/health-52254745


---

NATIONAL CENTRE UPDATE & MEMBER BENEFITS
Parliamentary Inquiry
We are going virtual. The first of our new sessions will be online on 28 May and the theme will be technology. We would welcome any thoughts about people to invite as the audience, we hope to have witnesses from: NICE, AHSN network, Airedale Trust, a University and at least one private sector provider. Click here to email your ideas.
Rural Proofing Toolkit
We are making really good progress with this. We now have draft text for most sections. If you would like to see a draft let me know. We are currently collating case studies for each section. Click here to request a draft.
Rural Coalition Government Lobbying
We have been working with the Rural Coalition to raise the importance of applying a rural lens to the lifting of lock down with the NHS. This has led to a meeting with Defra and if you would like to learn more please let me know. Click here to email to find out more
New Members
We are pleased to announce that the Isle of Wight NHS Trust and North East Ambulance Service NHS Trust will soon be joining us. Welcome to both!!!
A list of our members can be found here.
Spread the Word
If you know of other organisations that you think would benefit from joining the Rural Health & Care Alliance, please click here to email us and let us know. Member benefits can be found here.
We'd love to hear from you - share what you're proud of
The RHCA provides news, information, innovation, and best practice. If you have something, you would like us to feature in a future edition, please let us know by clicking here to send us an email.