15.11.2021
New member wins prestigious conservation award
The Godolphin Cross Community Association, who joined the Rural Services Network as a member last week, has gained well deserved recognition for the best conservation of an historic building by being awarded the 2021 World Heritage Site Award, a county wide competition for buildings in the Cornish Mining area.  The award was formally presented to Trustees Steve Polglase and Richard Mckie for conservation work on Godolphin Chapel.  The presentation took place at the Cornish Building Group awards ceremony at Kresen Kernow, the new Cornish records archive in Redruth.  The award was due recognition for the work of GCCA and their design team of Emma Hosking of PBWC Architects, Stephen Hird, Richard Gowan, Wellers and Symons builders of St Ives.  The restoration was made possible by contributions large and small from a wide variety of funders, including the National Lottery, Sport England, Biffa and the EU Leader programme.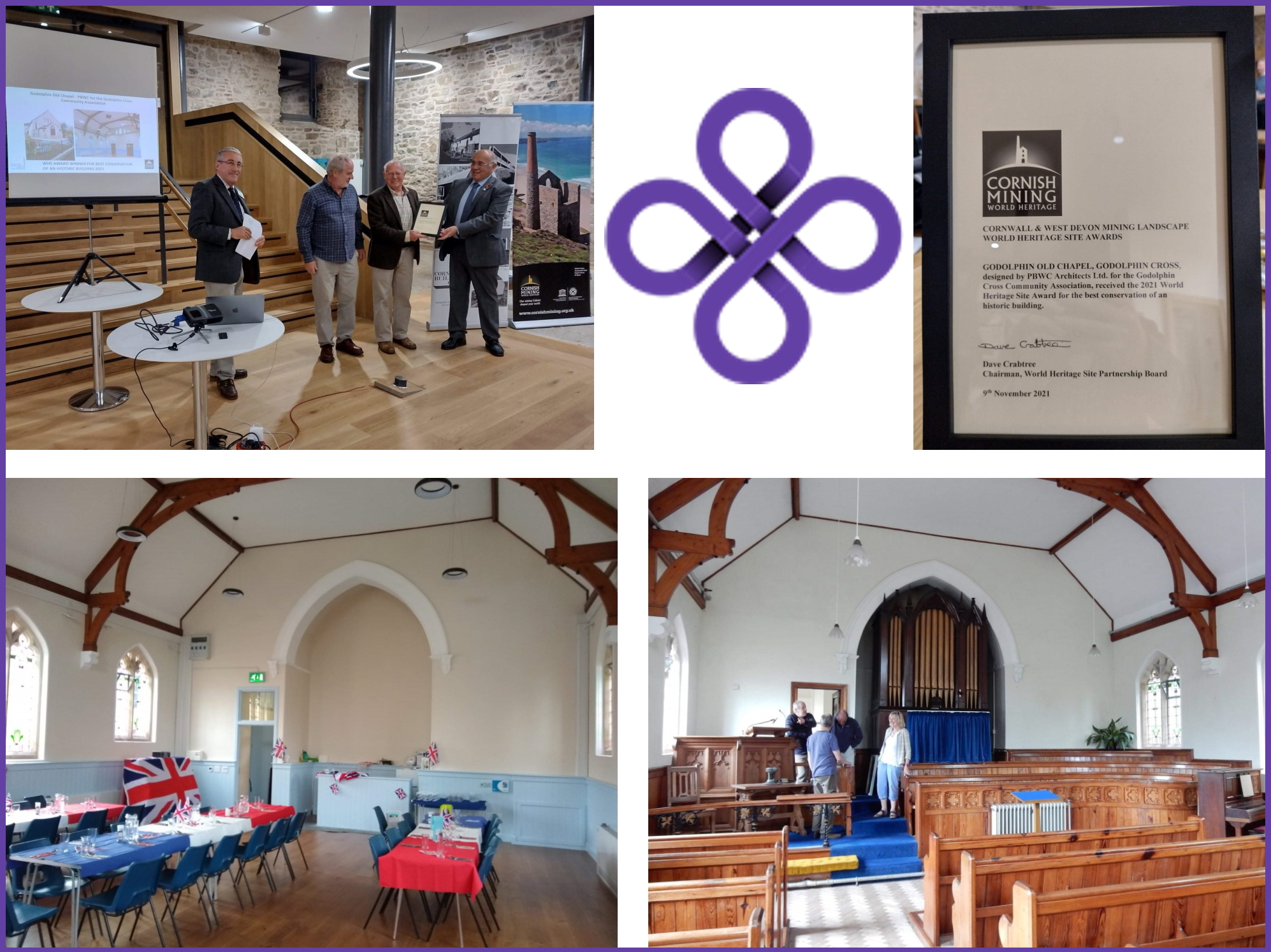 The award is a remarkable achievement when a decade ago, the residents of Godolphin Cross in west Cornwall faced a bleak future. Although to the many visitors and tourists passing by it was a picture postcard rural village, in reality local people had lost their shops (and the jobs that went with them), had no play or recreational facilities and were faced with a failing pub (that closed for good in 2015). By 2017, aside from an overcrowded primary school, there were literally no services or facilities for the 700 local people in the village, which had been a victim of "de-servicing" due to a decade of austerity at local and national levels, exacerbated by second home ownership and an increasing number of holiday lets.
But the Godolphin community fought back, regaining control of their future, they found ways to overcome these difficulties; in November 2017 the Godolphin Cross Community Association (GCCA) led a successful community-initiated campaign to purchase the Old Chapel for community use, rather than see it bought for property development. They raised £90,000 in the process, after a massive amount of volunteer work and local (and international) fundraising.
And to demonstrate their long term commitment and "stickability", they have completed two phases of refurbishment to turn the Chapel from a worship space into a multi – use, non - religious facility for local people of all ages to enjoy alongside family and friends. Consequently, since 2017 use of the Old Chapel has risen five - fold, with groups being revived or newly created to provide something for all; under 5s sessions, three thriving youth club programmes, community lunches and coffee mornings for older folks and an increase in hire and new events that has enabled Godolphin Cross Community Association to become a trading organisation in its own right, with an ambition to become financially self-sufficient by 2023.
To find out more visit: http://godolphincross.community/