21.10.2020
October Edition of Casebook - Health Funding Opportunities from the Rural Health and Care Alliance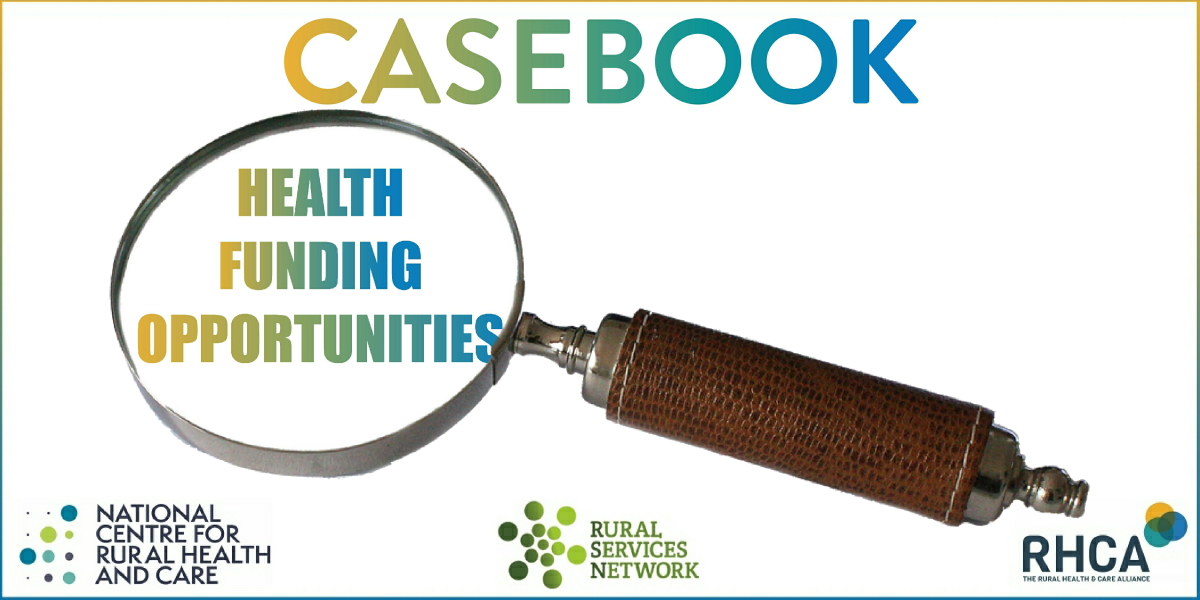 | | |
| --- | --- |
| This month's featured funding opportunities are: | |
Consortium for Stronger LGBT+ Communities
https://www.consortium.lgbt/NETFund/
Thanks to the National Emergencies Trust, a total funding pot of £350,000 is available to LGBT+ non-profit groups, organisations and projects. The funding is available to address the additional needs of LGBT+ people and communities most adversely impacted by the Covid-19 pandemic and to support and strengthen LGBT+ organisations that have been impacted by the Covid-19 pandemic.
There are no deadlines for this fund. Applications will be considered on a rolling basis until all the funding has been awarded. Grants are for short-term work only and all funds awarded through the programme must be fully spent by 31 May 2021.
---
The Charles Hayward Foundation
http://www.charleshaywardfoundation.org.uk/
Provide grants for activities related to Social and Criminal Justice, Heritage and Conservation, Overseas projects and Older people. Small and large grants available in each category depending on the size of the applying organisation. Applications can be made at any time and they are considered at quarterly decision panels which take place in February, May, September and November.
Social Justice grants cover activities such as early intervention support, support for young offenders and the rehabilitation of the victims of crime. Grants for Older people cover activities including those which address isolation, loneliness and depression, and for people with dementia.
---
Persimmon Homes – Community Champions
https://www.persimmonhomes.com/community-champions
Provide 60 donations of £1000 per month to support community projects run by charities and community groups. Applications are reviewed on an ongoing basis. Previous projects supported include foodbanks, school gardening projects and sports clubs.
---
Trusthouse Charitable Foundation
https://www.trusthousecharitablefoundation.org.uk/
Trusthouse gives grants for running costs or one-off capital costs to charities and not-for-profit organisations that work to address urban and rural deprivation. They classify 'rural' as areas with less than 10,000 inhabitants in the village/town that the project will serve. The postcode of applying organisations must be within the most deprived 50% of the Index of Multiple Deprivation (for more information on this, visit https://www.gov.uk/government/statistics/english-indices-of-deprivation-2019 ). Whilst they have no funding stream currently available, they hope to resume funding provision from Autumn 2020 so check their website for update
---