NIGEL CURRY reflects on damage inflicted by town and country planning.

Since World War Two we have had an ethic of 'no development' in the countryside, born of a wartime need to tackle food shortages.
"Every agricultural acre counts," the Scott Report declared at the time. A "clear national need" should be shown before anyone could build anything in rural areas, it added.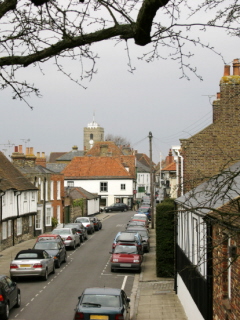 Since the mid 1980s we have actually had considerable food surpluses across the EU, but the no development ethic has endured. The now indefensible food security argument gave way to that of environmental quality.
"Planning should resist the loss of our finest countryside to development," as our prevailing national Planning Policy Statement (PPS 1) tells us.
And from the mid 1990s this no rural development ethic was reinforced by the need for us all to be sustainable. In PPS terms, this means reducing the need to travel by car, travelling more by bike, public transport and on foot.
It also means living at increasing densities and allowing development wherever possible only on brownfield or previously developed land.
According to these precepts, sustainable development is urban development, conveniently ignoring all of the natural resource advantages of rural areas - food, timber, energy - for achieving sustainable development goals.
It doesn't stop there. Our housing PPS is strong and negative for rural areas: there will be no housing development except for a bit of infill.
Our rural economy PPS is weak and ambivalent: a few businesses here and there, but don't forget, the environment is the most important thing. For sustainability, these are the wrong way round. Housing should 'follow' employment opportunities.
If housing is the dominant policy, we just encourage commuting. So the no development ethic endures, but what is its impact on rural areas?
First, we have a considerable rural land surplus.
We have actually been paying farmers for over 20 years to leave land idle (set-aside) when it could be put to much better economic uses (and therefore not costing the taxpayer).
There is little that can be developed on brownfield land that cannot be developed on greenfield land and anyway the reason for a priority of brown over green is never clearly stated in policy.
The hue of the land is just too blunt an instrument. "Protecting" the countryside from development is also a misnomer.
The most popular places to visit on our trips to the countryside are our English villages. We flock to Lavenham, Widecombe, Stow on the Wold, Hexham and the like, precisely because of their rural built form.
We love buildings in the countryside.
But the real problem with planning polices for rural areas is that they are killing them off as communities. The planning preoccupation with CO2 emissions is overwhelming more subtle sustainability criteria.
As a result many smaller rural settlements actually are becoming progressively less sustainable both socially and economically.
Not allowing new employment opportunities in rural areas deprives people of a livelihood. Not allowing housing in villages without services will never bring back those services.
A lack of affordable homes drives rural people into towns. And all of this creates a downward spiral.
Local facilities become eroded.
Services in villages, (shops, health care, child care training) wither. And those who suffer most, of course, are the young and elderly people and those who are socially and physically most isolated.
Planning now needs to think what sustainable development means for rural areas, putting people at its core.
Professor Curry is director of the Countryside and Community Research Institute, a joint Institute of the Universities of the West of England and of Gloucestershire.