22.10.2020
Plans off the ground for 8 new affordable rented homes

Action Hampshire's housing team has played a key role in getting plans for 8 new affordable rented homes off the ground in the parish of Curdridge.

It's been a long and complex journey, but effective joint working between Action Hampshire, Curdridge Parish Council, Winchester City Council and the housing associate Hastoe, means that a planning application is being made for affordable homes for local people who have a strong connection to the village. The benefits of the partnership working, facilitated and led by Action Hampshire, was highlighted by the Parish Council Chair Eric Bodger 'I don't think there would have been any chance of success without the enthusiastic support of all these participants.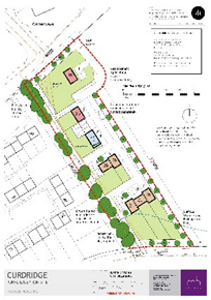 A key role for Action Hampshire staff in the early stages was to help local parish councillors find a suitable village site for the scheme. The site chosen is owned by local landowner Robert Medway, and he is really keen to be involved in making this scheme happen for the community, saying 'I can't wait to see young families move into these houses and to live and have a really happy life'
Robert was keen to be involved based on his personal commitment to local affordable housing 'I have been involved in the parish for almost 70 years. My father had been involved in a similar scheme many years ago and so I had first-hand experience of the benefits of these schemes. A number of the original beneficiaries of my father's scheme, attended his funeral some years ago and afterwards they came and chatted to me about the great opportunities living in the scheme had made to their lives. I also have 2 children so I know how important it is to have young folk living close to their families and close to their roots'.
Eric, the Chair of the Parish Council, believes the benefits of the scheme will include 'adding to the age range of villagers to live here, when the high price of existing property would otherwise force them to move away. The proximity of the site will improve participation in village events and activities'.
Nigel Baldwin from the Housing Team at Winchester City Council explains why supporting these schemes are so important to the Council 'Villages benefit by having long term sustainability. Affordable housing can help local communities to sustain vibrancy. Supporting local people to remain or return to their rural community, and helping local workers live locally helps to improve the mix and balance of people living in rural areas'. Covid 19 has highlighted the importance of support networks and affordable housing contributes to those support networks.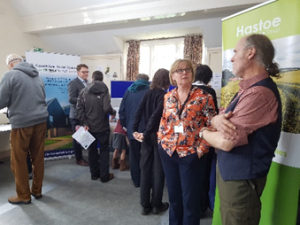 Action Hampshire organised 2 community consultations to help shape scheme design and promote community support, including promotion at the Curdridge Summer Show. Currently the lead officer at Action Hampshire, Mags Wylie is putting together a film, made on online and remotely during lockdown, which captures the key moments of this long journey and to provide inspiration to other communities setting out to deliver much needed homes.