05.09.2019
RHCA Member - Shropshire Community Health NHS Trust

Who are we?
Introducing Shropcom
Shropshire Community Health NHS Trust provides community-based health services for adults and children in Shropshire, Telford and Wrekin, and some services in surrounding areas too.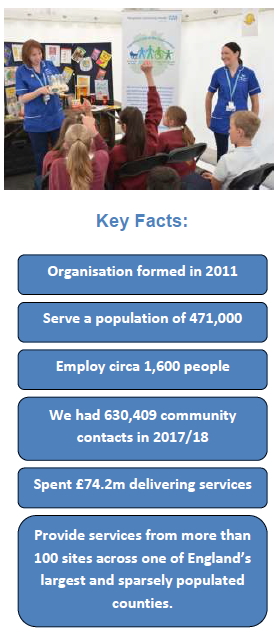 We specialise in supporting people's health needs at home and through outpatient and inpatient care.
Our focus is on prevention and keeping people out of crisis so that they can receive the care and support they need at, or as close to home as possible.
NHS community services may not always be as visible to the public as the larger acute hospitals, but they play a vital role in supporting very many people who live with ongoing health problems.
This is especially important in a large area such as ours, with increasing numbers of elderly people and others, including children and young people, with long-term health conditions.
We have about 630,000 community contacts each year, the vast majority of which are with people in their homes, in community centres and clinics. A very small number of people also receive inpatient care in our community hospitals.
Good community health services prevent the need for some patients to be admitted to hospital, including those with chronic conditions such as diabetes, asthma, chest disease, arthritis, hypertension, osteoporosis and stroke.
People have told us that we should help patients manage their own condition and stay healthy enough not to have to spend time in hospital, unless they really need to.
This is especially important as we continue to care for an ageing population. We also have community teams that specifically work with patients who need additional or short-term care and support to help them return home from hospital as quickly as possible, or to avoid being admitted in the first place.
Everything we do is aimed towards Improving Lives in Our Communities.