23.07.2021
Royal visit to new community shop at Welsh village pub

Pub is The Hub hosted The Prince of Wales as he celebrated the finale of his tour of Wales by pulling a pint at Pub is The Hub project The Ponthir House Inn in Ponthir, in South Wales.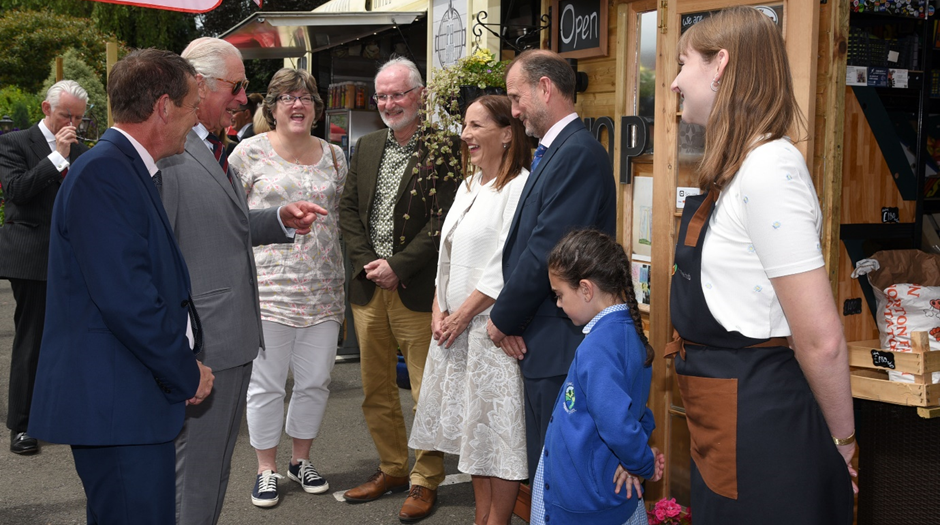 His Royal Highness was shown around the pub, including its new village store, which was opened in the pub's car park with the expert help and a Community Services Fund grant from Pub is The Hub, meeting publican Barrie Walden and chatting to Pub is The Hub chief executive, John Longden and Pub is The Hub advisor Malcolm Harrison.
During the Covid-19 lockdowns publican Barrie Walden opened a pop-up village store in the dining area of the pub and it soon became obvious that local residents needed a permanent service, as there is limited public transport and the nearest town is over three miles away.
This village store is the latest example of how publicans that have been working with Pub is The Hub to transform a pop-up project into a permanent service in the wake of the pandemic.
Pub is The Hub chief executive John Longden said:
"It was entirely fitting that His Royal Highness, who inspired the formation of Pub is The Hub, should pop in and witness the real community spirit of enterprising publican Barrie Walden. Barrie, like many publicans, has gone above and beyond to help people in his local area during the pandemic."
'Join Inn – Last Orders for Loneliness' campaign's new guide and poem
Pub is The Hub also continues to encourage and support publicans to tackle the ever-growing issue of loneliness in their local areas through its 'Join Inn – Last Orders for Loneliness' campaign.
For Loneliness Awareness Week in June, poet David Attree was commissioned to write a call to action poem about the campaign which was shared with publicans around the UK. Watch it here: www.youtube.com/watch?v=CQlb27qWhx0
The campaign also aims to build on the trend of "social prescribing" and the role publicans can play as 'community connectors'. To help encourage this role of helping connect individuals and organisations that can help tackle loneliness in their local area, Pub is The Hub has produced a second guide for publicans called 'Creating Connections'.
For more information on the campaign or if you would like to 'Join Inn' working with Pub is The Hub visit https://www.pubisthehub.org.uk/join-inn-last-orders-for-loneliness/