A quarterly bulletin facilitated by your membership of the Rural Services Network and produced in partnership with the Rural Housing Alliance, highlighting a selection of current rural housing issues and opportunities

Rural Housing Week 2017
This year Rural Housing week will take place between 3 and 7 July.
The week will consist of local activities organised in rural communities throughout the country by rural organisations, supported by the National Housing Federation and finish with a national conference in London.
The Federation will be producing an information pack with examples of popular activities you can organise during the week and advice for engaging with the local media. Keep an eye on their website for more information.
The Federation are also setting a challenge to get as many MPs as possible to visit rural housing schemes during the week and the pack will have tips to help you do this.
To achieve as much coverage as possible please join in on social media using the hashtag #ruralhousing
Peter French of the Federation said: "To help us promote Rural Housing Week we would be grateful if you could share case studies of examples where the addition of affordable homes has had a tangible positive impact on the local rural community e.g. it helped keep a post office or school open."
If you have any questions please email Morgane Legendre from the Federation's PR team or call on 020 7067 1098.

Date for 2017 Rural Housing Conference announced
This year's annual Rural Housing Conference will take place on 7 July at St. Martin-in-the-Fields, Trafalgar Square.
This year the theme of the rural housing week conference is 'Delivering the Ambition.' The conference will explore how we can increase the provision of affordable housing in rural communities and housing associations will sign up to an exciting 5 star plan demonstrating the sector's commitment to the supply challenge.
Further details and invitations will be sent out shortly.

New homes approved for Derbyshire Dales village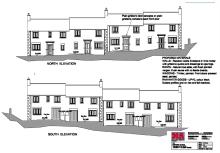 Derbyshire Dales District Council has joined forces with a housing association to help address the need for affordable housing in the village of Taddington.
A housing needs survey carried out by the council last year identified 12 local households in need of affordable housing to help them continue to live in the place they call home.
In March 2017 Peak District Rural Housing Association (PDRHA) was successful in winning planning permission to build four affordable homes for local people. The Peak District National Park Authority approved the terrace of three two-storey two-bedroomed houses and one two-storey three bedroomed property, despite 24 individual letters of objection.
The project is being funded through a £180,000 grant secured by PDRHA from the Government's Homes & Communities Agency and £80,000 capital finance from the District Council. emh group will partner with PDRHA to build the project and the properties will be constructed of limestone under blue slate roofs, with timber windows and doors.
Enabling the provision of affordable homes has been a corporate priority for Derbyshire Dales District Council since 2002, with more than 1,200 new affordable homes provided as a result. The Council's Head or Housing, Rob Cogings said: "Schemes like this one are vital to ensure local people can remain in their communities." You can read more here.

National Park housing scheme nominated for prestigious award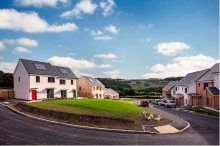 A housing scheme in the Dartmoor National Park in Teignbridge is a finalist in the category for 'Excellence in Planning to Deliver Housing' at the Royal Town Planning Institute's (RTPI) Awards for Planning Excellence 2017.
The 18 Passivhaus, eco-home project at Stafford Close, Christow in Devon has been led by the local community land trust and Dartmoor National Park Authority, in partnership with Teignbridge District Council and the local affordable housing provider, Teign Housing.
The Passivhaus standard means that energy bills can be as low as £50 a year for residents with clean, fresh air constantly circulating around their homes.
Chris Hart, Planning Team Manager, Dartmoor National Park said: "It is an excellent example of collaborative working delivering an eye catching, energy efficient development meeting the aspirations of the community of Christow. It provides affordable housing in a rural setting where average property prices are often beyond the means of many local residents."
Stephen Wilkinson, President of the Royal Town Planning Institute said: "The finalists represent some outstanding contributions to planning which are making a positive impact for the community and environment. The judges will find it difficult choosing the winners given the high calibre of entries this year."
You can read more via this link.

Neighbourhood Plan delivers Passivhaus scheme in Shropshire village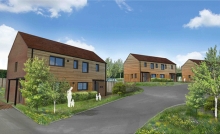 Shropshire Housing Group is celebrating the granting of planning permission on an exceptional site after years of collaboration on Much Wenlock's Neighbourhood Plan.
Building is set to start this month on one of the region's first Passivhaus sites. Originating from Germany, Passivhaus is the leading international low energy, design standard. The standard is a highly effective way of reducing energy use and carbon emissions from buildings, as well as providing high standards of comfort and building health.
Work on the development by SHG is the culmination of a community led approach to new housing in the town. Local residents have been involved at all stages from sourcing suitable land to design workshops, and eventually approving local connection of those that will live there. Paul Sutton, Executive Director of for Assets and Development, from SHG said: "Much Wenlock's Neighbourhood Plan is starting to deliver much needed local affordable homes, the first in Much Wenlock for a number of years. Not only that, the development goes above and beyond with the Passivhaus approach, this is no ordinary development in any respect."
The development at Callaughton Lane will be a mix of one to three bedroom homes, each designed to achieve Passivhaus certification. The site will comprise of 10 affordable rent properties, with the remaining two marketed for shared ownership. The site will also give SHG more experience in building carbon free homes for the future.
SHG, who pioneered community led housing in the region, have already delivered five projects, through its Marches Community Led Trust Services, a new way of building homes driven by genuine collaboration between a community and housing providers. MCLT is designed to provide advice and support to communities, helping them to deliver their housing ambitions. For more information contact Sophie Mellings.

Leicestershire Rural Housing Group delivers more homes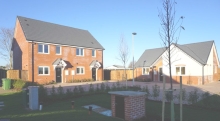 In Leicestershire, Midlands Rural Housing works on behalf of a collaborative rural housing partnership. The Leicestershire Rural Housing Group guides the work of Midlands Rural Housing to assess and meet the housing needs of people in the county's villages.
The Group is a dedicated formal partnership between the County Council, 6 District and Borough Councils and 3 Housing Associations who fund enabling work in Leicestershire to investigate housing needs and bring forward affordable housing schemes where they are needed. The Group also includes other organisations including the Rural Community Council, National Housing Federation and Homes & Communities Agency.
The latest scheme of 4 houses and 2 bungalows has provided 5 homes for rent and 1 for shared ownership for those with a connection to the village of Croft in Blaby District. A housing needs survey by Midlands Rural Housing was requested following the success of a previous rural exception site in the village. The survey identified further local affordable housing need and the partnership explored ways of meeting it.
The views of the wider community were sought as to whether a one-off extension to the existing exception site would be welcomed as the land was being made available for this by Leicestershire County Council. 88% of feedback from the public engagement event was supportive of more homes for local people and, to the satisfaction of the community, emh group designed the scheme so no further extensions to the site would be possible.
Funding for the scheme was another piece of partnership working from members of the Leicestershire Rural Housing Group with contributions coming in various forms from emh group, Blaby District Council, Leicestershire County Council and the Homes & Communities Agency.
The residents, who all have a local connection to Croft, moved in during February 2017. For more information please contact Richard Mugglestone.

Planning policy delivers extra care scheme in Ashford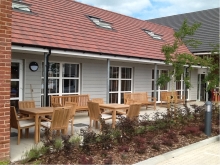 Quarry House is a unique extra care scheme as it is the first to be built on a rural exception site in the borough of Ashford. The Borough Council devised a policy that allows for specialist housing to be considered on land that would not normally be considered for development, where it can be demonstrated that it will be satisfying a local need from a group of nearby parishes and will remain affordable in perpetuity.
The scheme was made possible by the council leasing land in its ownership to housing association Housing&Care21 for 125 years at a nominal rate. Quarry House, in Aldington, provides a mix of 33 affordable rent and shared ownership homes helping older people move to more manageable accommodation and stay within or return to a rural community where they have strong ties and family connections.
You can read more about the policy from the Tenterden and Rural Sites Development Plan Document (DPD) here or for more information please contact Jennifer Shaw.

Matlock benefits from Estate Regeneration Fund
Derbyshire Dales District Council is one of a small number of rural local authorities who have been successful in their bid to the government's Estate Regeneration Fund. Together with Waterloo Housing Group, the District Council have secured £190,000 to progress regeneration plans for the Hurst Farm estate in Matlock to address some of the underlying issues that affect the estate, and to find solutions to them.
The aim of these funds is to provide the necessary knowledge of the issues facing the estate and support residents to engage with and be part of leading the project. In turn the project will be able to bid for and attract capital finance from a range of sources to deliver environmental improvements and community benefits on the estate. For more information on the bids please contact
Communities Secretary Sajid Javid announced the 105 successful bids to the government's Estate Regeneration Fund on 24 March 2017. You can read more via this link.

Teignbridge agrees to set up Housing Partnership
Teignbridge District Council's Executive has agreed in invest £20million to help build new affordable homes across the district.
The Executive has agreed to set up a joint venture housing company to primarily develop rented homes, something that will help local people find an affordable home that suits their lifestyle and budget, but will also generate a financial return for Teignbridge over time.
The joint venture housing company will be between Teignbridge and registered provider partners. A management board with representatives from each partner will oversee the day-to-day running of the company with reports back to the Council.
Like many councils, Teignbridge has needed to respond to the pressure of reduced central funding and achieve a sustainable financial position in the future.
Cllr Humphrey Clemens, Teignbridge District Council's Executive spokesman for housing and planning, said: "This is a very exciting project for Teignbridge. We are taking control and getting into the house-building business to help people remain living here in houses they can afford. This is really exciting for Teignbridge and our communities. We've done some great things to tackle the different types of housing need, but we know people are still struggling to find a home in the area where they want to live.
"Teignbridge has 1,900 applicants on its Housing Register and demand for homes to rent is high. A key project in our Council Strategy, 'a roof over our heads' makes a clear commitment to exploring options for developing affordable rented housing including setting up a housing company. We are delivering on that."
For further information please contact James Toler.

National Housing Federation Influencing Academy
Back in January the National Housing Federation hosted its first Influencing Academy event, bringing together around 30 individuals from across the housing association sector for a three day residential course. Alongside mainstream housing provision, five specialist areas were also represented – including rural.
Participants heard from a range of speakers and were each tasked with developing their own strategic plan to spread their learning. The ultimate objective was to aid the National Housing Federation's Ambition to Deliver and solve the housing crisis.
Martin Collett, Operations Director at English Rural Housing Association attended the Academy as the selected rural lead. Since then, Martin has been working closely with Monica Burns and Peter French from the National Housing Federation to develop a rural strategic plan, provisionally called 'Affordable Rural Housing – Five Star Plan'. The aim is for this to contribute towards the ambition to tackle the affordable housing crisis in the countryside. The imminent regional rural roadshows will help to inform this work further in close collaboration with housing association partners and other rural interest groups. The National Housing Federation Rural Task and Finish Group will inform work as it progresses and the Rural Housing Alliance will also play a crucial role in both developing and delivering on this work. The plan will be officially launched in July during Rural Housing Week, but this will be the beginning of a longer term influencing process.
More updates will follow as the influencing role and resulting plan evolves. Anyone wanting to talk about this work should contact Martin Collett.
Martin said: "Collaboration and a collective commitment will clearly be needed if the plan is to make a significant impact, everybody's support is appreciated and gratefully received!"

Briefing on Voluntary Right to Buy
A House of Commons Library briefing paper has been published explaining proposals to extend the Right to Buy to assured tenants of housing associations on a voluntary basis. No implementation date for full roll-out has been announced. A large regional pilot scheme is planned for 2017/18. You can read the full report here.

National Audit Office overview of housing published
In January, the National Audit Office (NAO) published an overview of the housing market in England, the Department for Communities and Local Government's housing strategy and the overall housing policy landscape concluding that the need for housing in England has in recent years grown faster than its supply.
According to the NAO, housebuilding has not kept pace with need, and this is particularly acute in London. Projections suggest there will be at least 227,000 new households formed each year between 2011 and 2021. This is substantially higher than the annual average of 166,000 extra homes in England over the last 10 years.
Housing has become more affordable for existing homeowners, with the proportion of owner-occupiers who spend at least a quarter of their disposable income on housing falling from 40% to 19% of people with a mortgage. By contrast, housing has become less affordable for first-time buyers, and social housing rents have been increasing faster than earnings since 2001-2.
Homelessness has also increased over the past five years. At the end of March 2016, 71,500 homeless households in England were in temporary accommodation, up from around 48,000 in 2010-11.
You can access the full report via this link.
Alongside this report, a House of Commons briefing paper was also produced which considers key trends in housing supply in the UK and goes on to focus on some of the key barriers and potential solutions to increasing supply in England. You can access this report here.

Keep Calm and Join Up!
RSN exists to enable the issues facing the rural areas of England to be identified, information and good practice to be shared and government to be challenged to address the needs and build on the opportunities which abound in rural areas.
If you know a rural housing organisation that would benefit from membership, please ask them to consider joining us. RSN is a solely rural focussed organisation with an electronic distribution network in excess of 40,000 individuals. We reach right across all the rural areas of England and provide a sustained and respected voice for rural areas at national level. Anyone who wants to talk to us about our role and services in relation to rural housing should contact Andy Dean to find out more.
If you are a small housing organisation operating in rural England, you can have access to all the services of RSN for an annual subscription of just £250 plus VAT. RSN exists to share information, promote good practice and represent the voice of rural England at a national level. Check out the website for more information or contact Andy Dean to join up.