A quarterly bulletin facilitated by your membership of the Rural Services Network and produced in partnership with the Rural Housing Alliance, highlighting a selection of current rural housing issues and opportunities

5 Star Plan for Rural Housing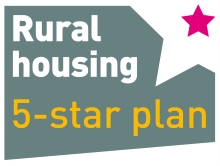 The 5-star plan for rural housing which sets out am ambition to increase the supply of homes in partnership with local communities was officially launch during Rural Housing Week in July. Around 50 organisations have already signed-up to support the plan, including housing associations, rural community councils and local authorities, along with a range of influential national rural advocates and organisations including RSN. Working collaboratively, the Rural Housing Alliance and National Housing Federation plan to engage with existing supporters whilst continuing to promote the 5-star plan to a wider audience, aspiring to grow the momentum and achieve impact.
Martin Collett, who becomes chairman of the Rural Housing Alliance in October this year, said: "Those that haven't signed-up and want to find out more about the work can visit the Federation's website where full details are available. Supporters can also download a 5-star plan logo to use in publications. As stated at the Rural Housing Week conference, 'This is only the beginning' so watch this space and get supporting if you haven't yet done so!"

Rural Housing Week 2017 highlights the pressing need for affordable rural homes
Peter French, Policy Officer at the National Housing Federation, writes: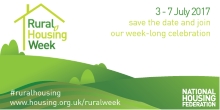 "The recent tragic events at Grenfell Tower left us all feeling shocked and saddened, and in the run up to Rural Housing Week it was hard to think of anything else. But there remained an opportunity to give renewed focus to the importance of housing in rural areas, how vital it is for those communities, and a chance to showcase the fantastic work that housing associations do.
"It was an action-packed week, and not just for members of the Federation. The CLA hosted a Housing Summit and released its research into meeting rural housing needs, while the Rural Coalition published its 2017 statement, focusing on increasing the delivery of affordable homes.
"Our own conference focused on our Ambition to Deliver in a rural context. We know that developing new homes in rural areas brings unique challenges, and that more affordable homes are desperately needed. But housing associations are stepping up to the challenge. In 2016/17, housing associations built 3,030 homes and started building 3,769 in predominantly rural areas. 49% of the completions were built without any government investment, demonstrating the social purpose of the sector and resilience of housing associations who have continued to deliver in challenging times.
"Whilst there is a lot to celebrate, we do have our work cut out. The Institute for Public Policy Research (IPPR) published a report this week, sponsored by Hastoe, which reveals the extent of the homelessness crisis in rural areas. It estimates that 6,270 rural households were homeless in 2015/16. And BBC's Panorama shined a spotlight on the impact that Brexit could have on our food and farming industry, particularly on the rural workforce.
"All of this demonstrates the pressing need for affordable rural housing, which is why we've worked with our members to create the rural housing 5-star plan. Its aims are simple: to work with communities to deliver more homes in rural areas that benefit those communities as well as contributing to the rural economy. A key aim of the plan is to increase the development of new rural homes by 6% per year. If we can achieve this, it would see the sector delivering 10,000 new homes every year in rural areas by 2033."
You can read more on what Peter has to say about Rural Housing Week and the 5 Star Plan via this link.

Warwickshire Rural Housing Association delivers more affordable homes than ever before!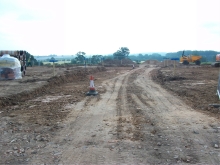 Warwickshire Rural Housing Association has had plenty to shout about during Rural Housing Week as it's delivering more affordable homes for more families in more villages than ever before this year.
To mark this achievement, and to coincide with Rural Housing Week 2017, the housing association Board, including WRHA Chairman, Derrick Dyas, took the opportunity to tour three new development sites.
The grand tour kicked off in Wootton Wawen, where WRHA is working in partnership with Bouygues UK, one of the country's leading construction companies, Waterloo Housing Group, and the local community, on the first ever Passivhaus scheme in the county.
Work has already begun on the development, on land next to the A3400, which will see 14 properties being built to the rigorous Passivhaus standard. Developed in Germany, Passivhaus focuses on creating buildings which are as energy efficient as possible, which is what local people asked for.
With many residents struggling to meet ever increasing energy costs, this cutting edge development will help to tackle fuel poverty as well as reducing residents' carbon footprint.
Board members then moved on to Great Alne for a start on site ceremony at Spernal Lane where seven new affordable homes are set to be built. The plans for the development were passed unanimously earlier this year reflecting the real need for more homes in the village which local people can afford.
The Great Alne development is being built in partnership with developers, Linfoot Country Homes and Orbit, with funding provided by Stratford-on-Avon District Council and the Homes and Communities Agency.
The final stop on the tour was Broom, where WRHA is working with the same developers to bring five properties for affordable rent and one for shared ownership to this very rural village.
The development, which is due to be completed next Spring, will provide six two bedroom homes for local people and families who would not otherwise be able to afford to live in the community where they have grown up, work or have close family ties.
Chairman Derrick Dyas commented: "Rural Housing Week was the perfect opportunity for our Board members to view the progress of some of our latest schemes and to hear about the huge difference they will make to people in the local communities we serve."
For more information contact Katherine Bradley.

New inquiry launched into Rural Housing for an Ageing Population
Older rural people suffer from the lack of affordable housing as much as a lack of access to social care, poor public transport and slow or non-existent broadband. In response, the All-Party Parliamentary Group (APPG) for Housing and Care for Older People has launched an inquiry into housing for older people in rural communities.
Speaking at the CLA's rural housing summit, to coincide with Rural Housing Week 2017, Lord Best (co-chair of the APPG) announced the new inquiry, Rural Housing for an Ageing Population: Policy Initiatives or HAPPI 4.
A website established for the inquiry states: "The nation's villages are getting older every year, as young people and families leave and the proportion of older people increases. A quarter of the 11.4 million people living in predominantly rural areas are now over 65 years old – that's 2.8 million people.
"The inquiry will bring together peers, MPs, housing providers and other rural organisations to consider recommendations to ensure that older people in rural areas can enjoy appropriate housing and access adequate care and support at home."
In a letter to the Telegraph co-chairs of the APPG, Lord Best and Peter Aldous (MP for Waveney) said: "Housing problems in many rural areas are at a critical level and older people living in rural communities may suffer extra disadvantages if they need additional support. Transport costs limit access to social care. Council funds are in short supply. Inadequate public transport – and, indeed, broadband connections – and closure of services such as rural post offices, shops and pubs only exacerbate the problem further for older people. We would be delighted to hear from anyone with views on this urgent issue."
"We are delighted to be supporting this important inquiry which will encourage joined-up thinking to help find innovative solutions to the challenges faced by older people across the countryside. Hastoe is passionate about rural areas and we must work towards ensuring that everyone in our rural communities has access to good quality and affordable housing."
A dedicated HAPPI page has been set up which you can access via this link.

Un-bear-lievable times in Northamptonshire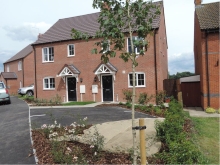 Residents in Braunston joined Northamptonshire Rural Housing Association for an un-bear-lievable afternoon to celebrate Rural Housing Week 2017.
Local families, Board members and colleagues came together to enjoy a special teddy bear's picnic to mark the completion of Phase 3 of the housing association's new development.
Twenty affordable properties, developed by emh homes, were completed at Maple Close in Braunston during Phases 1 and 2. However, a Housing Needs Survey showed that further affordable homes were still needed to enable people to stay in the village, and an additional 12 properties were built this year for people with a local connection to Braunston.
Excellent partnership working has enabled the development to come to fruition, and speeches were made by all partners at the picnic including NRHA Chair, Janet Roberts and emh Group Chief Executive, Chan Kataria, along with representatives from Braunston Parish Council and Daventry District Council.
Councillor Mike Warren, Daventry District Council's Health and Housing Portfolio Holder, commented: "House prices in our rural communities can be so high that a lot of young people are effectively priced out of the villages they grew up in. Likewise, there are a lot of older people who want to downsize but cannot find suitable properties.
"That's why we're happy to support organisations such as Northamptonshire Rural Housing Association and our parish councils in bringing forward schemes such as Maple Close in Braunston. By working in partnership we are able to provide affordable properties for local people, and play an important role in strengthening communities across Daventry District."
For more information contact Katherine Bradley.

Building Rural Communities Landowners Conference announced
Monday 16 October 2017 has been fixed as the date for a key conference to be held by the National Housing Federation. The venue will be the historic Pitville Pump Room in Cheltenham.
The Federation state: "Housing associations recognise the importance of affordable housing in rural areas – and the positive impact that it can have. That's why we have an ambition to increase current housing supply in rural areas by 6% per year over the next 5 years. Local landowners are vital to bringing forward land for housing in rural areas and we want to explore how housing associations and landowners can work together to deliver more.
"We are aware that many landowners are interested in providing affordable housing for local people, but there are challenges that we can overcome, if we work together. "These include:
Planning
Finance
general development knowledge
managing community relationships.
"This conference will explore these issues and hear from experts in each field, politicians and landowners themselves. By working together we will be able to overcome these barriers and increase the supply of rural affordable housing."
To register your interest in attending either telephone 020 7067 1066 or email events@housing.org.uk

Watch Rooftop's film busting myths about rural housing
Rooftop Housing Group have produced a great short film in which Head of Development, Tim Wade, aims to bust the myths about Rural Housing and Development. Follow this link to see what you think.

Community-led housing drive in South Somerset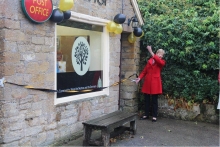 South Somerset District Council (SSDC) hosted two events during rural housing week and a further later in July that allowed Parish Councils to learn more about community led housing.
Those attending the event at Norton Sub Hamdon were also able to view the Community Land Trust (CLT) housing scheme that has been completed there and visit the local shop and post office which the Trust has taken over and is now run by volunteers. The CLT scheme, developed with Yarlington Housing Group, consisted of 10 houses, 8 for rent and 2 shared ownership properties. This is one of two CLT schemes that have been completed in South Somerset, the other scheme is in Queen Camel, which was a large scheme of 20 houses, 16 for rent and 4 for shared ownership. Other parishes are now looking to follow suit.
Wessex Community Assets attended the meetings to give parishes more information about how they can help, by providing support and practical advice to newly formed groups who want to ensure that new housing in their area is suitable, meeting local needs and blending in with existing buildings.
Parish councils also heard from individuals who had direct experience of Community Land Trusts sharing their experiences and achievements.
The events were organised following South Somerset District Council (SSDC) receiving a share of the government's £60 million Community Housing Fund. In addition the Council has its own rural fund of £500,000 that enables it to offer capital grants to help bring schemes with the preferred method being to underwrite schemes to help them off the ground and for the Housing Association involved to apply to the HCA for the required funding, thus enabling the Council to use the money as a revolving grant fund.
SSDC has delivered at least 20% of all affordable housing in rural parishes across the district consistently in recent years and adopted a rural lettings policy that applies to the district's smaller villages.
Councillor Ric Pallister OBE, Leader of South Somerset District Council and Portfolio Holder for Strategic Housing said, "I am heartened that Government has recognised the added pressure that second home ownership places on local affordability and encouraged councils, particularly those in the South West, to promote community led schemes. Our existing Community Land Trust schemes at Queen Camel and Norton sub Hamdon are a fine example of local people taking control for the benefit of their own community rather than having top-down solutions imposed on them."
For more information please contact Leisa Kelly.

Garden Cities, Towns & Villages briefing
New garden cities, towns and villages have been proposed as one way to meet the housing shortfall. A new garden city is under development at Ebbsfleet and the Government has offered support for a number of further garden town and village sites across the country. A number of studies propose different models for delivering garden cities. The House of Commons library has produced a briefing paper which sets out further information about the differing views on garden settlements and government support and policies in relation to them. You can access a copy of the report here.

Land availability issue in rural areas can be overcome
In a blog produced as part of Rural Housing Week Craig Felts, Managing Director at Midlands Rural Housing, writes:
"I've often heard the view expressed within rural communities that while there's a willingness to do something about meeting affordable housing needs, there's no land available to do so.
"This usually occurs on a first visit to a parish council or community meeting and is often said before any attempt has been made to establish whether such housing is required or not. It is, unfortunately, used by some as an opening 'blocking statement' to stop any prospect of development. If this view was always accepted at the outset, we at Midlands Rural Housing would have built far less than we have.
"Where we've been able to engage effectively with communities, we've found very few occasions where that statement holds true. The issue, we've found, is not the availability of land but the processes that are used to source it. On the basis that the right messages are given and a concerted effort made to ensure homes will meet local needs it's surprising what local connections and networks emerge – and this more often than not includes local landowners who are prepared to negotiate on land release for this purpose.
"It would be wrong however to suggest that it is plain sailing. Undoubtedly, in recent times, sourcing land – even where there is momentum to meet local housing needs – has become harder. The primary reason is the lack of local plans and in particular the lack of demonstrable 5-year land supplies. This has resulted in a situation where for many, selling land at discounted prices for exception site development is not an attractive proposition – particularly with increased prospects of securing open market prices.
"That said, at Midlands Rural we've continued to secure land despite the adverse operating conditions in many of our local authority areas. This has been a direct result of legwork put in as part of the local consultation process. Some find it hard to believe but there are still landowners that will do this!
"As part of our wider work we have of course built up linkages with local landowners, primarily through our engagement with the Country Land and Business Association (CLA), National Farmers Union (NFU), land agents, the church, developers and local authority partners. This has helped with land referrals and site identification but there's no replacement for getting your hands dirty and grinding out sites locally.
"Despite the view that land is the problem, we've found that it's not the insurmountable barrier that some suggest it is. In fact, we've found in recent months, particularly in those local authority areas that are nearing the conclusion of their land supply issues, that options for rural delivery are growing rather than diminishing.
"This will certainly assist us in increasing rural supply, and enable us to support the ambitions within the Federation's 5-star plan for rural housing – something we're increasingly positive about.
"So, land – yes it can be an issue... but funding is a bigger one!"

101 affordable homes help address second homes issue in Chichester
Hastoe has recently completed the final phase of a housing scheme in Roussillon, Chichester. The four homes for affordable rent and eight homes for shared ownership bring the total number of affordable homes provided by Hastoe at the former Roussillon Barracks to 101 of the total 252 homes built.
The completion of these homes by Hastoe comes just months after a National Housing Federation study found that over 6% of all properties in the Chichester district (55,150 homes) are second homes. This distorts the Chichester housing market and pushes up house prices – making it impossible for local people to buy a home in their own community and expensive for them to rent.
Karen Hillhouse, Hastoe Regional Head of Development for the south, said: "We are delighted to deliver these much-needed affordable homes for the Roussillon community, where local private rents and home ownership can be out of reach for some families. At Hastoe, we deliver homes that people can afford, we invest in people and communities and we are in it for the long-term. These new homes in Roussillon will ensure that affordable housing is available for the local community in perpetuity."
For more information on this scheme contact Emma Hislop.

Rural affordable housing success in Yorkshire – like winning the lottery for one new resident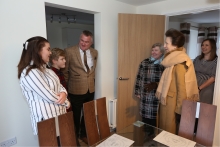 2016/17 was another very successful year for the North & East Yorkshire Rural Housing Enabler (RHE) programme, with a total of 174 new rural affordable homes completed on sites across the rural areas. Of these, 155 were for rent and 19 were for low cost home ownership to meeting a range of rural housing needs.
In addition another, 815 rural affordable homes gained planning consent in 2016/17 meaning that the completions forecast for 2017/18 now stands at well over 200 new rural affordable homes. In total, the RHE Programme has delivered 780 homes, averaging 130 per year against an annual target of 100.
One example has been the completion of the 16 home Paddocks End development in Garbutts Lane, Hutton Rudby - an affordable rural housing development for local households in housing need – opened by HRH the Princes Royal earlier this year.. The Princess was given a tour of the development and met many of the residents, before speaking to members of the development team, Network members and the RHEs.
Among the residents she met was Nick Goldsborough, who lives in a three-bedroom rented home with his two teenage children, Harriet and Alex. He has lived in Hutton Rudby all his life but after the breakdown of his marriage could not afford to buy or rent locally.
The family had no option but to stay with family in the village. He said: "The bungalow was tiny, so the only way we could manage was if my son slept with me in the box room and my daughter slept on the couch. This lasted for three years altogether, but it was the only way I could look after my mum, hold down my job and keep my family together.
"When I heard about the new homes, I registered our interest and the difference this house has made to our lives is incredible. We all now have our own bedrooms and it feels better than winning the lottery!"
You can read more about the work of the RHE Programme here.

HomeLife – helping people to live their life across Shropshire

Around 6 years ago Supporting People funding in Shropshire changed and Shropshire Housing Group took the decision to try and establish a viable stand alone service to offer support in all areas of everyday life. Due to the dispersed and rural nature of Shropshire, this service was initially funded by the Group but as it has become established and grown it is now financed by private clients or by contracts with other agencies as part of bigger care packages.
HomeLife offers customers a tailored local service of visits each week or month which provides help and assistance for people of any age with day to day tasks, helping them live a better, more fulfilled life.
The HomeLife Team, is employed by Shropshire Housing Group, and offers a fully trained, reliable Support Worker who can help around the home, accompany service users to the shops, doctor's appointments etc, or help with every day demands like letters and bills. The team has also given support to people after being discharged from hospital and assisted hoarders to better manage their homes. HomeLife even offers customers a bespoke HomeMove service to take the worry out of moving home to downsize, move into independent living or a care home. All this gives customers confidence in their own abilities to manage every day tasks.
One of HomeLife's customers, "Lucy"a 19 year old female who lives with her parents, had a desire to learn independent living skills, as her physical disability had given her low self esteem. Her weekly HomeLife visit concentrated on learning budgeting skills, menu planning and safe use of public transport. With help from HomeLife the young woman has grown in confidence and now gained a residential college placement.
Another customer who has flourished with weekly HomeLife support is "Tom" a 66 year old male who lives in an isolated rural area with his wife. The Support Officer takes Tom to visit his local library where he uses the time to research art history and trace his ancestry which gives him a degree of independence, helps to stimulate his interests give him something to discuss with his wife who is his main carer.
Over the last six years the Homelife Service has seen a consistent increase in contracted client hours, with more than 200 hours of support now being delivered each week. The service has been so successful in the South of the county that it is now expanding into the North.
For more information visit follow this link.

Teignbridge picks up National and regional awards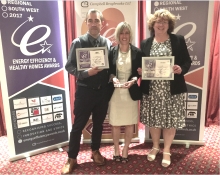 Teignbridge District Council has scooped a top regional award, winning Regional Council / Local Authority of the Year at the South West Regional Energy Efficiency & Healthy Homes Awards 2017.
Awarding the top prize for the Council's leading work in energy efficient projects for the local community and priority in tackling fuel poverty, Teignbridge's energy achievements include:
As lead authority successfully bid and obtained £1.13m via the central heating fund to provide central heating to homes across Devon. 187 homes across Devon have had first time central heating installed.
Have provided assistance for solid wall insulation to 27 homes in Teignbridge via funding successfully bid for from DECC (now BEIS).
Assisted 364 people in Teignbridge with energy efficiency measures.
Adapted a "whole house approach" to ensure householders energy needs are met, referring residents to other agencies where appropriate.
Work in partnership with local and national agencies, including health, social care, public health, Homemaker SW, Devon and Somerset Fire and Rescue authority and the voluntary sector.
Provided 27 loans and grant to improve the energy efficiency of people's homes, including loans and grants for landlords, tenants and homeowners.
Insulated 21 park homes and recently carried out a survey of park homes, directing resources to those residents most in need.
Solar panels have been installed on Albany House, a local authority owned property used as temporary accommodation, to generate electricity.
Approximately 90 referrals made to the Local Energy Advice Programme.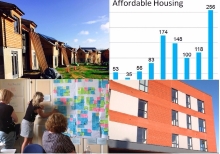 Teignbridge has also scooped a national accolade after being Highly Commended in the 'outstanding strategic local authority of the year' category in the UK Housing Awards 2017.
Shortlisted for its leading work in meeting housing needs and partnership work, Teignbridge was the only district council up against much bigger city councils and unitaries in London, Newcastle, Bournemouth and West Lothian, with Nottingham awarded the top prize. Nicola Bulbeck, Teignbridge District Council's Chief Executive said: "You don't have to be a big Council to have big ideas and bold plans. Ambition, creativity, courage and a collaborative approach visibly led by political and management ambassadors and underpinned by a fully supportive corporate team produces spectacular results for the residents of Teignbridge. We are all very clear that housing growth is a top priority in Teignbridge and we are delivering on this promise." You can read more here.

Hidden crisis of rural homelessness must be tackled
Rural homelessness is a growing problem, with over 6,000 rural households becoming homeless last year and record numbers of rural families in bed and breakfasts, according to research out this month.
While the causes of homelessness are often similar in urban and rural areas and usually linked to family breakdown, the ending of a private tenancy or financial hardship, services to tackle homelessness are very much concentrated in urban areas – leaving rural communities to fend for themselves.
In response, Hastoe is calling for policy makers to recognise the specific challenges of tackling homelessness in the countryside and take action to provide targeted advice and support.
The research: Right to home? Rethinking homelessness in rural communities, commissioned by Hastoe from the think tank IPPR, exposes the hidden crisis of rural homelessness. The new report finds that:
In 2015/16, 6,270 households were accepted as homeless in England's 91 mainly and largely rural local authorities, with one-fifth of all homeless cases occurring outside of England's most urban areas;
Between 2010 to 2016, predominantly rural local authorities recorded a 42 per cent increase in rough sleeping;
Many cases of homelessness in rural areas go undetected, with people more likely to bed down in alternative countryside locations. Similarly, difficulties accessing local authority services can mean households aren't counted in official records.
Commenting on the research, Sue Chalkley (Chief Executive of Hastoe Group) said: "It is clear from this report that homelessness manifests differently across the country and solutions used to tackle it in urban areas may not be the right approach for those in our rural towns and villages.
"Even a basic understanding of the number of rural people who are homeless, or sleeping rough, is often pitifully low. The stigma of being visibly homeless in rural communities can be much stronger than in a city and, as a result, many will be bedding down tonight in hidden locations like outhouses, barns, tents and parked cars – making it much harder for traditional 'head counts' to identify them.
"And it isn't only rough sleeping that is such a problem. Worryingly, since the middle of 2014 the number of families having to live in a B&Bs in rural local authority areas has risen by an appalling 500%, compared to a 200% rise in urban areas. The numbers are still rising in rural areas while in our towns and cities the numbers have been falling for the last year."
You can access a copy of the report here.

South Staffordshire aims to provide the homes people need
South Staffordshire Council is beginning work to refresh the Housing and Homelessness Strategy for the district. With approximately 80% of the district falling within the West Midlands Green Belt, South Staffordshire faces significant challenges associated with: home affordability, a rapidly ageing population and pockets of poor quality housing.
The new strategy will build on key successes from the previous 2014-17 strategy, which included:
Approximately 300 affordable homes delivered
Market and affordable specialist schemes completed and in the pipeline for older people and other vulnerable groups
Over 200 home adaptations through the Disabled Facilities Grant programme
More than £200,000 investment in housing stock through securing external funding for energy efficiency measures
A partner consultation event was held in July with local Registered Providers, private landlords and other stakeholders to introduce the three priorities for the refreshed strategy:
Ensure the right type of housing in the right locations to meet local need
Improve the standard and quality of housing to positively contribute to the health, wellbeing and independence of our residents
Prevent and alleviate homelessness
Jennifer Lawton, Housing Strategy & Regeneration Officer at the Council said: "Some excellent discussions were held around how to overcome the main challenges the district and wider sector face over the next few years, and a lot of useful insight was collected to feed into the new strategy."
You can view the current strategy on South Staffordshire Council's website by clicking here. A draft of the new strategy will be published for consultation in the autumn.

Rural Exception Site development commences in Colne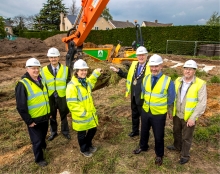 Work has begun by Hastoe to build new affordable homes for those with a Colne connection. The much-needed scheme will provide 10 new high-quality, sustainable homes for rent and two homes for sale on the open market.
In an event to mark the occasion, Huntingdonshire District Council Chairman Councillor Peter Bucknell joined with Hastoe to turn the first ground for the development. He said: "I'm very pleased to see another 'Rural Exception' site moving forward. These schemes are designed to help rural communities where it is often difficult for local people to access housing given today's high prices. People who might otherwise have to move away from the village will now have an opportunity to apply for these homes. This has been the product of a lot hard work and I would like to thank everyone involved for their efforts to get us to this stage."
Hastoe Development Manager for the East Ulrike Maccariello said: "The sod turning marks an important milestone in the journey of this housing scheme. Hastoe has worked in close consultation with the local community for a long time to determine their housing need and find an appropriate site for these homes. We are committed to supporting the residents of Colne by providing affordable, environmentally sustainable homes. These homes will enable residents to remain in the village where they live, work or have family ties and will help ensure that the local community can continue to flourish."
For more information on this scheme contact Emma Hislop.

Custom and self-build innovation explored by local authorities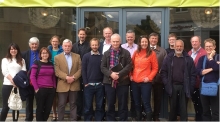 Teignbridge Council recently invited councils from Cornwall to South Gloucestershire to join a Teignbridge study tour exploring the latest innovation and experience in custom and self build homes.
The tour was designed to provide local authority councillors and officers with an opportunity to increase their knowledge so they can help local residents interested in designing or building their own home.
The first part of the Teignbridge-led tour saw 16 delegates visit the National Self Build and Renovation Centre (NSBRC) in Swindon. The visit was timed to coincide with the NSBRC Summer Show which attracts more than 200 exhibitors and provides expert advice to create a new home, live demonstrations, expert seminars, and access to architects and designers. Delegates received specialist advice about all aspects of custom and self build, including a session with Piers Taylor, presenter of BBC2's 'The House that £100k Built' and an award-winning architect.
For the second part of the tour delegates visited the Graven Hill custom build development in Bicester, near Oxford. A former Ministry of Defence site, Graven Hill is being transformed by Cherwell District Council into the largest dedicated custom and self build site in the UK.
At Teignbridge, the 'Teignbridge Rule' requires plots for custom and self-build homes to be made available on large development sites and small rural exception sites for affordable, sustainable self-build homes for local people who are otherwise priced out of the housing market. You can read more here.

New affordable housing scheme officially opened in Chrishall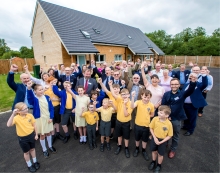 Sir Alan Haselhurst joined with representatives from Hastoe Housing Association, Uttlesford District Council and Chrishall Parish Council on 3 July to officially open a new affordable housing development in Chrishall, Essex.
The scheme was officially opened by unveiling a commemorative mosaic and plaque designed by children from the local primary school. The students were also on hand after the event to display work showing how they helped move a population of great crested newts from the site to their new habitat ahead of construction.
Langford Drive, Chrishall, is a rural development of four dwellings for affordable rent, helping to ease the local housing need by providing homes only for those with a strong local connection to Chrishall.
Each home is built to AECB Silver Standard, which ensures that the homes are highly energy-efficient. The properties have been fitted with additional insulation, triple glazed windows and Air Source Heat Pumps so that residents benefit from lower energy costs than traditionally built homes.
For more information on this scheme contact Neil Cox.

Keep Calm and Join Up!
RSN exists to enable the issues facing the rural areas of England to be identified, information and good practice to be shared and government to be challenged to address the needs and build on the opportunities which abound in rural areas.
If you know a rural housing organisation that would benefit from membership, please ask them to consider joining us. RSN is a solely rural focussed organisation with an electronic distribution network in excess of 40,000 individuals. We reach right across all the rural areas of England and provide a sustained and respected voice for rural areas at national level. Anyone who wants to talk to us about our role and services in relation to rural housing should contact Andy Dean to find out more.
If you are a small housing organisation operating in rural England, you can have access to all the services of RSN for an annual subscription of just £250 plus VAT. RSN exists to share information, promote good practice and represent the voice of rural England at a national level. Check out the website for more information or contact Andy Dean to join up.