Rural Housing week is here and we'd like to take this opportunity to shine a light on the work of the RSN that focuses on Rural Affordable Housing, along with the work of some of our partner organisations

Hear from the Chief Executive
Click below to view a short interview with our Chief Executive Graham Biggs talking about Rural Affordable Housing and the Revitalising Rural Campaign.
---

Rural Affordable Housing Seminar
Last week we were delighted to welcome over 90 delegates to our Rural Affordable Housing Seminar. Part of our annual seminar programme and open free of charge to members of the RSN, the seminar featured three speakers.
Firstly, we heard from Matt Dodd, Senior Affordable Housing Strategy Manager – Rural and Community Led, from Homes England. His presentation highlighted for delegates the role of Homes England, in accelerating delivery, tackling market failures and helping to shape a more resilient and diverse housing market. Three challenges were identified in delivering affordable homes in rural areas:
Land and Planning
Financing
Skills and Capacity
A partnership approach coordinated across agencies is identified as a key solution to overcoming some of these challenges and Homes England can help support stakeholders through the process.
The second speaker was Mary Ridgeway from Teignbridge District Council. She set out for delegates the case study of the delivery of a development in Devon, with partnership being central to the success of the project. The role of the Parish Council was highlighted as being critical, along with Devon Communities Together, the landowner, Willow Tree Housing Association and Rural Solutions.
Finally, delegates heard from Martin Collett, CX of English Rural Housing with a presentation on 'Affordable Rural Homes - More than Bricks'. Delegates were able to listen to the voices of tenants, to fully appreciate the difference that having a home in their rural community had made to their lives.
There was a lively debate throughout the chat and session, with strong views about the challenges facing rural areas from extremely high house prices, the increasing number of second and holiday homes, and the difficulty in getting sites approved.
---
Housing Facts and Figures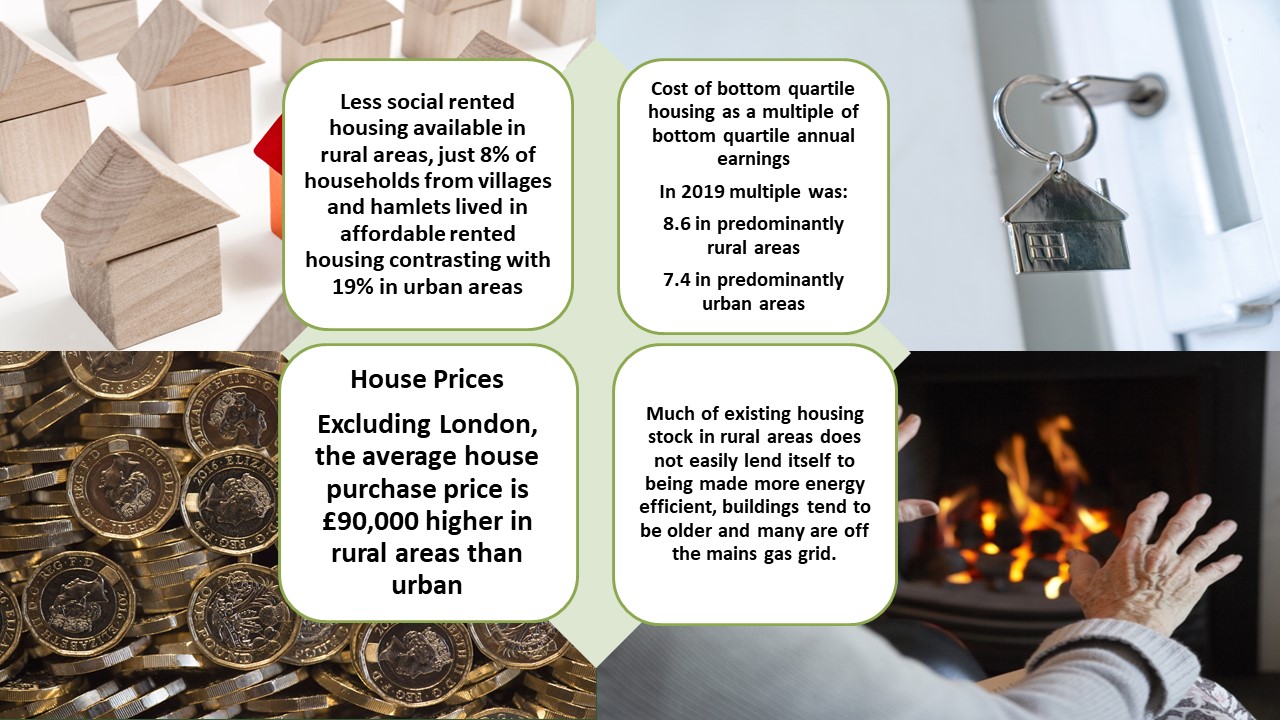 ---
Revitalising Rural – Affordable Rural Housing
As part of the RSN campaign, Revitalising Rural; Realising the Vision, the RSN has set out a number of key asks of Government to help support the delivery of affordable rural homes.
You can read the chapter on Affordable Rural Housing at this link
RSN asks in relation to Affordable Rural Housing are:
Affordable housing quotas: Government should amend its existing policy on quotas. Local planning authorities should be able to require an affordable housing contribution from development sites building fewer than 10 dwellings (i.e. those building 5 to 9 dwellings) in all rural settlements with a population under 3,000 residents – or with a population density of less than 2 persons per hectare. Furthermore, those authorities should be able to require that the affordable housing be delivered onsite. The current system, where on small sites a financial contribution is required, the actual affordable housing provided can be some distance from the original contribution site, means the affordable housing funded can be far away in a different (larger) settlement.
Since the RSN made this ask the Government has announced that it is putting aside, for now, its Planning White Paper proposal to increase the development site threshold for affordable housing from 10 dwellings to 40 or 50 dwellings. This proposal could have proved disastrous for rural areas.
Grant funding: Homes England should increase the provision in its recently announced Affordable Homes Programme from 10% to at least 13% to match last year's delivery. Even this 13% needs to be increased over the life of the CSR, given that 17% of England's population live in rural areas. The programme should offer grants at realistic levels which are realistic to ensure good design and energy efficiency, and which recognise extra building costs typical on small development sites in rural areas.
Community-led housing: the Community Housing Fund, which offers grants and supports community-led schemes, has been useful, although the fund is stretched and could be increased. A share of that fund should be allocated to projects in rural areas, such as Community Land Trusts, Cohousing schemes and Self-build projects. This would restore an original rural objective of the fund.
Exception sites: the principle of delivering low cost housing suited to first time buyers is not disputed, especially if it meets rural needs of young families and essential workers. However, the proposed introduction of a First Homes tenure must not be at the expense of much-needed rural affordable homes for rent. Local planning authorities must, therefore, be able to set policies that require Exception Sites to deliver solely or predominantly affordable homes to rent in all smaller settlements (and not just those in 'designated' rural areas). Without that, landowners will inevitably be attracted to release land for more financially attractive first-time buyer homes.
Sales of affordable homes: Government should allow local authorities to retain 100% of the proceeds from Right to Buy sales (rather than the current 50%), so they can re-invest this to replenish the dwindling stock of affordable housing for rent. The local authorities also need time and the ability, Revised May 2021 where necessary, to allocate more support per unit. Lessons for rural areas must be learnt from the voluntary Right to Buy pilot scheme for housing association tenants, before any further roll out of that scheme is considered.
Since the RSN made this ask the Government has announced that it is extending the time period given to local housing authorities to re-use financial receipts from Right to Buy sales
---
Housing Research
Jessica Sellick, a research for the Rural Services Network, has written this commentary piece on Finding a rural home, what more can be done to plug the rural housing gap.
Filled with lots of housing statistics and commentary, it explores a wide range of issues surrounding rural housing.
---
Work of our partners
The National Housing Federation are hosting a webinar on Wednesday 7th July at 2pm, aimed at parish councillors, local authorities and landowners. The Rural Housing Alliance, will share their revised rural pledge, which underlines their commitment to working in partnership with local communities in order to ensure high quality homes and services. They will also introduce the newly published Parish Councillors' Guide to Rural Affordable Housing, and share examples of how they are working with parish councils and other partners to put that commitment into practice.
Book your place at this link: National Housing Federation
---
There is sure to be lots of action on social media #ruralhousingweek so have a look to find out more!