20.06.2018
Spotlight on older people - June 2018
This newsletter is provided by the Rural Services Network
People with dementia in rural communities are increasingly isolated, says a charity. The Alzheimer's Society issued the warning as it launched a new guide urging individuals and organisations in rural communities to address isolation for people with dementia, take action and better support people affected in their area. The RSN were pleased to be at the launch!
An action plan aims to raise awareness of banking services available at Post Office branches among local communities grappling with bank branch closures. The five-point plan has been developed by the finance industry and the Post Office working with the Treasury and government officials. It will promote awareness of the day-to-day banking services that bank and building society customers can access at 11,500 Post Office branches across the UK.
The government's system of funding social care services is unsustainable and unfair for rural communities, the Rural Services Network has warned. Service providers operating across rural areas face inequitable costs compared to their urban counterparts for both adult and child social care, said the network. Rural council taxpayers also faced unfair costs, warned the network in response to an inquiry by MPs who are examining the long-term future of adult social care. RSN chief executive Graham Biggs said: "Social care is a national issue but it is in crisis.
---

We are pleased to launch a busy line up of expert speakers for our Rural Conference in Sept 2018, sponsored by The Post Office. Kindly hosted by the University of Gloucestershire it features a keynote speech from Tony Travers!

Workshops will give delegates the opportunity to explore a topic in more detail including:
* Fairer Funding in Rural Areas by Dan Bates
* The Plunkett Foundation exploring how to set up a community shop
* West Suffolk on 'District mergers,Creating a single council for West Suffolk'
* The Rural Business Awards on 'How enterprise can support rural communities'
* South Western Housing Society with 'Innovation through Collaboration'
---
Rural England CIC launched its research report earlier this year into:
The report, highlights the acute, and often unique, challenges affecting the rural elderly in terms of home-based social care, related to demographics, service provision and costs. The challenges include older people making up a significantly higher percentage of the total population in rural areas and more than one in nine rural people currently providing unpaid care. Together these facts lead the authors to call on Government and service providers to take steps to stave off a worsening situation that risks abandoning vast numbers of vulnerable individuals simply because of where they live.
---
In bringing together domestic and international health concerns 'global health' criss-crosses geographical, cultural, economic and linguistic boundaries. But what exactly is global health? Why does it matter? And how might it benefit rural communities across the UK?

Jessica Sellick investigates.
---
Reducing banking facilities could leave older people struggling to access their cash. Age Scotland has warned that pensioners will be hard hit by cuts to free-to-use ATMs. (Third Force News)
Farming's increasingly isolated nature is leaving rural communities vulnerable to mounting mental health problems, charity leaders have warned. They hailed the efforts of the region's agricultural organisations in raising the profile of the issue but admitted there is much more work to do to reach older generations, many of whom remain too proud to seek help. (Yorkshire Post)
Local authority leaders have said they should be granted the powers necessary to undertake a 'desperately-needed' residential revolution in older people's housing. Responding to an APPG report on older people's housing in rural areas, the Local Government Association (LGA) said councils needed the 'right tools' to ensure elderly people living outside of urban areas have suitable accommodation. (Localgov.co.uk)
A growing number of retired people are stuck in isolated rural homes with stairs they cannot climb, rooms they cannot afford to heat and gardens they cannot tend, a report says today. Nearly half the households in the countryside will be comprised of people aged over 65 by 2039 but their housing needs have been ignored, the all-party parliamentary group on housing and care for older people claims. (The Times)
---
RURAL PARTNERSHIP MEMBER:
We are pleased to welcome Out of the Box to the Rural Services Partnership. Based in Scotland, they provide independent development support to groups and people across Scotland who want to make a difference in their communities.
Local People Linking
is one of their projects that raises awareness of older people's human rights based on their lived experiences in their communities. They are supporting older people from a variety of backgrounds as they develop and share information that is accessible on activities and services happening in their area.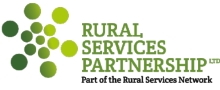 The Rural Services Partnership is a key part of the Rural Services Network and provides services for health, housing, fire and rescue, youth and elderly organisations.
The RSP provides a suite of services for its members to exchange information, learn from best practice, lobby government and much more. If you'd like to find out more or are interested in joining, contact Jon Turner, Policy Director.
---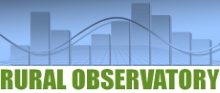 The RSN provides a
Rural Observatory
of statistics. It provides analyses and comment on key service provision and issues affecting rural communities.
It includes data on:
Economy
Housing
Environment
Health, Wellbeing and Social Services
Learning Skills and Education
Travel and Transport
Emergency Services