A quarterly bulletin facilitated by your membership of the Rural Services Network and produced in partnership with the Rural Housing Alliance, highlighting a selection of current rural housing issues and opportunities

Survey assesses impact of national affordable housing threshold policy
The Rural Services Network, in collaboration with Rural Housing Solutions, has undertaken a survey of local authorities to update the evidence on the impacts of the national policy on affordable housing thresholds.
As stated in the report on the survey's findings, "The lack of affordable housing in rural areas is well evidenced and the need to increase its supply is well rehearsed. However, the ability to address this challenge was restricted in 2014 when the Government raised the site thresholds from which an affordable housing contribution could be taken to 10 dwellings, except in a limited number of designated rural areas where on sites of 6-9 dwellings a contribution could be taken, but only as a financial sum."
This policy has always raised serious concerns in rural areas and, as a mechanism to assess the policy's impact, a questionnaire was circulated to RSN's local authority members in September 2019.
Key findings from the survey include:
"66% of respondents reported that since adopting a threshold in line with national policy the delivery of rural affordable housing had been reduced.
Thirty-one of those authorities were able to quantify how many affordable homes had been foregone. Sixteen stated that over the last two years11-25 new rural affordable homes had not been delivered as a consequence of the higher thresholds. This translates to 275 - 350 dwellings across 16 local authority areas. A further 5 local authorities reported they had lost more than 60 new rural affordable homes since adopting the new rural threshold policy.
31% of respondents reported that they usually were able to use financial contributions in the community where they were raised, but 26% had not been able to spend the money. For 51% of respondents it is the lack of sites that limits their ability to use these monies in the communities where they have been raised.
61% of respondents reported that primarily higher value properties have replaced the affordable dwellings that they would have secured under their earlier lower threshold policies."
The survey report concludes that a clear appetite exists from survey respondents for a change in policy that would allow local planning authorities to be able to take an affordable housing contribution from sites of less than 10 dwellings.
For more information on the survey please contact RSN.
---
Ultra-low energy Warwickshire homes bring rewards for residents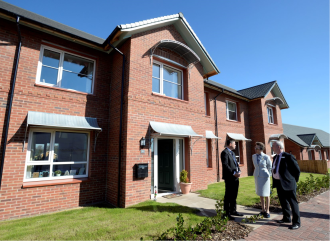 Warwickshire Rural Housing Association's (WRHA) ground-breaking development of ultra-low energy homes is now letting residents reap the rewards one year on.
In September 2018, HRH The Princess Royal officially opened Keyte Gardens, Warwickshire's first Passivhaus development of affordable homes. The aim was to achieve space heating costs which are 70 per cent less than in standard house construction by using cutting edge technology and innovative eco features.
WRHA worked with market-leading heat pump manufacturer, Mitsubishi Electric to provide the 14 properties with the latest renewable air source heat pumps to fuel their heating and hot water, in place of a traditional boiler. And 12 months on, the figures speak for themselves.
At a time when money is tight for most people post-Christmas, Harry and Maureen Stevenson have been told that their energy payments can be substantially reduced thanks to the renewable heating technology in their two-bedroom bungalow.
"We've been surprised our heating bills have been so low," says retired Maureen. "And we've now been told by our energy supplier that we can reduce our direct debit payments to £36 a month. When we were renting a two-bedroom house previously, we were paying £69 a month, so it's a big saving."
WRHA used the most up-to-date renewable technology which involved siting a small air source heat pump outside each property instead of a large traditional boiler inside the property. This has helped to ensure running costs are kept to a minimum for residents, and also reduced the carbon footprint of the development as no pipelines needed to be laid to supply gas or oil to the properties.
Developed in Japan, the Ecodan QUHZ system has been designed specifically to address the heating needs of new-build homes which have good insulation and need much less heating, but still require hot water whenever the homeowner needs it.
The heat pump works by extracting heat energy from the external air and upgrading it to heat up hot water for the homes. This can then be fed through the taps inside the property or used to heat radiators for domestic heating.
In addition to the air source heat pumps, the homes at Keyte Gardens also have perfect North – South orientation for maximum solar gain during the winter months, have superior levels of insulation and air tightness, and include innovative features such as a mechanical ventilation heat recovery system to provide constant filtered fresh air and recessed and shaded tripled glazed windows to reduce overheating during the summer.
Warwickshire Rural Housing Association Company Secretary, Richard Mugglestone, commented: "Our vision was that Keyte Gardens would bring ultra-low energy affordable homes to local people, helping to tackle fuel poverty and protect our climate. We are delighted that residents are now reaping the benefits of these cutting-edge homes."
---
Ribble Valley develops much needed affordable bungalows
Six rare affordable bungalows are waiting to be snapped up in Ribble Valley from just £42,498.
The two-bedroom bungalows featuring open plan living areas, French doors, bathrooms and kitchens are available at the Tootle Green development in Dilworth Lane, Longridge, thanks to Ribble Valley Borough Council and Snugg Homes.
They are available to the over-55s with a local connection and household income below £80,000 on a shared ownership basis from just £42,498 for a 25 per cent share, with £292.18 monthly rent on the remainder. A 50 per cent share will set you back just £84,997, with around £194.79 monthly rent, while a 75 per cent share is up for grabs from £127,496, with £97.39 monthly rent.
Bridget Hilton, chairman of Ribble Valley Borough Council's health and housing committee, said: "The provision of affordable housing is one of the biggest challenges facing the council and affordable bungalows are particularly scarce. We are working closely with developers and housing associations to address this problem and our partnership with Snugg Homes has brought much-needed high-quality accommodation for older residents to the borough."
A further 11 bungalows have been developed in a partnership between Ribble Valley Borough Council and David Wilson Homes in the village of Whalley and are available for a 30 per cent discount on market value, which must be passed on in future sales.
Further details are available from Ribble Valley Borough Council's housing team on 01200 425111.
---
Royal opening of affordable homes in Kent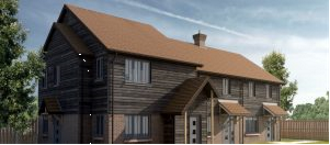 Warehorne, Kent — HRH The Princess Royal visited the village of Warehorne in Kent on 11th December 2019 to officially open English Rural's new affordable housing development. Recently completed, the small development of four new homes at 'Goldfield' provides two houses and two flats that benefit local people. All homes have been made available at rents that are affordable to local people living, working in or with close family connections to the village.
The homes are the result of a partnership with the local community, involving Warehorne Parish Council, Action with Communities in Rural Kent, Ashford Borough Council and English Rural. This is the second scheme to be built in the village by English Rural, the first being four bungalows completed 1995.
The development secures much needed affordable homes for local people. Planning restrictions have been agreed that will ensure the homes will always remain affordable and local people with a connection to Warehorne will always take priority as residents.
Commenting on the visit, Martin Collett, English Rural's Chief Executive said: "This is English Rural's second development in Warehorne – the first being nearly 25 years ago. We are always pleased when villages invite us back into their community. This not only highlights the continuing need for affordable homes but also demonstrates the trust they have in English Rural. The new affordable homes at Goldfield will play an important role in safeguarding a vibrant, active and working village that includes a mixture of age groups and income earners."
The homes at Goldfield occupy a 'rural exception site' and have been funded by English Rural and supported by grant contributions. The homes will be owned and managed by English Rural and can never be sold on the open market.
English Rural have applied the principals of 'Fabric First' construction, designing the homes to be highly efficient, whilst also being attractive, spacious and comfortable. High levels of insulation have been used and Air Source Heat Pump technology provide affordable heating and hot water for residents, reducing energy use and keeping their fuel bills low.
You can read more on this project via this link.
---
Social sustainability toolkit launched
A new online Social Sustainability Toolkit has been launched.
Described as "a resource to support and promote the fundamental community dimensions of new housing developments, enabling all residents to thrive, in the places where they live," the toolkit has been developed by Barnwood Trust and their partner Social Life following discussions with a range of stakeholders across varied sectors in Gloucestershire. The new resource aims to showcase the benefits of taking a socially sustainable approach when developing new housing schemes and is illustrated with numerous case studies, showing how these elements have been incorporated.
The Toolkit can be found at https://www.socialsustainabilityglos.org/
---
Twelve homes saved through partnership working
A partnership between a Rural Housing Association and a Community Land Trust has resulted in the safeguarding of 12 affordable homes in the Peak District village of Bradwell.
Peak District Rural HA had established a good relationship with Bradwell Community Land Trust as they negotiated a management agreement for new properties the Trust will acquire in 2020. When the Trustees learnt that 12 rented homes in their village were possibly going to be sold they asked PDRHA to help. The homes were originally built in the 1960s for workers in the Newburgh Engineering works which was a major employer in the village. The works moved to Rotherham and the homes were rented to local people by a subsidiary company. Tenants were alarmed when they heard of a possible sale to a property company as their tenancies were mostly assured shorthold and could allow the new owner to serve them with notice to quit.
The Community Land Trust stepped in and agreed with the owner that they would try to find a way to purchase and safeguard the homes for the current tenants. They felt this was important not just for the current tenants but also for the future of the village which needs a good range of homes to ensure the ongoing vibrancy of its community. Like all Peak District villages, Bradwell house prices are high and local people on moderate incomes struggle to find affordable housing. This is a result of the extra pressure in the market of second homes owners and commuters wanting properties in this lovely area.
The CLT sounded out potential funders, Homes England, Sheffield City Region and Derbyshire Dales District Council, all were willing to help fund the purchase but insisted that the homes should be in the management of a registered provider. At this point the Trustees asked PDRHA to become involved. It was agreed that Bradwell CLT would hold the freehold of the properties and PDRHA would lease the houses on a 125 year lease. This arrangement gives Bradwell CLT long term control over the homes while the residents have security of tenure and the services of an established rural provider.
The Association submitted bids to raise the necessary funds to purchase the homes. Homes England awarded funds from its Community Housing Fund, Derbyshire Dales District Council contributed significantly and Sheffield City Region awarded funds from its housing fund.
If this bid is successful, the purchase will go ahead. This will enable the community of Bradwell to have a long-term stake in the properties. The lease will set out the terms on which the properties will be managed, including stipulations about giving priority to those with a close connection to Bradwell.
For more information on this project contact Alison Clamp.
---
English Rural launches digital offer to tenants
English Rural Housing Association has launched 'My English Rural,' designed to make residents' lives easier by being an online, one-stop place to organise and access their English Rural account.
It's their digital resident account where they can manage their account, rent, repairs provide feedback and access a range of information.
Residents can register by simply clicking this link: https://my.englishrural.org.uk and following the registration instructions.
---
Community highlights urgent need for more affordable homes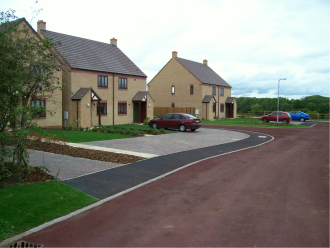 Affordable homes are needed in Northamptonshire's villages now more than ever. That's the message from Northamptonshire Rural Housing Association (NRHA) which is returning to Nassington this Spring for the third time after the community said they wanted more homes they could afford.
In 1994, NRHA completed Phase 1 at Nassington when eight affordable homes were built specifically for people with a local connection to the village. The further need for local affordable homes was met in 2006 when nine additional properties were developed in Phase 2.
A Housing Needs Survey undertaken in Nassington in Autumn 2013 revealed that the high price of local houses was still preventing local people from being able to afford to buy a home in the village in which they had been brought up.
As a result, NRHA is now set to start work on a further nine homes for Phase 3 of the development, with four houses and two maisonettes for affordable rent, plus three homes for shared ownership.
It will also include three houses for local market sale, with any surpluses generated being used to subsidise the nine affordable properties.
Richard Mugglestone, Company Secretary of NRHA commented: "We are pleased to be able to provide small rural housing schemes where they are most needed across Northamptonshire.
"When the local community in Nassington told us that there was still an ongoing need for affordable properties in their village, we worked closely with them to draw up plans which they fully support. We're now looking forward to making these plans a reality."
For more information contact Katherine Bradley.
---
Non-executives come on board to help keep Warwickshire rural villages alive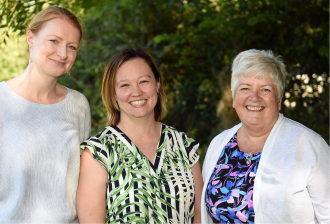 Three new faces have come on board at Warwickshire Rural Housing Association (WRHA) to help provide more affordable homes for local people at a time when they are needed more than ever.
Emma Harper, Deanna von Anrep and Ann Lattimore have joined the Board as non-executive directors, bringing with them a broad range of expertise and experience.
Emma, who lives in rural Warwickshire, joins the Board with several years of experience in social housing. Emma, who is currently Head of Transactional Services for Britvic plc, previously held a number of key financial roles, including Head of Corporate Shared Services and Group Finance Manager (Shared Services), for Sanctuary Housing, one of the largest providers of affordable and social housing in the country. Emma says: "There can be no doubt that housing associations have a significant role to play in helping to build more homes to meet an ever-increasing demand for housing across England in general. I saw that WRHA were looking for someone with financial acumen as well as social housing expertise, and I am very much looking forward to my new role."
Deanna von Anrep is a member of the Senior Housing Leadership team at PA Housing, who provide more than 23,000 affordable homes across Midlands, London and the South East. Deanna, who grew up in Georgia, USA, joined PA 15 years ago and developed a strong background in business management, voids and allocations and homelessness, before taking a more strategic role. However, she also has a key interest in ensuring the best possible relationship between WRHA and the communities and individuals its serves. Deanna says: "I am really passionate about customers and my culture is all about customer service. I am looking forward to having the opportunity to really drive that in my new role with WRHA and to help to develop that relationship with our customers above all else. We should be providing all our customers with an outstanding level of service."
Ann Lattimore joins the Board following a varied career, which has included roles with the Women's Royal Naval Service, the Police Service and the Police Authority, where she was a Policy Advisor with particular responsibility for Citizen Focus. Following her retirement in 2012, she became Community Champion for a large supermarket in the North Cotswolds, before joining one of the country's leading housing associations as Community Connector and, ultimately, Neighbourhood Coach/Housing Manager for Stow on the Wold. Ann, who finally retired earlier this year, says: "As someone who lives in rural Warwickshire, I feel passionately that real communities work when they are made up of people of all ages and all walks of life. The housing provided by WRHA is essential to that purpose, and I hope that the skills and experience I have gained throughout my career will benefit the Board in its oversight of the organisation."
---
Government consults on future homes standard
A current government consultation sets out plans for the Future Homes Standard, including proposed options to increase the energy efficiency requirements for new homes in 2020. The Future Homes Standard will require new build homes to be future-proofed with low carbon heating and world-leading levels of energy efficiency; it will be introduced by 2025.
A document has been produced which is the first stage of a two-part consultation about proposed changes to the Building Regulations. It also covers the wider impacts of Part L for new homes, including changes to Part F (ventilation), its associated Approved Document guidance, airtightness and improving as-built performance of the constructed home.
This consultation closes on 7 February 2020 and you can access further details via this link.
---
Rural community energy feasibility funding available
The Rural Community Energy Fund (RCEF) is a £10 million programme which supports rural communities in England to develop renewable energy projects, which provide economic and social benefits to the community.
RCEF provides support to rural communities in 2 stages:
stage 1: grants of up to £40,000 for a feasibility study for a renewable energy project
stage 2: grants of up to £100,000 for business development and planning of feasible schemes
RCEF is being run by 5 regional Local Energy Hubs. If you would like to register your interest for the scheme, or would like further information, please contact the relevant hub for your area. Details are available via this link.
Keep Calm and Join Up!
RSN exists to enable the issues facing the rural areas of England to be identified, information and good practice to be shared and government to be challenged to address the needs and build on the opportunities which abound in rural areas.
If you know a rural housing organisation that would benefit from membership, please ask them to consider joining us. RSN is a solely rural focussed organisation with an electronic distribution network in excess of 25,000 individuals. We reach right across all the rural areas of England and provide a sustained and respected voice for rural areas at national level. Anyone who wants to talk to us about our role and services in relation to rural housing should contact Andy Dean to find out more.
If you are a small housing organisation operating in rural England, you can have access to all the services of RSN for an annual subscription from just £255 plus VAT. RSN exists to share information, promote good practice and represent the voice of rural England at a national level. Check out the website for more information or contact Andy Dean to join up.