CRAFTY publicity by BT is accelerating the demise of traditional red phone boxes.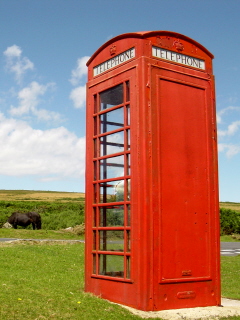 Crafty and quick-thinking publicity by BT is accelerating the demise of traditional red phone boxes, says Robert Bullard.
OUR story begins last year in Seaton, Rutland.
Like other villages, the community wanted to save its phone from being axed. So they got together a petition and lobbied BT.
The result? Seaton has taken ownership of its phone for a nominal sum of £1, in return for agreeing to its maintenance – the only catch being the phone service has been removed.
BT thought the idea so good it turned it into a national 'adopt a red phone' scheme.
So far it has received around 800 applications, with parish councils, who must take on the ownership of the phones, agreeing to half of them.
BT has even launched a competition for the most innovative use of an adopted phone, offering prizes of £1000 for regional winners and £5000 for the best overall.
A fair bargain you might say, given that fewer public phones are needed with increased use of mobile phones.
Differences of opinion
Some communities are content.
Seaton campaigner Charlotte Rudkin says: "I am thrilled that we get to keep this old icon as street furniture... the community really came together and now we can enjoy it for years to come."
Also happy is Simon Coombe, chairman of Limpley Stoke Parish Council, Somerset, who said: "Our red phone box is the focal point of our village and is part of its overall identity and heritage. We are pleased that BT has devised this imaginative scheme."
But isn't there a catch?
After all, by offering communities what they see as an iconic asset, BT is managing to avoid arguments about the viability and need for rural phone boxes.
It has turned bad publicity into good.
And suggests around 7,000 phones could be suitable for adoption.
Other councils believe BT's scheme is a clever guise to sap opposition to its plans to close 14,000 phone boxes nationally.
In Herefordshire, for example, parish liaison officer Anthony Bush says the majority of parish councils do not want responsibility without having the phone.
"The adoption scheme is effectively a means to remove the service," he says.
And BT has irked Eden District Council in Cumbria by suggesting some phones be adopted that it did not identify as being 'at risk' last year. (It is required to consult on a planned closure if there is no other phone within 400 metres.)
As a result, both councils are objecting to most phones BT has put up for adoption in their area, with the latter providing evidence of how each phones is used either by locals, by tourists without a phone, or is near an important site such as a leisure facility or accident blackspot.
Pay for the privilege
Clearly, we no longer need all the public phone boxes we have. But BT does have universal service obligations. And aren't there any alternatives to 'adoption' - or rather closure?
One offer from BT is that communities 'sponsor' their phone box (in this case it can be red or otherwise), paying £500 pa for BT to maintain the service.
But only 50 councils have taken up the idea.
The first was Corely, Warwickshire.
"We felt we had to have an emergency facility, and for when a landline/mobile is down," says the Chair of the Parish Council, Paul Osborne. "Once a phone box has gone it has gone for good," he adds.
So, for a cost of around £1 per person per year (the village has 588 adults), the service has been assured.
But Corley had enough reserves not to have to increase its rates. Not all parish councils have the same reserves - their typical annual precept is around £2000.
And to prevent crime and vandalism, Corley had to agree that the phone become cashless.
Real innovation
Until you submit your application, the front-runner in BT's competition for innovation looks like being Settle, Yorkshire.
Its phone box has been turned into what must be the smallest art gallery in the world.

But if you want real innovation, look beyond our shores.
In Spain, the government is planning to use phone boxes – which benefit from an electricity supply and being close to roads – as part of a network for people to recharge their electric car batteries.
Now, that IS innovation.