20.11.2023
Winners of the Rural Community Business Awards 2023 announced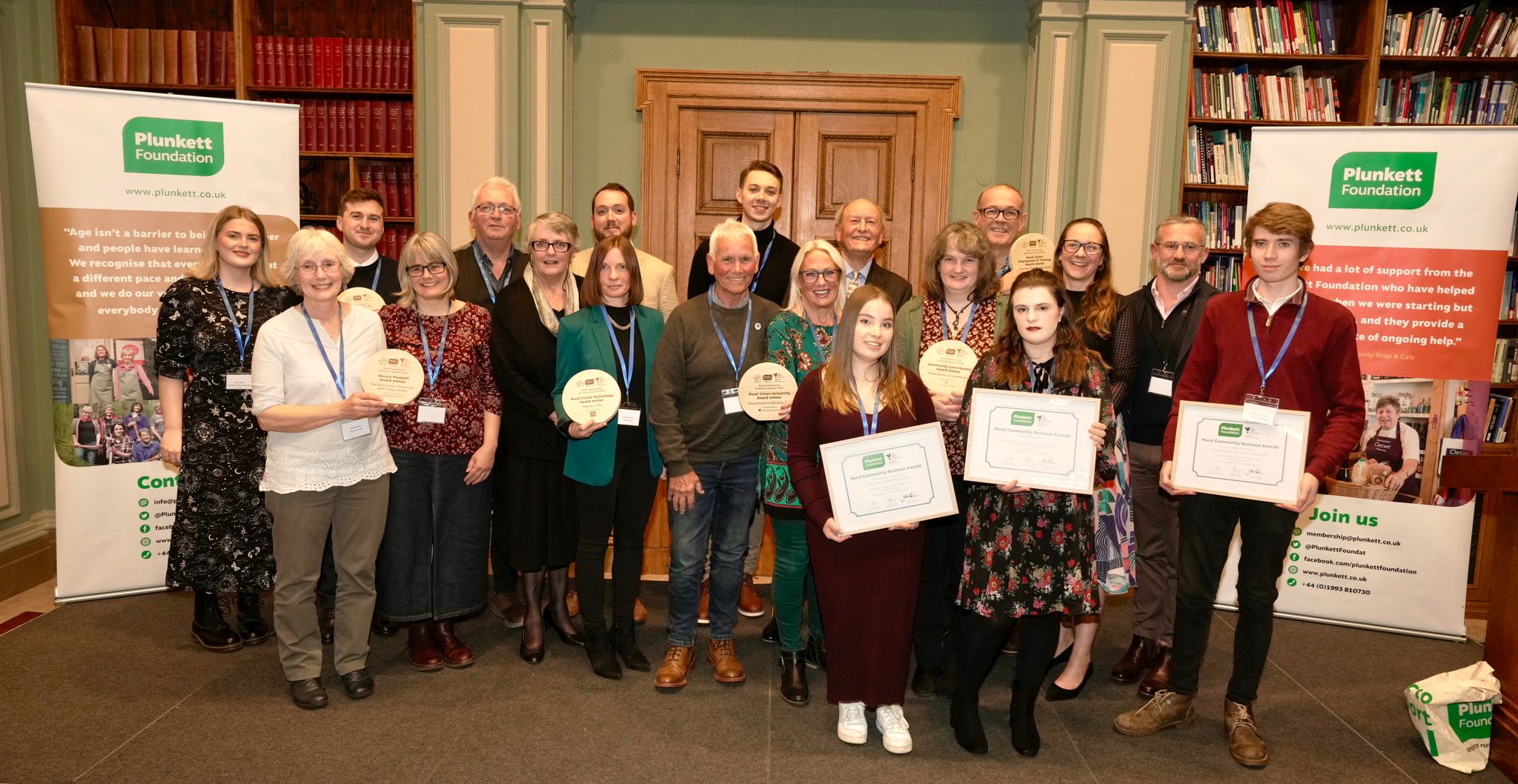 Six inspirational community-owned businesses from across the UK and the people behind them have been recognised for their outstanding contribution to their communities, and as being the most inspiring businesses of their kind by the Plunkett Foundation at its Rural Community Business Awards.
Selected from 19 finalists, representing a wide range of businesses from across the UK - including community-owned farms, woodlands, shops, pubs and community hubs, these businesses help rural communities tackle local issues such as isolation, loneliness, and lack of employment, as well as improving wellbeing. They provide vital services locally, take action on climate change and actively promote equity, diversity and inclusion in the countryside.
Held annually by the Plunkett Foundation, the Rural Community Business Awards, which took place at the Royal Society of Chemistry on Wednesday 15 November, recognise the dedication and success of all types of community-owned businesses and hope to inspire other communities to take ownership of the businesses essential to them.
This year's Awards are supported by headline sponsor North Barnes Farm in partnership with Welbeck Land and Eton College.
The Six Rural Community Business Awards Winners:
Community Food & Local Supply Award, sponsored by Suma Wholefoods
WINNER: Menter Y Glan – Powys


Employment & Training Award, sponsored by Anthony Collins Solicitors
WINNER: Bosavern Community Farm – Cornwall


Environment Award, sponsored by Power to Change
WINNER: Applecross Community Company – Highlands


Inclusivity Award, sponsored by Voneus Broadband
WINNER: Church Fenton Community Hub – North Yorkshire


Technology Award, sponsored by Co-op
WINNER: Menter Y Plu – Gwynedd


Volunteering Award, sponsored by Ansvar Insurance
WINNER: SouthGen (The Old Hospital) – Suffolk
The winners were each presented their awards at a ceremony by TV presenter and auctioneer Charlie Ross. Each winner received a trophy and an award of £250.
Two further dedicated prizes were awarded to the people behind the community businesses, with the following winners announced on the night:
Community Contribution, sponsored by Thakeham
WINNER: Anika Davies at Cwmdu Inn, Carmarthenshire


Young Person Award
HIGHLY COMMENDED: Adam Perrins-May from Creaton Village Shop, Northamptonshire
HIGHLY COMMENDED: Lilith Adler from Bosavern Community Farm, Cornwall
HIGHLY COMMENDED: Molly Guilford at Broughton Community Shop, Hampshire
HIGHLY COMMENDED: Tilly Goodwin at The Auctioneer Arms, Caverswall
HIGHLY COMMENDED: William Hales at wHoo Cares, Rochester
The final Rural Community Business Award is the 'Horace Plunkett Award' which was selected by trustees and following nominations from the staff team.
Horace Plunkett Award:
WINNER: The Green Gram, Fordingbridge, New Forest
Harriet English, Head of Engagement at Plunkett Foundation, said:
"The Rural Community Business Awards are always a highlight in the Plunkett calendar. It is the opportunity for our movement to come together and celebrate the collective success and impact of the growing network of community-owned businesses from across the UK. These businesses are so much more than shops, pubs, hubs, farms – they are inclusive, innovative and impactful spaces at the heart of their community. They bring people together and make sure that everyone has an opportunity to be included in the running of services that matter most to local people.

We are grateful to all our sponsors, that make this event such a success each year. It is their support which enables Plunkett to provide a platform for community businesses, showcasing the wonderful examples of community action and inspiring more businesses to open in future."
Damon Turner, Partner of Welbeck Land, said:
"We are proud to be working with Plunkett for a second year for the Rural Community Business Awards, an event which recognises the dedication and contribution of the many people who are behind the community business network.

These individuals are actively encouraging participation and integration locally, using the community business model to create thriving and sustainable communities across the country. Not only are we delighted to be supporting this annual celebration, we are committed to embedding this form of business at the heart of the North Barnes Farm Partnership, investing in local food, services, employment and leisure opportunities."
The importance and benefits of community-owned businesses are recognised and supported by our event sponsors. Headline sponsors of the awards North Barnes Farm in partnership with Welbeck Land and Eton College are joined by award sponsors Ansvar Insurance, Anthony Collins Solicitors, Co-op, Power to Change, Suma Wholefoods, Thakeham, Voneus Broadband.
For further details about the Rural Community Business Awards visit:
www.plunkett.co.uk/rural-community-business-awards-2023/