19.06.2013
Neighbourhood Planning in Mid Suffolk

A successful neighbourhood plan must be based on evidence and an understanding of the place they relate to. Communities need to gather a range of evidence and local knowledge before writing their plan. We have collated a selection of evidence, which may be useful to communities in starting to shape their evidence base.
Please note that any plan will need to gather a wide range of evidence and this is just a selection of key facts and figures available at ward and parish level as a starting point for the plan.
The Rural Evidence Base
At the bottom of this page is a table of links to information that is available for all of the wards / parishes within the above local authority. Some of the data is only available at ward or district level.
These datasets are ones that we feel are relevant to starting to help you to understand the key characteristics and needs of your local area.
On each spreadsheet you need to select your local area and the data will be displayed.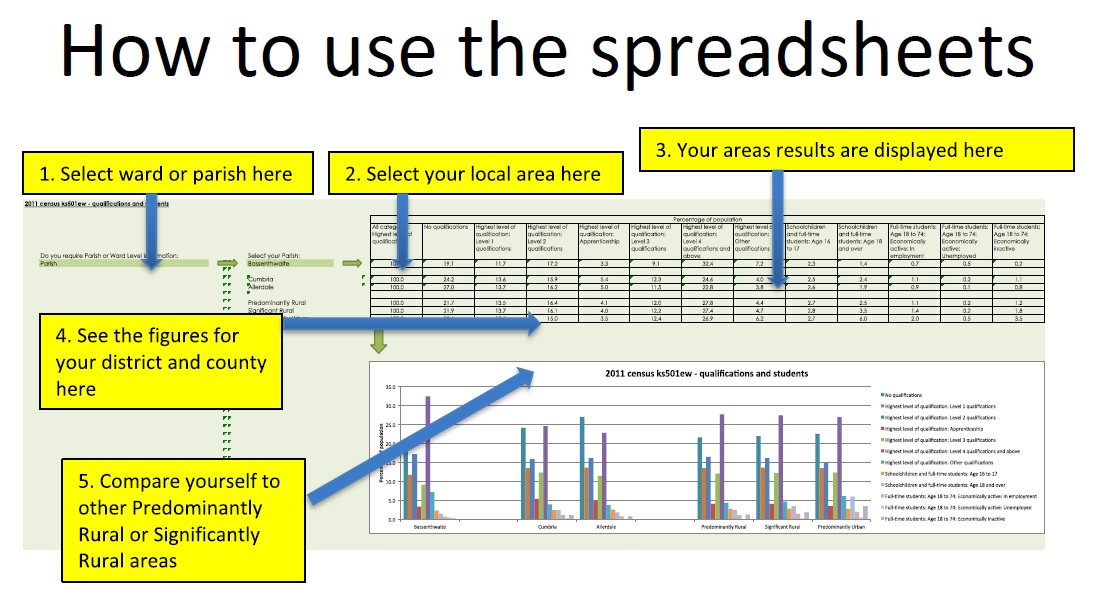 The image above shows you how to use the spreadsheet to see your information and there is also a User Guide for each dataset which is available underneath the individual links to the spreadsheets. These explain in more detail how to use and interpret the data.

Each of the different types of data is available on a separate spreadsheet. It includes a comparison of the local ward/parish level against the whole local authority and also includes a comparison with other rural authorities.
For information your local authority is classed as: Predominantly Rural
You should contact your strategic planning team at Mid Suffolk Council http://www.midsuffolk.gov.uk, who should be able to provide you with information about the requirements for putting your plan together. They can also help you to understand all of the development and planning issues that may affect your plan.
Neighbourhood Planning - Evidence Base for Mid Suffolk
Age structure
- Analysis user guide
Economic Activity
- Analysis user guide
Household composition
- Analysis user guide
Car or van availability
- Analysis user guide
Occupation
- Analysis user guide
Qualifications and students
- Analysis user guide
Housing tenure
- Analysis user guide
Average earnings
- Analysis user guide
Accommodation type
- Analysis user guide
House prices
- Analysis user guide
This information and analysis has been made available solely for areas where their local district or unitary authority is a paying member of the Rural Services Network – Sparse.
If you would like to find out more about membership of Sparse please contact us.