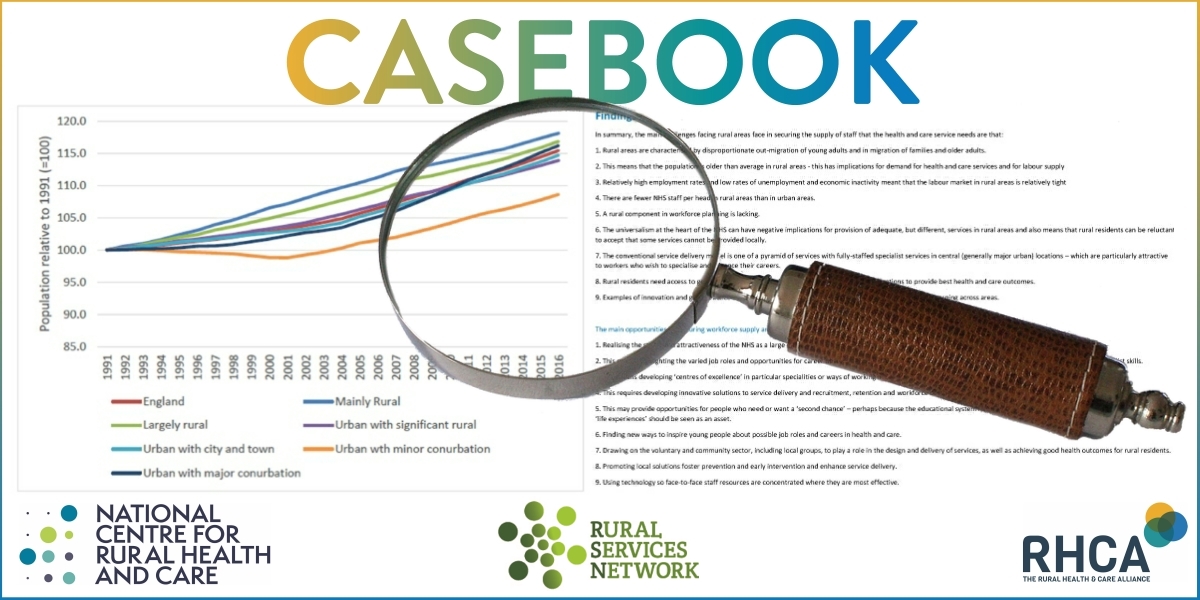 October 2020 Edition
Welcome to your October edition of Casebook, a dedicated, monthly e-newsletter for Rural Health Care Alliance members. The long dark tunnel of the pandemic continues with stories about: punitive fines applied to hospitals; mental health impacts; pressure on health visitors; confusing testing regimes and national versus local as a key area of policy challenge. Our National Centre Update features news on our rural toolkits; the international dimension to our parliamentary inquiry and a heads up on a new membership package. There's also our usual update on new funding opportunities and member research. Happy reading!

NEWS COMMENTARY
Hospital bosses urge NHS England to drop 'unfair' fines as Covid admissions rise
I suspect there is a disproportionate impact on small rural trusts in the context of this story which tells us:
Hospitals in England will be fined for failing to meet "impossible" targets on patient care within weeks, in a scheme criticised by NHS trust bosses as "mad, wrong and unfair".
NHS England is facing calls to urgently rethink plans to impose financial penalties on trusts that fail to return non-emergency operations to near-normal levels by the end of this month.
The directive, which has sparked alarm among regional public health directors and local councils, was issued to hospitals in August and is still going ahead despite a resurgence of coronavirus cases that threatens to seriously disrupt the NHS this winter.
Chris Hopson, the chief executive of NHS Providers, which represents hospital trusts in England, said he had raised the issue urgently with NHS England and NHS Improvement, the body responsible for overseeing foundation trusts, following concerns raised by trust bosses.
"It would be mad, wrong and unfair to penalise hospitals for failing to reach targets that it was impossible for them to meet," he said.
There is growing concern that the sharply rising number of coronavirus patients in England's hospitals will undermine their ability to provide non-Covid care and tackle waiting lists for non-urgent care. On Thursday, 609 Covid patients were admitted to hospital, while government officials said the number of people in intensive care would pass its April peak in 21 days in parts of northern England if the current trajectory did not change.
Full article:
https://www.theguardian.com/society/2020/oct/11/hospital-bosses-urge-nhs-england-to-drop-unfair-fines-as-covid-admissions-rise
---
Coronavirus: How lockdown has affected mental health
This story helps support the case for the development of a rural mental health strategy for England. It tells us:
Covid-19 may be a physical illness but it has also hit mental health hard.
In August, a group of NHS leaders said they were seeing a rise in people reporting severe mental health difficulties while charities including Mind, Samaritans and Calm have all said they have seen an increase in people coming to them for help.
Full article:
https://www.bbc.co.uk/news/uk-england-54418913
---
Overstretched health visitors caring for up to 2,400 families each
The most important but often less glamorous health provision has been badly affected by the pandemic – the impact in relation to health visitors profiled by this story is prodigious. It tells us:
Overstretched health visitors have been forced to care for up to 2,400 families with newborns at a time, 10 times the recommended number, according to the sector's most senior figure.
Prompting fears that breastfeeding rates will drop to new lows and a generation of babies could face a troubled future, Cheryll Adams, the chief executive of the Institute of Health Visiting, told the Guardian that as sickness and redeployment struck, some health visitors were having to care for thousands of families.
"In the last five years we have seen the number of health visitors cut by 30%, then during the pandemic, as many as 50% of staff were redeployed in some areas," she said. "That was devastating for families and for health visitors who were put under immense pressure."
One health visitor told Adams she was at one stage looking after 2,400 families, when 250 is considered to be a "safe" number.
Full article:
https://www.theguardian.com/lifeandstyle/2020/oct/04/fears-for-mothers-and-babies-covid-19-health-visitor-crisis-mental-health-breastfeeding-england
---
Coronavirus test results must come in 24 hours, says Sage scientist
We continue to struggle with a coherent and effective approach to testing. How can something so ostensibly straightforward be so complex and contentious?? This story tells us:
A massive expansion of testing will still leave Britain struggling to keep Covid-19 infections under control unless the system can inform people they are positive within 24 hours, one of the government's most senior scientific advisers has warned.
Ministers have insisted that they are on course to hit a target of 500,000 tests a day by the end of the month, with suggestions this weekend that capability of a million tests a day could be reached by Christmas.
However, Graham Medley, a member of the government's Scientific Advisory Group for Emergencies (Sage) and chair of its subcommittee on modelling, said that returning test results "ideally within 24 hours" was as critical as capacity in a successful test-and-trace system. He said if necessary, capacity should be curbed in favour of speed.
Full article:
https://www.theguardian.com/world/2020/oct/18/coronavirus-test-results-must-come-in-24-hours-says-sage-scientist
---
Covid: Row over regional rules 'damaging to public health', scientist warns
National versus local is a key dynamic in what is effectively in the context of the NHS a very centralised approach. In the light of this the focus here on the impact of national policy in other countries is interesting. This story which militates against local approaches, which would for example recognise the lower incidence in rural areas tells us:
The row over England's three-tier regional Covid restrictions is "very damaging to public health", a scientist advising the government has warned.
Talks between Westminster and local leaders over moving Greater Manchester and Lancashire to the toughest tier of rules are due to resume later.
Manchester's Labour mayor said northern England had been treated with contempt.
But Dr Jeremy Farrar warned making it a north-south or party political issue was "a very dangerous route".
The Wellcome Trust director, who also sits on the Scientific Advisory Group for Emergencies (Sage), told the BBC's Newscast podcast countries that had controlled the virus well so far - including South Korea and New Zealand - had a "national consensus about the way forward".
Full article:
https://www.bbc.co.uk/news/uk-54564537
---
NATIONAL CENTRE UPDATE
Rural Proofing Toolkit
Our coronavirus dashboard and the Rural Proofing Health toolkit are both ready to test. If you would like to know more please let me know.
Parliamentary Inquiry
As we progress towards the conclusion of the inquiry our next session will focus on international perspectives. We have the following line up of speakers. If you would like to join the session please let us know:
Professor Roger Strasser AM – Professor of Rural Health, The University of Waikato (New Zealand)
Dr Pavitra Mohan – Co-Founder & Secretary, Basic Health Care Services (Udaipur, Rajasthan, India)
Dr Manabu Saito – Director, Rural Generalist Program (Japan) & Medical Director, Teuchi Clinic, (Shimo-koshiki Island, Kagoshima, Japan)
Alan Morgan – Chief Executive Officer, National Rural Health Association (Washington DC, United States)
Dr Mayara Floss – Family Medicine Resident, Grupo Hospitalar Conceição (Porto Alegre, Brazil)
Dr Josep Vidal-Alaball – Head of the Central Catalonia Innovation and Research Primary Care Unit, Catalan Health Institute, Department of Health, Generalitat de Catalunya (Catalonia, Spain)
Professor Ian Couper - Director of the Ukwanda Centre for Rural Health, Department of Global Health, Stellenbosch University (Cape Town, South Africa)
Membership Review
We are currently reviewing our membership offer. Some members have participated in interviews and consultations to support this process. I would like to thank you for that and I look forward to reporting the development of some positive new refinements to the current offer soon.
Free Online Rural Social Care & Health Group Seminar
11:00-12:30 on Monday 16 November 2020 featuring presentations from Billy Palmer, Senior Fellow at the Nuffield Trust and Ian Morrel from 65 High Street Health Hub. Click here to book your free place.
United Utilities continues to support Disability Awareness Day as event goes viral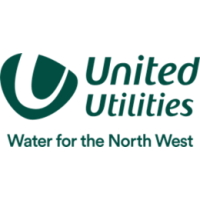 The Warrington Disability Partnership (WDP) are based in Warrington, Cheshire and are at the forefront of supporting independence in life and work for people with disabilities. Their annual Disability Awareness Day (DAD) is the world's largest 'not for profit' voluntary-led disability exhibition, held in a huge tented village within the grounds of Walton Hall Gardens in Warrington, Cheshire and is attended by over 22,000 people every year.
It's a disability event which promotes a 'can do' culture focusing on what disabled people can do throughout life and work. The show has around 260 exhibitors and has three main aims:
To highlight what statutory, private or voluntary services are available to enable disabled people to stay independent
To promote equipment and aids that could maintain or improve independence, not just what is offered by statutory service providers
To provide an opportunity to showcase what disabled people can do in the field of Sport, Arts and Entertainment
Due to the Government restrictions as part of the COVID-19 social distancing rules, as with other events around the country, WDP were sadly faced with the decision of whether to cancel this year's live event.
However, in response, they have developed an exciting online platform from which people will be able to experience a weeklong schedule of complimentary events, starting with DAD Virtual, taking place on Sunday, 25th October.
United Utilities is once again extremely proud to be associated with WDP and continue to sponsor such an incredible event.
Amanda Phillips, Priority Services Manager at United Utilities said, "To once again play a part in this amazing event was a no brainer for us. It especially gives us a chance to promote our free Priority Services scheme, with more than 100,000 of our customers from across the North West now benefiting from this scheme. This year's event being virtual means of course we can reach an even greater number of our customers, it's great news!"
You can take a look at one of the virtual marquees ahead of the event here. If you're living in the North West and know someone that may be able to benefit from Priority Services, you can find out more here and apply online too.
Funding Opportunities
This month we focus on four funds namely: the National Emergency Trust for stronger LGBT communities; the Charles Hayward Foundation funding for Older People; Persimmon Homes fund for Community Champions and Trusthouse Charitable Foundation for funding to tackle urban and rural deprivation. To find out more about each of these funds click here
Research
Our Member research interests survey is live! Thanks to those who have responded already and to those who have also shared examples of best practice. If you haven't taken the survey yet please click here, it will only take 5 minutes of your time. To read about current member research interests; data and insights and a member case study from the Lincolnshire Refugee Doctors Project click here
---
We'd love to hear from you - share what you're proud of
The RHCA provides news, information, innovation, and best practice. If you have something, you would like us to feature in a future edition, please let us know by clicking here to send us an email.
Spread the Word
If you know of other organisations that you think would benefit from joining the Rural Health & Care Alliance, please click here to email us and let us know.
---
RURAL SERVICES NETWORK
Up to date news on Health and Care
The Rural Services Network provides a useful source of themed news content and data. Check out the latest news on Health & Wellbeing and Vulnerability, where you'll find articles on a diverse range of rural issues affecting rural communities . You might also find this research on Over 65 Population Projections useful too.