A quarterly bulletin facilitated by your membership of the Rural Services Network highlighting a selection of current rural economic development news, issues and opportunities


National Innovation Centre for Rural Enterprise announced
Newcastle University and partners will lead a new National Centre to support enterprise, resilience and innovation among rural firms and unlock the untapped potential of rural economies across the UK.
Led by experts from Newcastle, Warwick, Gloucestershire and the Royal Agricultural Universities, and working with businesses, policy makers, enterprise agencies and communities, the Centre has been awarded £3.8 million of funding by Research England.
In England alone, rural businesses comprise over half a million enterprises, 3.6 million employees and contribute over £260 billion to GDP. Yet despite this, they are still largely underexplored and underutilised.
Through the new Centre, the aim is to help build the capabilities of policy makers, support agencies, rural businesses and their advisers to create resilient and sustainable economies fit for the 21st century.
"A thriving rural economy is crucial to the future prosperity, well-being and resilience of communities across the UK" says Centre Director Jeremy Philipson, Professor of Rural Development at Newcastle University.
"The need to encourage and release the dynamism and untapped potential of rural areas is even greater now with the combined uncertainty of Brexit and impacts of Covid-19 and what the implications will be, not just for rural areas, but for the UK economy as a whole.
"Our aim is to strengthen the evidence base relating to rural innovation and enterprise to encourage more effective policy making and support for rural firms and communities at local and national levels. We will work actively with businesses, rural communities and economic development agencies at the local level to share learning and test new approaches to innovation and enterprise."
The centre will formally launch on 1 September 2020. You can read more via this link.
---
Midlands Connect study shines a light on the future of rural mobility
Valerie Hastie of Midlands Connect writes:
When it comes to social mobility, economic prosperity and transport infrastructure, the characteristics of rural areas present a complex set of challenges. Increased reliance on private vehicles, an ageing population, reduced population density and the need to travel further to reach key services often results in a lack of accessibility and the reduced financial viability of public transport. Following consultation with private businesses, residents, councils and partners, Sub-national Transport Body Midlands Connect has created a toolkit of options for the future of rural mobility; including one where local mobility 'hubs' bring together essential services and where local authorities and communities are given the tools they need to harness the innovations of private providers and new pilot schemes.
| | | |
| --- | --- | --- |
| | | |
The technical summary report and toolkit provide guidance to policymakers on creating an environment where mobility and community cohesion are at the centre of transport strategy. If you would like to receive more details on our Future of Rural Mobility Study or would like to share with us further intelligence on this crucial agenda please get in touch via MCAdmin@midlandsconnect.uk
---
North Yorkshire gin distillers turn to hand sanitiser to support Covid-19 effort
Hand sanitiser made by North Yorkshire gin distilleries is helping County Council key workers to stay safe and keep others safe during the Covid-19 outbreak.

Three distilleries across the county – Masons Gin, Spirit of Masham and Harrogate Tipple – have turned to production of sanitiser to support not only North Yorkshire County Council, but also health services and other organisations.
County Council Leader Cllr Carl Les said: "This is another great example of the outpouring of community togetherness and public spirit that we're seeing across North Yorkshire. We are seeing businesses supporting communities, just as communities support their businesses. I want to thank these distilleries and the many other businesses that have stepped up in these unprecedented times to support our efforts and those or our public sector and volunteer partners."
Cathy Mason, co-founder of Masons Gin said: "So far we have donated about 1,200 litres and we are expecting more ingredients this week to make more, so hopefully will be able to donate another 1,000 litres."
Masons has provided 495 litres of hand sanitiser free to the County Council for use by reablement teams and to supply emergency hubs. The company has also given free supplies to the NHS, including midwives in Northallerton, RAF Leeming and the Post Office, among other organisations.
A year ago, the company's distillery in Bedale was destroyed by fire. Full production at a new, purpose-built distillery nearby on the Leeming Bar industrial estate began only two weeks before the current Covid-19 restrictions came into force.
Cathy said: "In the period after the fire, we received a lot of support from the local community. This is an opportunity for us to give something back."
Alongside the sanitiser, Masons continues to make gin. "We are lucky to be able to carry on distilling and we have online sales, which is one of our main roads to market," said Cathy. "Luckily, this is doing really well."
Spirit of Masham, which is part of Corks and Cases and is owned by Derek and Carol Harle, is also producing sanitiser and has supplied hospitals, GP surgeries, nursing homes and hauliers, as well as the County Council.
"We were the first distillery in England to make an application to HMRC to produce hand sanitiser," said Derek. "It was the instant thing we thought of doing. We thought we needed to do this to get it out to people, because there were shortages."
The distillery is using the World Health Organisation formula, with added softener, but Derek says the biggest problem has been sourcing bottles and the dispensers to go on top of them. Derek said: "The main thing was to get this out and to be able to do it at a low enough price to make it viable. It has been a very busy period, which we anticipated. While everyone has been locked down at home during the good weather, I've been locked in a distillery."
Steve and Sally Green, co-founders of Harrogate Tipple in Ripley, considered producing hand sanitiser and were able to go into production of 80 per cent alcohol sanitiser after the World Health Organisation published its formula and the Government removed duty on the alcohol, only a day after Steve and Sally raised the issue with their MP, Andrew Jones.
Steve said: "We realised we could do this and keep our business open, because 90 per cent of our sales were lost overnight. We could go back to the doctors and hospitals and councils that had asked about this to say that we could do it at cost price, as well as selling it online to individuals.
"We are continuing to make it. It has been unbelievable. We can't make enough."
As well as supplying 500 bottles to the County Council, Harrogate Tipple has supplied the Royal Mail, the Nightingale Hospital in Harrogate, GPs and other health services.
The business is also still making gin and has set up a drive-in market within the distillery yard with other village businesses, including a baker and cheese seller, enabling people from Ripley and surrounding villages to buy goods while observing distancing guidelines and not leaving their car.
For more information please contact North Yorkshire County Council.
---
RSN and IED jointly work on Rural Opportunity Toolkit
The Rural Services Network and the Institute of Economic Development, a member of the Rural Services Partnership, have joined forces to work together on a piece of work designed to support the rural economy in the coming months.
Nadine Trout, who joined the RSN in February this year, has a vast range of experience working with rural economic development and understands the importance of supporting the rural economy at this time:
"Spring should have heralded the beginning of growth for many rural businesses and yet so many have been stunted by COVID-19. Now is the time to identify new opportunities and the support needed to make them happen".
Along with the IED, the RSN aims to put together a Rural Opportunity Toolkit, exploring Local Industrial Strategies from a rural perspective and horizon scanning for the future of the rural economy.
Nigel Wilcock of the Institute for Economic Development said:
''The Institute genuinely believes that rural economies present great opportunities for the UK and have been somewhat overlooked in recent economic policy. We are delighted to be able to work with the RSN to try and redress some of that balance."
More information will be available from RSN shortly – keep an eye on the weekly Rural Bulletin and the website.
---
Support available for pub landlords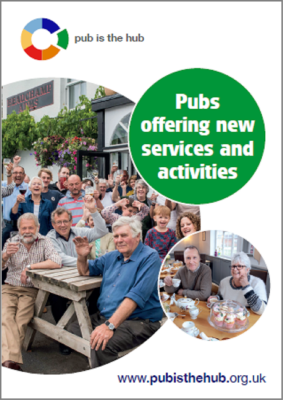 Local pub landlords can still access advice and support from 'Pub is The Hub.' There are many licensees whose pub businesses may be closed, but who are still looking for ways to diversify and support their local community, especially the lonely and most vulnerable people.
Malcolm Harrison from Pub is The Hub writes: "Over the last few weeks, working with pub, brewing and hospitality businesses, we have seen great landlords, hotel and catering staff and communities do their bit, working hard on the frontline to help reduce the hardships created by coronavirus.
"At Pub is The Hub, we are busy helping new forms of services and activities evolve from pubs, particularly in remote rural areas. Some country pubs that are currently closed have offered takeaway services or have created response and distribution hubs for their villagers, who may not be lucky enough still to have their own village store. New supply chains have been formed to include local sources perhaps previously overlooked, such as butchers, bakers and farms, and many licensees are already making plans to help their community further when they are able to reopen, by offering virtual theatre, poetry or comedy nights.
"Pub is The Hub now have over 40 different types of services and activities being provided by pubs nationwide, from village stores to libraries and community cafes serving takeaways to allotments. Many of these projects were made possible by support from the government and the benefits they have brought to all age groups have been immense. Social value is not always an easy concept to get across, but it is one which we measure closely and formally throughout the life of each project. The benefits of bringing a Pub is the Hub project to a community have never been clearer.
"Our Pub is The Hub team have risen to the Covid19 challenge, offering home based advice and support and this commitment means we are very much still here for good landlords, their staff and suppliers and their local residents just when they need us most."
You can find out more and get on touch with Pub is The Hub direct via this link.
---
Gigabit Broadband Voucher scheme for rural homes and businesses
Gigabit-capable broadband connections offer the fastest and most reliable speeds available, and the Government "is committed to a vision of a digitally connected Britain."
Homes and businesses in rural areas of the UK may be eligible for funding towards the cost of installing gigabit-capable broadband when part of a group scheme.
Rural premises with broadband speeds of less than 100Mbps can use vouchers worth £1,500 per home and up to £3,500 for each small to medium-sized business (SME) to support the cost of installing new fast and reliable connections.
More information is available via the website.
---
Financial support for businesses during coronavirus
The government's support for businesses is changing with new announcements on a regular basis. All government information for business is available through their website. This includes:
the Coronavirus Job Retention Scheme
deferring VAT and Income Tax payments
Self-employment Income Support Scheme
Statutory Sick Pay relief package for small and medium sized businesses
business rate relief
small business grant funding of £10,000 for all business in receipt of small business rate relief or rural rate relief
grant funding of £25,000 for retail, hospitality and leisure businesses with property with a rateable value between £15,000 and £51,000
the Coronavirus Business Interruption Loan Scheme
Information on all these items can be found via this link.
---
New pedestrian bridge to open in Daventry District
A new dedicated pedestrian footbridge has been installed over the Grand Union Canal just east of the village of Crick in Northamptonshire.
The majority of funding for the bridge has jointly been provided by Daventry District Council and Prologis (DIRFT III), with further contributions from Northamptonshire County Council, the nearby Windfarm Development and Crick Parish Council, who have campaigned for this infrastructure for many years.
The Canal & River Trust also supported the project and gave the approvals necessary to allow the bridge installation over the canal.
The bridge will improve the safety of pedestrians using the footway along the A428 between Crick and West Haddon, which is currently compromised by the narrow path that crosses the Grand Union Canal.
The current COVID-19 situation enabled workers to take advantage of less traffic on the road and reduced footfall whilst work was undertaken, enabling them to deliver this key infrastructure safely.
Stuart Hoskins, Safety Engineering Manager at Northamptonshire Highways said "This has been an incredibly complicated project to deliver and we are pleased that such a key piece of infrastructure has now been delivered to ensure the safety of all users utilising this route. We have worked closely with a wide range of stakeholders to secure funding and to ensure the new footbridge is in keeping with the aesthetics of the area."
Crick Parish Councillor, Brian Hughes, said: "All residents of Crick are delighted and relieved that they will at last be able to cross the canal safely via the new footbridge. Many villagers have campaigned for a bridge over the years, and it is to their great credit that they have at last succeeded."
---
Farming Recovery Fund due to open in June
Government state that the Farming Recovery Fund will be opened to farmers who are located in parts of:
Herefordshire
Shropshire
Staffordshire
East and North Yorkshire
and further extension in Nottinghamshire, Worcestershire and Gloucestershire.
They "expect the window for applications covering February 2020 flooding to open in June 2020. Updates will be published on this website.
---
The covid-19 pandemic and its implications for rural economies
Academics at Newcastle University's Centre for Rural Economy and Northumbria University's Business School have written a briefing note which attempts a rapid assessment of current and likely future impacts of the COVID-19 outbreak on rural economies. The report draws principally on current evidence for the UK, as well as lessons from the 2001 Foot and Mouth Disease outbreak and the 2007/8 financial crisis.
The report states: "The COVID-19 outbreak and government-led measures to contain it are having widespread effects on rural economies across Europe. This disease is affecting all aspects of rural society, both directly when people from rural communities fall ill, but also because of the social distancing restrictions that are in place to limit the progress of the disease. It is affecting household incomes and rural businesses in every sector of Europe's diverse rural economies, as well as charitable and community organisations. Some of these impacts will also be medium- or long-term."
The purpose of this briefing note is to consider how the Covid-19 outbreak is affecting rural economies and to present a set of recommendations for Government. The primary focus is on the UK situation, but the issues have resonance for rural economies in the EU, which face similar issues.
---
Get your business ready for end of Transition Period
The UK has left the European Union and is now in a transition period which is due to end at the end of 2020.
The Department for Business, Energy & Industrial Strategy has advice available for businesses preparing for the new rules due to take effect from 1 January 2021. You can access the relevant information via this link.
---
Consultation on future support for low carbon heat
Government state that "heating of homes, businesses and industry is responsible for a third of the UK's greenhouse gas emissions, and decarbonisation of heat is one of the biggest challenges we face in meeting our climate targets."
A consultation is currently underway which sets out a range of proposals including a Green Gas Support Scheme and a Clean Heat Grant.
Alongside this consultation government has also published a consultation on the Non-domestic Renewable Heat Incentive and an outline of changes to the Renewable heat Incentive schemes.
This consultation closes on 7 July 2020. You can read more via this link.
---
Statistical digest of rural England published
Official statistics concerning rural England are published regularly by Defra. The latest March 2020 edition of the "Statistical Digest of Rural England" contains a wide range of useful statistics and is available via this link. These cover:
Rural population & migration
Rural Economy
Rural living
Defra's March 2020 "Rural Economic Bulletin" comparing high level economic indicators across rural and urban England has also been published and is available via this link. The indicators currently used are:
claimant count – proportion of working age population claiming unemployment benefits
economic activity – proportion of economically active population unemployed and proportion of working age population in employment
redundancies – number of redundancies per 1,000 workers
house prices - average house prices and annual percent change
---
Tailored local information for Neighbourhood Planning available
A successful neighbourhood plan must be based on evidence and an understanding of the place they relate to. Communities need to gather a range of evidence and local knowledge before writing their plan. RSN has collated a selection of evidence, which may be useful to communities in starting to shape their evidence base. This is tailored to each local authority area and is available via this link.
---
All Party Parliamentary Group – influence in Westminster
The Rural Services APPG supported by RSN provides an excellent opportunity to put issues of the moment in front of MPs in the heart of Westminster and to seek to influence national debate. If you have any views on key topics which should be covered in future APPGs please contact Andy Dean.
---
Chambers of Trade – keep calm and sign up!
RSN exists to enable the issues facing the rural areas of England to be identified, information and good practice to be shared and government to be challenged to address the needs and build on the opportunities which abound in rural areas. We have a number of Chambers of Trade, Commerce and Local Business Networks who are members of RSN and currently receive our bulletins. If there is a business organisation in your area who you think would find our bulletins useful, please pass this bulletin onto them and ask them to contact Andy Dean with their contact details so we can ensure they are included in future distributions.
---
Future editions of the Rural Economy Spotlight
The next edition of this bulletin will be distributed in September 2020. If you have any suggestions as to future content or would like to submit a short article for inclusion please contact Andy Dean.