A quarterly bulletin facilitated by your membership of the Rural Services Network highlighting a selection of current rural economic development news, issues and opportunities


UK Community Renewal Fund, Levelling Up Fund and Community Ownership Fund prospectuses published
On 3rd March (Budget Day) the government published prospectuses for the new UK Community Renewal Fund, Levelling Up Fund and Community Ownership Fund. These prospectuses are available online along with further information about these schemes.
The £220m UK Community Renewal Fund aims "to support people and communities most in need across the UK to pilot programmes and new approaches and will invest in skills, community and place, local business, and supporting people into employment. The fund will operate from 2021 - 2022 only and invite a range of applicants to bid including but not limited to universities, voluntary, community and social enterprise organisations and umbrella business groups."
The Levelling Up Fund, which was announced at the Spending Review, will "invest in local infrastructure that has a visible impact on people and their communities. It will run from 2021/22 to 2024/25, and drive regeneration in places in need, those facing particular challenges, and areas that have received less government investment in recent years."
The £150 million Community Ownership Fund will "help ensure that communities across the UK can continue to benefit from the local facilities and amenities that are most important to them." From the summer, community groups will be able to bid for up to £250,000 matched funding to help them to buy local assets to run as community-owned businesses. In exceptional cases up to £1 million of matched funding will be available to help establish a community-owned sports club or buy a sports ground at risk of loss from the community. This aims to help ensure that important parts of the social fabric – like pubs, sports clubs, theatres and post office buildings – can continue to play a central role in towns and villages across the UK.
You can find all the prospectuses via this link.
---
Revitalising Rural: Realising the Vision

The Rural Services Network launched the Revitalising Rural: Realising the Vision campaign on 1st March 2021, with a select committee style event Chaired by Philip Dunne MP, Chair of the Rural Services APPG. The campaign aims to set out a number of key asks of Government to help ensure rural areas are not left behind in levelling up England. Public services in rural areas should be fairly funded to ensure that additional costs of delivering rural services are recognised and adequately funded.
The RSN is urging the Government to give rural communities the consideration they deserve in post-pandemic policy making. With equitable funding and support, people living outside major cities in England will be empowered to fully contribute to the country's socio-economic recovery in the months and years to come.
All Government policies should be developed and implemented in ways which take into account the particular needs of rural communities and are designed to suit rural circumstances with local delivery wherever possible.
The campaign sets out key asks in a number of policy areas including rural transport, affordable housing, digital connectivity and access to health services.
You can view all of the campaign documents and policy asks at this link: https://www.rsnonline.org.uk/revitalising-rural
The Rural Economies Chapter highlights the particular characteristics of the Rural Economy and sets out a number of asks focusing on:
Dedicated Rural Funding Streams
Increased rural role and focus in LEPs
Targeted rural business support and guidance
The Rural Economies chapter which may be of specific interest to you is available at this link: https://rsnonline.org.uk/images/revitalising-rural/rural-economies.pdf
---
Coastal Community Project moves forward in Lydney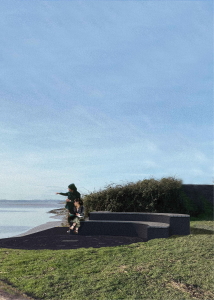 In 2020 artists Denman+Gould were commissioned to create two public artworks for Lydney Harbour as part of the Destination Lydney Harbour project, funded by the Coastal Community Fund.
After a period of research and consultation the artists have now released their initial concept designs for the new artworks which will continue to be refined and developed before being installed later this year. You can view the images here.
The artworks and arts/heritage-based walking trail form part of the Destination Lydney Harbour project. The £2.1M investment in the harbour has already seen the repurposing of the former store and mortuary into public toilets and a visitor information hub, soon to be open to the public. Alongside these refurbished buildings will be the much-anticipated new modular café building that will serve light refreshments to visitors. Also planned is the resurfacing of harbour road, the installation of a pedestrian footway and other improvements to the site, such as upgraded heritage information, and new mooring points.
The first of two pieces will be situated on the A48 roundabout at the top end of Station Road, Lydney.
Cllr Bernie O'Neill from Forest of dean District Council said: "I find this project absolutely fascinating, and, as a geographer I am particularly interested in the use of the geological colours and industrial history of the area in the artwork, which will enhance and benefit the harbour and also Lydney and the Forest. This will be a fantastic opportunity for visitors to understand the value of the harbour to the locality."
For more information, follow this link or contact the local authority's communication team.
---
Financial support for businesses during coronavirus
The government's support for businesses is changing with new announcements on a regular basis. All government information for business is available through their website via this link.
---
National Innovation Centre seeks policy advisers to help shape rural economies
The National Innovation Centre for Rural Enterprise (NICRE) has consultancy opportunities for suitably skilled and experienced policy advisors to work closely with their researchers to help achieve their aim of being the 'go-to resource' for businesses, advisors, and national and regional policy makers wishing to access rural enterprise research and insight.
These advisors will be well-networked within policy communities in the UK Government, Local Enterprise Partnerships and economic agencies, with specialist policy-focused knowledge of enterprise and innovation, and experience in translating evidence for decision makers and advisors.
The expected impact of these advisors to NICRE will be stronger, more visible evidence-based policy design, delivery and support for rural enterprise and innovation that will link the contributions, and challenges, of rural enterprise into wider policies and programmes.
NICRE are looking for people for up to around 100 days to July 2023. Tenders need to be submitted by 22 March 2021.
More information about this opportunity and about the wider work of NICRE is available via this link.
---
Carbon footprinting tool developed for any local community to use
A new tool has been developed to give small communities data on their carbon emissions that is easy to interpret, easy to share, and which gives them a clear idea of their main 'impact areas' – those big segments where concerted, community-based action could really make a dent in local emissions. The information is displayed visually via a series of charts. However, for those who do want to access the raw data, that is available too.
The Impact tool for community carbon foot printing has been developed by the Centre for Sustainable Energy (CSE), as part of their Climate Emergency Support Programme, working jointly with the University of Exeter's Centre for Energy & the Environment, as part of their South West Environment and Climate Action Network project. The tool was part funded through CSE's charitable reserve, the Department of Business, Energy & Industrial Strategy, via the Midlands Energy Hub, and the UKRI Strategic Priorities Fund.
This tool has been developed in response to a demand from smaller settlements to have robust and accurate data on their carbon footprint, so that they can best direct their efforts to tackle the climate emergency.
You can access the tool via this link.
---
Economic analyses available for your local authority area
The Rural Services Network provides a number of analyses that examine key statistics that reflect the economic situation in local authority areas. These analyses can be found either within the Member Insights or the Economic Profiling sections on the RSN website. Updates to these and other analyses will be highlighted in the 'What's New' section of the RSN's Weekly Rural Bulletin. The Rural Bulletin also provides a selection of the most rurally topical news items, so do subscribe and encourage your colleagues to subscribe to what is an invaluable weekly periodical.
Economy Insights can be accessed at:
https://rsnonline.org.uk/category/economy-insights
Economic Profiling analyses can be accessed at:
https://rsnonline.org.uk/category/economic-profiling
To make a suggestion of data that would benefit you by being included in the Member Insights section, please email Dan Worth, our Research and Performance Analyst, at dan.worth@sparse.gov.uk.
---
Rural Economy Toolkit available

The Institute of Economic Development (IED) and the Rural Services Network (RSN) have devised a new practitioner-focused toolkit which is intended as a guide for "anyone seeking to raise rural relevance in the economic agenda".
The Rural Economy Toolkit is designed to ensure that rural areas are better recognised in economic strategies and to enable the identification of new opportunities to drive forward rural initiatives. The Toolkit:
Uncovers the issues that are preventing rural economies from gaining full recognition.
Reviews some of the policy drivers that are affecting rural economies.
Outlines some of the 'mega trends' which will create change in rural economies but links these to opportunities.
Provides a number of case studies of different rural economy initiatives as well as some examples of successful rural businesses.
Identifies the steps that can be taken to ensure that rural economies remain in the economic narrative.
Summarises the key measures that rural economies can address to answer "what looks good".
You can read more and access the toolkit via this link.
---
Rural Design Centre gets to work in the North East
Currently funded by the North of Tyne Combined Authority and ERDF, the Rural Design Centre has been established to support the development of key rural issues in the rural parts of the North East.
Initial 'design missions' have commenced looking at rural internet connectivity and greener community buildings and there is more to come as the Centre continues to develop.
You can find out more via this link.
---
Broadband funding available
Gigabit-capable broadband connections offer the fastest and most reliable speeds available, and the Government "is committed to a vision of a digitally connected Britain."
Homes and businesses in rural areas of the UK may be eligible for funding towards the cost of installing gigabit-capable broadband when part of a group scheme.
Rural premises with broadband speeds of less than 100Mbps can use vouchers worth £1,500 per home and up to £3,500 for each small to medium-sized business (SME) to support the cost of installing new fast and reliable connections.
More information is available via the website.
https://gigabitvoucher.culture.gov.uk/
---
Find information on new rules following Brexit
The Department for Business, Energy & Industrial Strategy has advice available for businesses following the UK's departure from the European Union. You can access the relevant information via this link.
---
Statistical digest of rural England published
Official statistics concerning rural England are published regularly by Defra. The latest February 2021 edition of the "Statistical Digest of Rural England" contains a wide range of useful statistics and is available via this link. These cover:
Rural population & migration
Rural Economy
Rural living
Defra's December 2020 "Rural Economic Bulletin" comparing high level economic indicators across rural and urban England has also been published and is available via this link. The indicators currently used are:
claimant count – proportion of working age population claiming unemployment benefits
economic activity – proportion of economically active population unemployed and proportion of working age population in employment
redundancies – number of redundancies per 1,000 workers
house prices - average house prices and annual percent change
---
Tailored local information for Neighbourhood Planning available
A successful neighbourhood plan must be based on evidence and an understanding of the place they relate to. Communities need to gather a range of evidence and local knowledge before writing their plan. RSN has collated a selection of evidence, which may be useful to communities in starting to shape their evidence base. This is tailored to each local authority area and is available via this link.
---
Future editions of the Rural Economy Spotlight
The next edition of this bulletin will be distributed in June 2021. If you have any suggestions as to future content or would like to submit a short article for inclusion, please contact Andy Dean.